Wish me luck. Exterior 95% done, need a few trim pieces, Interior: have floors front and rear, needs install, Seats need redone(covers on order
About this Mopar:
Year

1962
Make

Plymouth
Model

Savoy, 2 Door, Auto
Hello fellow B Body lovers and owners. Below is the current state of my recent purchase, a 1962 Plymouth 2 Door. I hope this will give someone some enjoyment or inspiration to get their project started/going again! THanks to my Dad for coming along to pick it up with me and providing the tow vehicle, also a Mopar(2004 Durango) It was a fun time.
Feel free to comment, give advice or otherwise just contact me with any questions. I think the conversation will keep me motivated.
Exterior:
95% done
Pale Blue repaint some years ago, very good condition
Needs:
Right Front Fender Trim (not wheel well trim)
Right and left front trim pieces (approx 1" pieces)next to the headlights
Rear Plymouth logo reconfigured from "Plum Hot" to Plymouth - I do have the Y!
Both Right and Left Plymouth Script emblems that are located on the doors
Interior:
10%
going to be 103 Interior Trim Code - Cocoa (was orig Blue but I LOVE the Cocoa colors)
Needs
Front and Rear Floor pans to be installed. Have all 3 pieces from AMD
Carpet - Still deciding on color for Cocoa interior(suggestions welcome) will likely order from SMS Auto Fabrics
Gas Pedal - Have
Seats Have Front 60/40 bench and rear bench - Frames in good shape

Needs re-cushioned
Needs Recovered - recently ordered from SMS Auto Fabrics

Seat Belts
Door Panels - On order, sent out to SMS for recovering
Front Kick Panels - On Order from SMS Auto Fabrics
Steering wheel - Need (have temp)
Wind Lace - Need, deciding on color will order from SMS Auto Fabrics likely
Door Seals - Need, deciding on color(Tan-Gold OR Palomino-Tan??? will order from SMS Auto Fabrics likely
Window Sweeps(Cat Whiskers)
Dash Board/Instrument Cluster, Have almost all parts

Needs repainted to 103 Color scheme
Need Cluster reconditioned/rechromed (looking for suggestions)
Need heater controls repaired and reinstalled (relocate aftermkt Tach)
Radio Delete Panel is installed
Have radio
Speaker Grill - Have, needs installed (relocate aftermarket Oil Pressure/Water Temp gauges

All Interior plastic windshield metal trim repainted to match 103 Color Scheme, Cocoa Interior)
Window Cranks and Door pulls cleaned, Have
Window Crank Escutcheon(large black plastic washer)
Door Arm Rests repaired/repainted to match 103 Cocoa Color Scheme
Package Tray - On order from SMS Auto Fabrics Will repair/repaint current
Head Liner - On order from SMSAuto Fabrics
Visors repainted recovered to match 103 Cocoa Color Scheme
Drivetrain:
85%
440 Stroked to 493 (is my understanding)
Dual Quad Cross Ram Carbs and Intake
Edelbrock Performer RPM Cylinder Heads (60925)
TTI Headers
727 Trans, 8 3/4 Rear, 3.91
Needs:
Hard to start, needs 2000 RPM then 1500RPM for a few mins to idle OK, Idle is a bit too low too
Have not driven anywhere but from trailer to garage in Oct since there are no seats installed, rusty floor and no gas pedal since there is a hole in floor where it would be bolted.
Set Transmission back to stock Automatic Shift Pattern, Manual Reverse Valve body 727 from AA Transmissions
Repaint Cross Ram Intake
Install Superstock Valve Covers if possible

A set has been prepped, painted and stickered (see photo in update)

Install Super Stock Cast Iron Headers at some point possibly

Purchased Cast Iron headers and full stock exhaust
Pickup Day
Garage Doors Garage cleanout almost done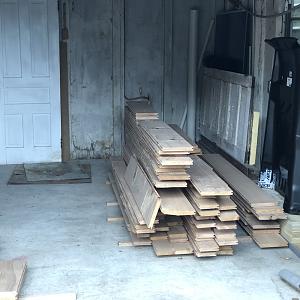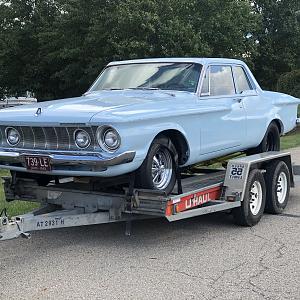 Interior Back side of Door Panel Closeup of Door Manuf Stamping