Local time

11:32 AM
Joined

Nov 6, 2022
Messages

2
Reaction score

11
Location
Contact seller
1963 Dodge 330
1957 392 Blown Hemi 5 Speed
Complete Professional Rotisserie Restoration by THE STREET ROD SHOP
Southern California
Short List of Awards
2012 NSRA Bakersfield California Comp Cams Thumper Award
Over 2,000 cars
2012 Huntington Beach Concours Show "Hot Rods in The Park Top 15
The best of the best
2013 Good Guys Spring Nationals Scottsdale Best Mopar Muscle Award
2013 Chrysler Performance West Mopar Spring Fling Best B Body Modified
The largest all Mopar Show in California
2013 Riverside County Car Council Best of Show
2013 Mopars in May Best B Body Modified
2014 Mopars in May Best B Body Modified
2014 Mopars in May Best of Show
2014 Lucas Oil Route 66 Mother Road Show Springfield Il. Best Mopar
Over 2,000 cars Won this event 2015, 2016, 2017, 2018
2015 12ᵗʰ Annual George Barris Cruisin Back to the 50ᵗʰ Culver City Best Mopar.
2015 Lucas Oil 2nd Annual O'Reilly Auto Parts Street Machine & Muscle Car Nationals at Fairplex in
Pomona, CA Top 10
Open to all muscle cars over 1,000 cars present they do not give best of show only10 awards
2015 Grand National Roadster Show Pomona 1rst Place Street Machine Custom 1949 – 1964
2016 Lucas Oil 3nd Annual O'Reilly Auto Parts Street Machine & Muscle Car Nationals at Fairplex in
Pomona, CA Top 10
Open to all muscle cars with over 1,000 cars present, they do not give the best of show only10
awards
Selected as photo car at the NHRA Jay Leno Pick at the Chrysler Performance West
This is the shortlist as this car has won so many local and regional Best of Show Awards.
ENGINE
392 Chrysler Hemi
1957 Chrysler Block Bored .030 to 398 Cubic Inch, Keith Black Blower Pistons, H-Beam Steel Rods,
Double Keyed Steel Crank and Balancer, Complete Rotating Assembly Balanced, Polished Aluminum Valve
Covers, Polished Valley pan and Timing Cover, Hydraulic Roller Cam and Lifters, Polished Intake,
871 BDS Supercharger, Eddlebrock 650 Carbs, Linkage, Fuel Lines, MSD Ignition, BDS Scoop and K&N
Filters.
EXHAUST
Borla Pro XS Series
DMH Borla XS Pro Series Electric Cut Outs
TRANSMISSION
5 Speed manual Hurst Shifter
COOLING
Griffin HP Series 4 Core Aluminum Integrated Walker Fan & Shroud Assembly
INTERIOR
Custom Leather Seats (real leather) completely custom interior, mini tub with full rear seat.
Hours of custom work on dash Custom Gages
BODY
1963 Dodge 330
Entire car, undercarriage, floors, roof, Trunk bead blasted and blocked sanded taken down to the
metal, this is an original NO RUST California Car.
All bright work, windows, and every single piece of chrome or aluminum were replaced with NOS stock
After being bead blasted and sanded, the undercarriage was undercoated with 3m Dynatron Dynapro.
Paintable rubberized 544
PAINT
2006 Ditzler PPG Dodge Viper RED
DIFFERENTIAL
Currie Aluminum 58" 3.70 Posi, with Currie 31 Spline Axles
WHEELS & Tires
American Racing (original two pc American Made, not the new 1pc Chicom knockoffs
Front Wheels Torgue Thrust 2, 15x6 Mickey Thompson P215/70r15 Rear Wheels Torque Thrust 2 15x12
Mickey Thompson P315/60R15
BRAKES
4-wheel disc power Slotted & Drilled Rotors
If you are into Mopars and are on the West Coast, you know the exceptional quality of this car
This is NOT a Trailer Queen or Race Car; it was built to drive. Tach's 2,200 at 70 MPH gets 11mph,
10% underdriven on the blower, absolutely NEVER heats even in heavy traffic or 90-degree weather.
We drive this car to show up to 100 miles. If you are into Mopars, you know the quality of this
car.
$60,000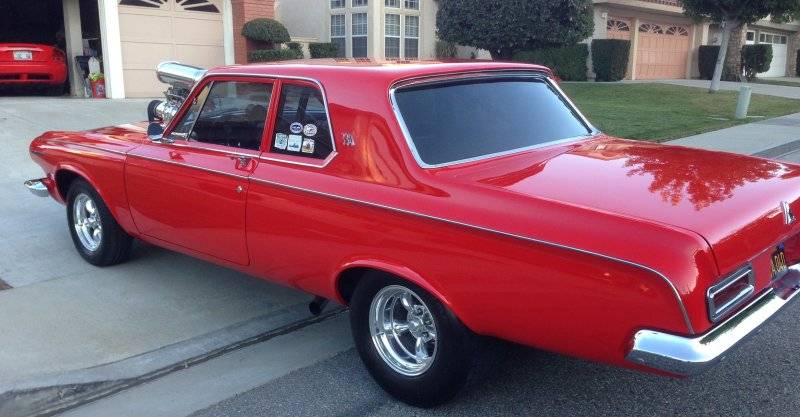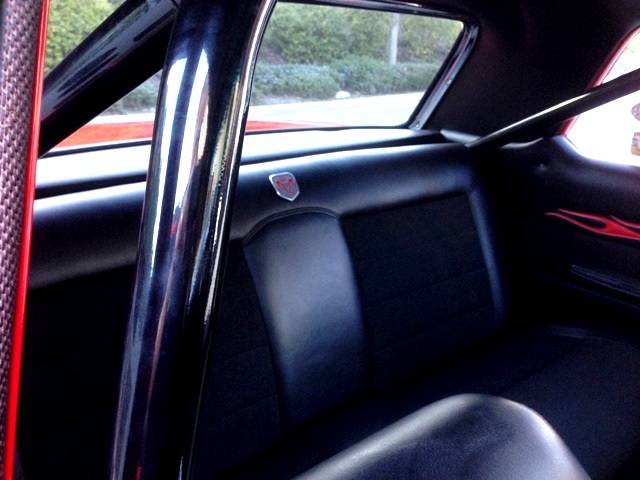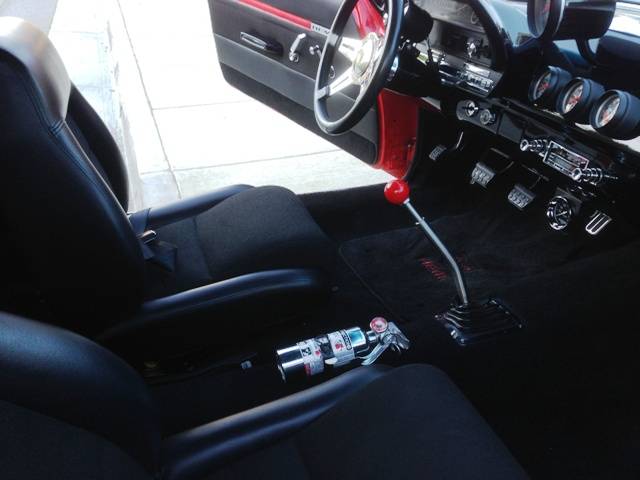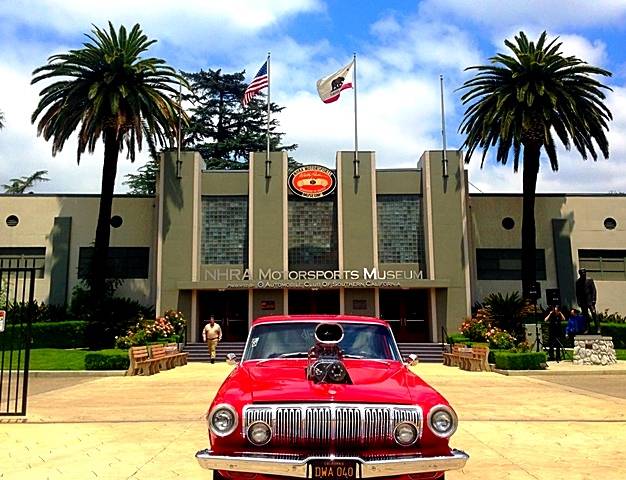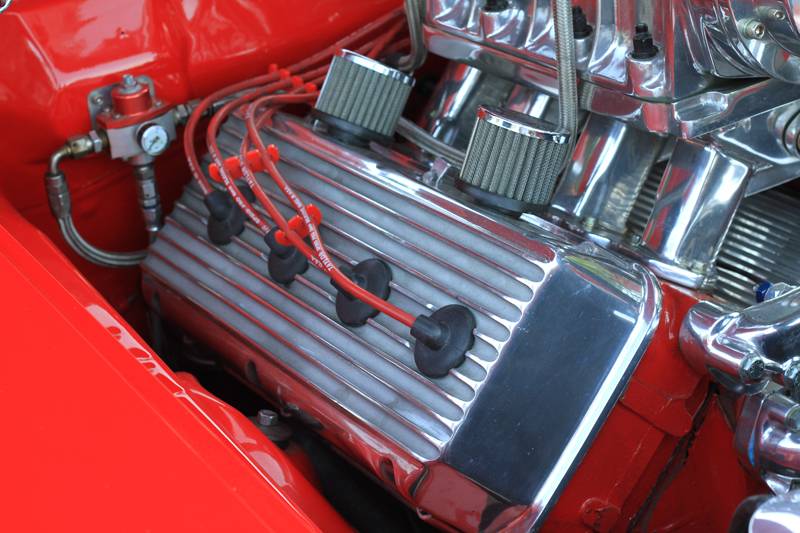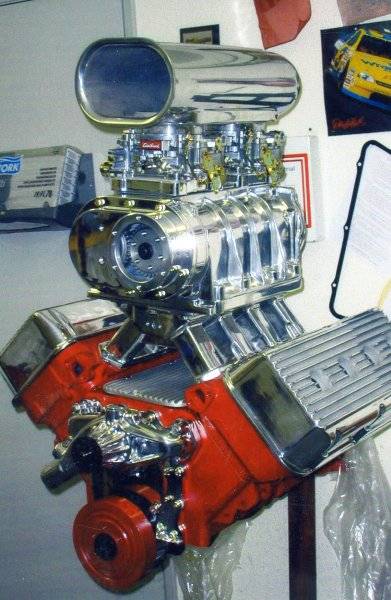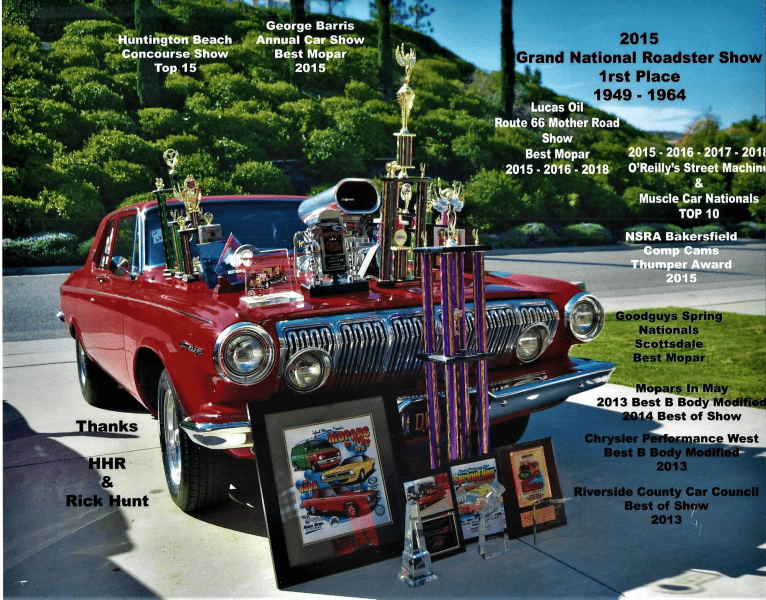 Last edited by a moderator: