Contact seller
FOR SALE
1966 Plymouth Satellite
This is a clean / solid body from the western Nevada/ eastern CA car all its life. Sold new at Harrahs Automove in Reno Nevada
Interior is all new from Legendary from carpet to headliner, Dash pad to pkg tray. All new M+H wiring harness from headlight to tail light. With an upgraded harness to run the head lights off separate relays to avoid the load in the bulkhead. Added aftermkt gauges bypassing the amp gauge now running a volt meter.
Ignition was upgraded to the newer FBO electronic system. and 1970 style charging system.
Stock radio was removed and an original radio delete plate installed. But an aftermkt amplifier system is mounted in the console to connect to an aftermkt CD radio of your choice or your phone for music. ( original AM radio is included )
Born as a 318 poly V8 / console auto car. Powertrain now consists of a pump gas build on a 1969 383HP shortblock, with a repop sixpack cam pkg. Stealth aluminum heads, topped off with a Edelbrock Performer intake and Holley Demon carb. Exhaust consists of same year HP exhaust manifolds running thru a full 2.5" TTI exhaust with Dynomax turbo mufflers.
Cooling system is MP aluminum water pump assy, all new hoses. Brand new aftermkt aluminum 26" radiator and new OEM Mopar fan shroud were recent upgrades. Im running a 180 degree Mr Gasket hiflow thermostat. Here in southern AZ ambient temps can easily get into the low 100 range summer time temps. On said days here it runs about 180-190 range. Will creep up to maybe 200 range in stop and go trffic. But cools right back down once moving again. Cooler weather it runs right on the 180 degree thermostat temps.
Trans was rebuilt and upgraded to a Turbo Action Chetah valve body. Torque conv feels like a stock stall speed. Driveshaft was just rebuilt and rebalanced and connects to a 741 case 8.75 rear axle with 3.55 and clutch type suregrip diff.
Braking system was upgraded with the popular later model A body manual disc brakes on the front with 10" rear drums.
Entire front suspension was rebuilt top to bottom and added front sway bar. Power steering box was just completely disassembled and rebuilt locally.
All the exterior trim is super nice, with very nice original grill and head light bezels. Both the upper and lower 1966 Satellite only trim has been stripped and polished. Fender turn signal assys were stripped and rechromed. Trunk finish panel is a clean super straight repainted original. Tail light bezels and lenses are the PG Classic repops. Bumpers front and rear were stripped and rechromed. Windshield was replaced when the car was done.
Underneath is still in western dirt and no cheap undercoating to hide anything. Still retains 100% of its original floor pans front to rear.
This is a good hop in it and go driver. Runs and drives nice. Paint is single stage enamel thats been wet sanded and buffed and looks very very nice.
Engine compartment paint is OK and IMO could be better. Its not good enough I would ever be 100% happy with it, but,,,,It's NOT bad enough I would ever pull it apart to repaint it either.
That said its a nice car that that gets its fair share of positive comments at the local shows and cruises and thumbs up feedback everywhere I take it though.
I bought it last year and have had my fun but have decided to retire this fall. And thin to just one car. I'm in Southern Arizona. Title is clean and clear and in my name. Follow the link to over 120 photos. If you want to see anything , just ask.
Original fender tag is intact, and I have the original build sheet and a copy of the original IBM card from Chrysler Historical plus a stack of receipts 2 inches thick included. Repop Owners manual and parts book as well as some Sales memrobilia is included
price is $28,500 , Not interested in trades at this time.
https://photos.app.goo.gl/caibRdCe8L7bkAiC9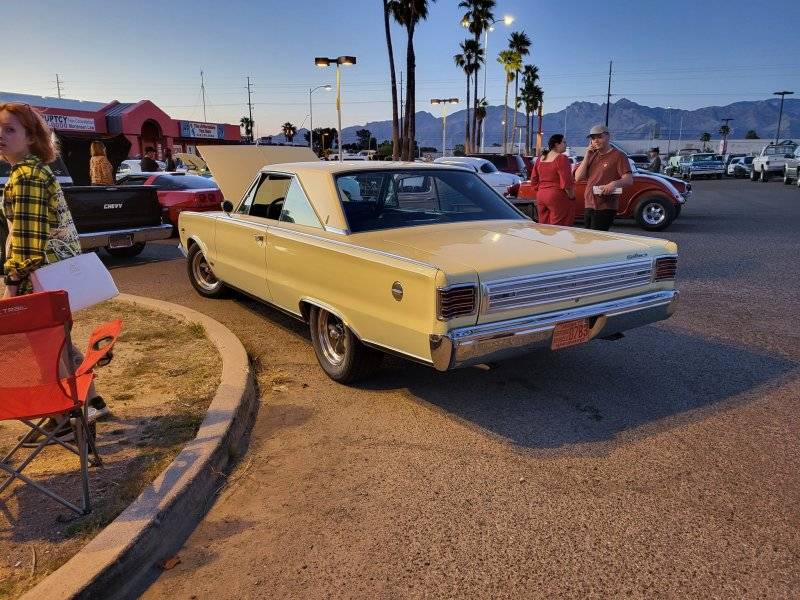 Last edited: