Local time

4:38 AM
Joined

Nov 1, 2021
Messages

44
Reaction score

41
Location
Hello everyone!
I was wondering about production numbers for a 1969 Dodge Charger 383 4-barrel, 4 Speed Manual, with Air Conditioning? I know it's not probable to find a clear-cut, exact number. There are too many factors, such as 4-Speed Manual and also AC, for that. But could someone come close or give me a range? I mean, if it's not feasible, it's not feasible. I've done plenty of research like this myself. I know how it can be. This one's just stumping me. I DO know that it's a rare combo. Most cars that had AC were an automatic. Furthermore, most every 383 car to have AC was a 2-BBL. So the fact that this car was a 383 4-barrel, 4-speed manual, AC car is noteworthy.
The only consistent info I've found (meaning I've seen it in at least a couple places) is that for 1969 (out of 17,308 total 383 4-BBL Chargers), 383 4-BBLs w/ 4-speed manuals generated sales of approximately 3,579 units, which was less than 5% of the total production of '69 Chargers. But that doesn't give me any sort of picture of what those numbers would look like when you throw in the AC, and how many 383 4-BBL, 4-Speed '69 Chargers were outfitted with that option.
And I could very well be mistaken with my numbers! It's happened before.
Here's some backstory on the car.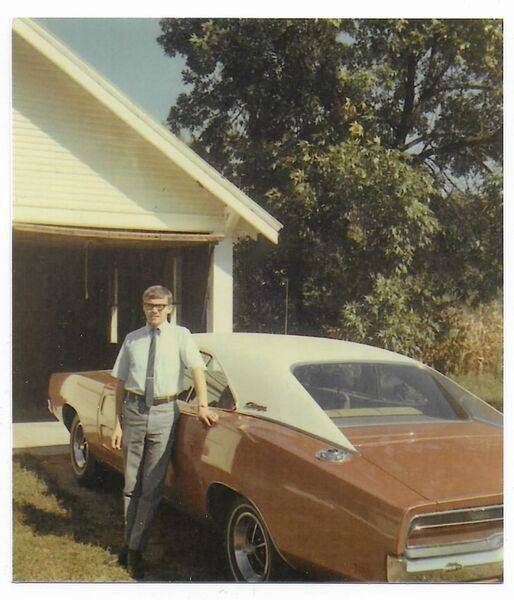 This is my handsome grandfather, circa 1970. My grandpa and grandma ordered in early/mid '69 and received in August of '69, a 1969 Dodge Charger.
My grandma and grandpa were married in March of 1969. Almost immediately after, they ordered this car exactly how they wanted it. Their first car as a married couple. Thus started a tradition. Every 5-7 years, they ordered a new car. While that may seem excessive and unnecessary, that was really their only "luxurious necessity". They didn't need/want a big, fancy house or expensive name-brand clothes, they just valued having a nice car. So they bought a new car and treated it well! Then they'd trade it back in to the dealer or privately sell it and order/buy a new vehicle. Both being teachers, they lived simple/frugally and saved to accomplish this. That's just how they are.
SO back to the car. I don't know all THAT much about this car, seeing as it was sold long before my time. But here's what I do know.
- 383 4-BBL
- 4-Speed Manual
- AC
- T5 Copper Poly
- White Vinyl Top
- Saddle Tan Interior
Not an R/T, not an SE. Nothing super spectacular or exceptionally desirable in the sense that it wasn't a 440 or Hemi as it wasn't the aforementioned R/T or an R/T SE. But it certainly isn't your typical run-of-the-mill Charger!
Unfortunately, this car, at the hands of its young, third owner (I believe it was the 3rd...) was wrecked.
Thanks for any input you can provide!
A fellow Mopar enthusiast,
Claire
Last edited: