My son and I are new to
B Bodies Only
and keep finding more threads of intrest. I asked a question or two in the project thread, but now have discovered this tech thread. Although I received some great feedback and I wanted to provide what I have learned in case anyone else can use the info.
In case anyone is interested, here is the link to the project:

I am new to B-Bodies only, and just as new to a B-Body preservation. For background information, I am a mechanic by trade and have Chevy Muscle Car rebuild experience. However, when my wife asked me to consider my next project to be a 1974 Satellite like I had, and we dated in during high...

www.forbbodiesonly.com
Previous Question
: Are there any SB to BB or BB to SB K-member conversions out there?
Member Curiousyellow7 provided these options: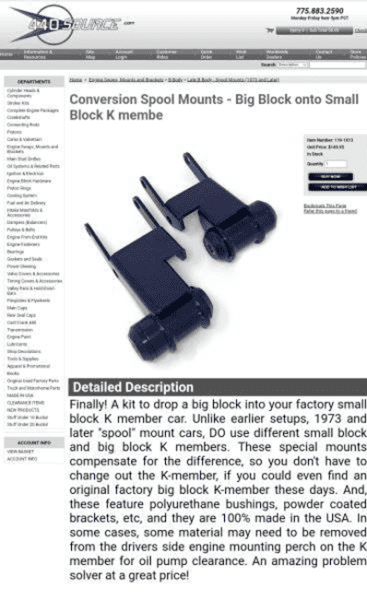 And Curiousyellow7 recommended Schumacher kits.
This is what I found out when I spoke to someone at Schumacher. It may be a couple of months before they do a production run on the BB K to a SB K conversion kit. However, they do have a SB K to BB K conversion in stock, and they offer the SB K to Gen. 3 Hemi conversion.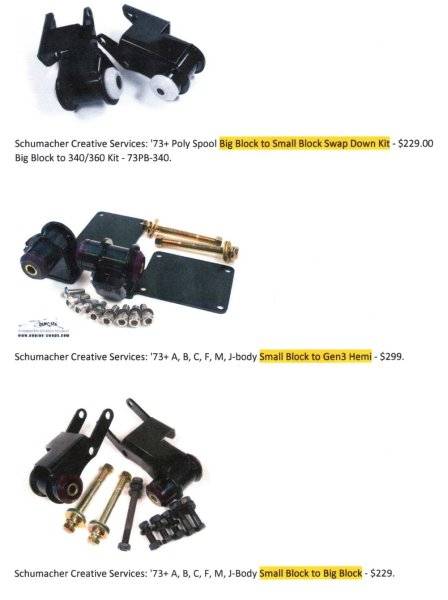 Now Leaf Springs bring up todays big question:
1. Can someone please provide me info on the operational difference between the Heavy Duty and Standard Duty rear leaf springs. We found one of the heavy-duty Leafs (Top to bottom number 7 leaf) broken.
Question 2: Is there any aftermarket replacement individual springs to repair this?
Question 3: What is the ride height difference between the Standard and Heavy-Duty Leafs?
I have 2 additional sets of standard Leafs, so we could use one of these sets, but I am wanting to assure of the ride height and performance difference, if any before I make a decision.
Lastly, has anyone used the leaf spring rebuild kits on Classic Industries?
https://www.classicindustries.com/shop/1974/plymouth/roadrunner/parts/suspension/springs/
I addition, I am looking to find books that provide all the nuggets of information on the 73/74 Road Runner/ Satellite. Also, the venders you have discovered for these great cars.
Again, Thank you for your help.