Life is full of turns. Build your car to handle.
FBBO Gold Member
Local time

7:37 PM
Joined

Apr 13, 2012
Messages

30,413
Reaction score

99,772
Location
Hey there....
My red '70 Charger ( Ginger) was coded for and still has the 2 speed windshield wipers in it. I have never had any trouble with them nor had to do any service to them. The wiper pivots do leak and I have the gaskets and seals to do the job but I'm considering a switch to the 3 speed setup if I am going to take it out to change gaskets.
I have another Charger. Some members here may have seen my thread on it...
Lookie what $5000 buys you....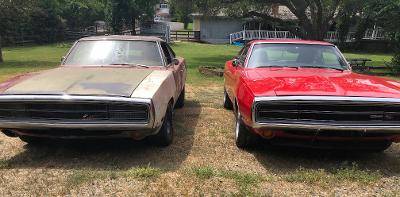 Jigsaw is coded for the three speed wiper option. It has a 3 speed switch in the dash already.
I have read that there are some differences in the mechanical linkage between the two.
Jigsaw was missing the motor, RH pivot and wiper arm when I got the car. I recently swapped in a 2 speed motor, a pivot and arm and while it only operates in 1 speed and doesn't "park". it does work.
I actually would like to convert both cars to the 3 speed setup. Ginger will need the switch and some small wiring changes but what else differs between the two setups?
Bruce Somer sells nicely restored 3 speed motors out here in California but I'll surely have to find a 3 speed switch.
Thanks....