Local time

2:52 PM
Joined

Nov 8, 2009
Messages

170
Reaction score

93
Location
*NOTE: Chances are you "WILL-NOT" find another '09 Callaway...and surely none in this pristine condition.
Less-than 100 built, and any Chevrolet Dealer can service the car!
I may consider an even, and/or partial trade, for a "Finished" Street Rod: 1932/1933/1934 Ford Coupe (prefer 3-window), or 2-dr. Sedan. 1939/1940 Ford Coupe. 1958 through 1962 Corvette, or, "mid-year" C2 coupe...or MOPAR Trade...what-ya'-got?
No projects...Preferably a #2, and possibly a #3 car. Up/Down in price difference...PM me any Question's, Offers, Pics, etc.
I am open to Serious "OFFERS!" Please no "low-ball" offers -sorry...they are laughable, at best.
Additional pics of the undercarriage are available, by request, so let me know if you'd like to see them...
NOTE: You "WILL-NOT" find another '09 Callaway this pristine, nor w/the additional mods to the wheels, tires, suspension, brake calipers, headers, cam, & rear, that this car has, and I can assure you this is true...
If you've searched, you'll know. It is truly a "one-off"/NO excuse #2 automobile.
The car is also listed @ ebay motors...
If finding a loan for this vehicle is a problem (Most Bank Loan Officers), wouldn't know a Corvette/Callaway from a wonton, then try: Light Stream - A Division Of Sun Trust Bank.
https://www.lightstream.com/classic-car-financing
.
There are others, too! Look-Up "Classic Car Financing" on Google, and you'll see who offers Loans, & the Interest rates, Length-Of-Loan, etc.
Thx! AL
-----------------------------------------------------------------------------------------------------------------------------------
Year after year, the Corvette gets better, people continue to buy it, and those who can't dream about the day they can. But how do you upgrade America's favorite sports car? Make it a special edition! That's this rocket!
"BACK-IN-BLACK" In-The-Event - that you've been searching for a "Limited-Production-Corvette" - that is above extraordinary, but below outrageously-priced - this Callaway (w/Grand Sport Body Panels) - may-well-be-that car for you! If you desire the ultimate ride (for under $41K), with killer "Performance, & Street-Cred's" - along with many creature-comfort's...that are designed for use on the street/highway. Don't miss this chance...with less-than 100 - 2009 Corvette's receiving the Reeves Callaway, mod's in '09! Not likely you will see another '09 Callaway on the street, and this is easily on-it's way to collector car status - (if-not), already there...
Not only is this collectible from an engine and production standpoint, but it has a unique body and historical significance...Why-wait for your ultimate ride/experience?!?
REMEMBER..."Life Is Not A Dress Rehearsal..."
Please call for an appointment.
*SERIOUS INQUIRIES ONLY! PM me...
Vehicle is located in the Orlando, FL area.
Clear State Of Florida Title, in my name, a current Florida Tag, and insured. Never-seen-rain. NO excuse car...NO scratches...door-dings...P-E-R-I-O-D!
This 2009 Callaway Corvette is a turnkey upgrade of the standard sixth generation Corvette coupe or convertible.
A brute of a small block with 376 cubic inches just waiting for you. The LS series engine has broken new ground for efficiency and performance from a push-rod platform engine. The LS3 is filled with components designed for high performance and longevity."
In 2009, the basic Callaway package (if you can call it that), costs around $67,500. That's $18,900 over the Corvette's base sticker, and that includes a high-flow air intake system feeding a supercharged 6.2 liter LS3 V8, further enhanced with high-flow fuel injectors, an air to liquid inter-cooler and proprietary fuel system controllers. The result is an impressive 580 horsepower and 510 pound-feet of torque.
Callaway engine dress-up has body-colored injector covers housed under a moderately bulging custom-formed 2-tone hood. Callaway's signature "Double D" stainless steel exhaust system adds a subtle rumble without unwelcome cockpit resonance.
Performance betters a Z06 Corvette! Magazine Article Reads: "A tricky launch at almost idle, on asphalt, the Callaway rockets to 60 miles-per-hour in 3.6 seconds, and a quarter-mile in 11.40 seconds, at a trap speed of 123 miles-per-hour. Torque remains nearly constant throughout the rev band with no surges or flat spots."
That, & how's 23+ M.P.G. Hwy.?!?
Car has NOT been raced!
Power everything, Ice cold A/C, etc.
* Odometer in pic reads: 18,169 -that's the mileage when I purchased the car, in March, 2018 this year.
* Odometer now reads: 18,884
* Always Garaged
* Tires, & wheels have been upgraded.
This not only has had Callaways performance options installed, but has also been equipped with more aftermarket goodies after its Callaway delivery.
* Corvette Grandsport Wide Body Fenders and Quarter panels
* PFADT Race Engineering C.I.R.C. Coil-over Suspension
* ZR1 Inspired Black Wheels Staggered 18's in the front, & 19's in the rear
* Nitto INVO 345/30/ZR19 105Y Rear Tires, and 295/35/ZR19 99W Front Tires
* GM ARA Roller Performance Cam
* Custom Steel Exhaust Headers (Exhaust is "N-O-T" noisy at all)
* 2300 Stall Converter
* GRAND SPORT Body Panels, to accommodate rear tires, and wheels.
* GRAND SPORT "Side-Panel" (Air Extractor's) - for unique look, & style,...typically not seen on other 2009 Callaway's
* V-E-R-Y Streetable, and Dependable
* Rear Tire size: 345/30 ZR19 105Y
* Has Factory Removable Targa Hard Top too!
* Clear Car-Fax/NO issues whatsoever! (Have reports), and all paperwork for car...
* Have Certificate Of Authenticity from Reeves Callaway, in Old Lyme, CT.
* Trans is a 6-spd, AOD & has dual paddle shifters. A 6-spd manual for this car is a joke, as the paddle shifter is faster, and better, with no shock to the drive line...
(The late Ronnie Sox couldn't shift faster than the paddles/6-spd. AOD!)
Mr. Reeves Callaway does not release production figures on the cars that he modifies, but in speaking with Callaway Industries, I was assured, that there were "less-than" 100 Corvettes, that received the Callaway mods, in the year 2009!
*Callaway Engine Specs: 580 bhp-510 lb-ft torque for 2009 6.2 liter LS3 (SMALL-BLOCK!)
Supercharged with Eaton/Magnuson Roots-style supercharger, with polished housing.
Air/liquid inter-cooler integral to intake manifold (44" Hg manifold pressure, absolute, or 7 psi gauge).
Optimized fuel system with 53 lb/hr high flow injectors.
Callaway body color injector covers.
Callaway Double-D exhaust system.
Callaway Honker High Flow Inlet System.
Callaway C16 hood, painted to match with accenting power bulge and 'Supercharged' insignia's...
Callaway side and rear badging.
Callaway threshold (rocker) panels.
Certificate Of Authenticity Documentation, including Dash Plaque with engraved Vehicle Identification Number, as well as "Under-Hood" Plaque from Callaway...
The Callaway Corvette is powered by GM's remarkable 6.2L LS3 engine, enhanced by Callaway's Eaton/Magna Charger supercharger system. The Roots-type supercharger provides substantial power increase over the stock Corvette's 430 bhp, while supercharger internals manufactured by Eaton, the world's leading OEM supercharger supplier, ensure bulletproof reliability. Callaway's electronic engine management calibration provides perfect street manners, eliminating engine-damaging detonation and maintaining excellent fuel economy and 50-state emission compliance (CARB E.O. D-488-14). Magnuson's unique intercooler design, built into the intake manifold base (patent pending), lowers charge air temperature up to 100 degrees F - to increase power. During low-load cruising conditions, the supercharger's internal bypass allows the rotors to spin freely, reducing parasitic drag to less than one-third of one horsepower.
Originally came with a 3 Year/36 Month Warranty, which covers all the Callaway components and any drivetrain parts of the GM warranty.
The Callaway option is also a documented after-market modification. With a smaller build quantity than the Z06's put out by GM, makes them a rare and an exceptional car to own.
Car is located, in an enclosed garage @ my home, in Central Florida, and is currently insured with Hagerty Insurance Co.
Recent Amsoil, & NAPA filter change, two months ago.
Car is immaculate inside, & out, also has a "black-out" package on tail-light's & side marker lights, that are removable...
*NOTE: The "red" appearing on the bottom of the polished stainless square "Double D" tailpipes, is just a refection of the lift...
P.S. The "Skull" on inside hood, & floor mats is: "Jake...The Punisher!"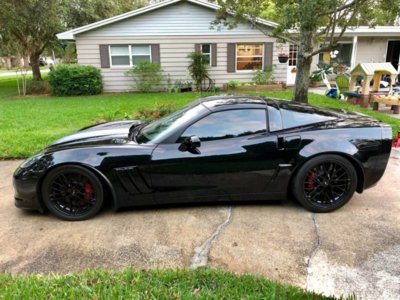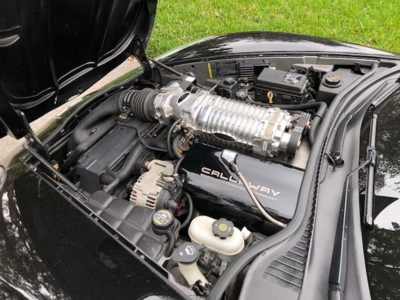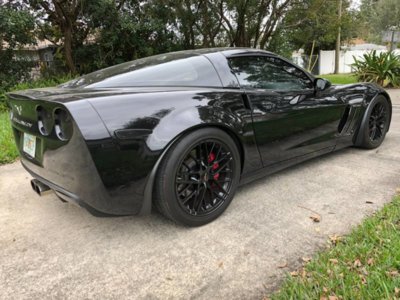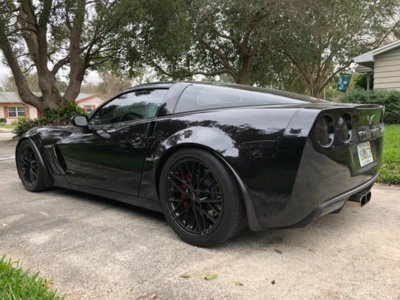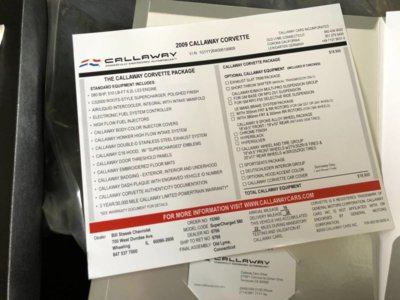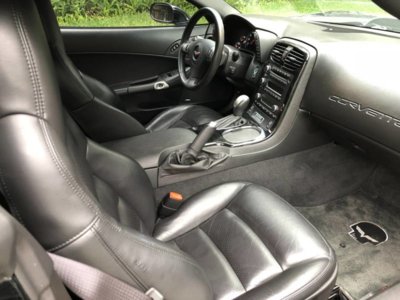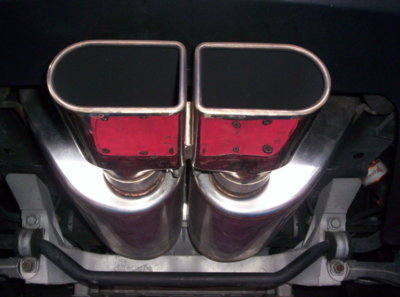 View attachment 734560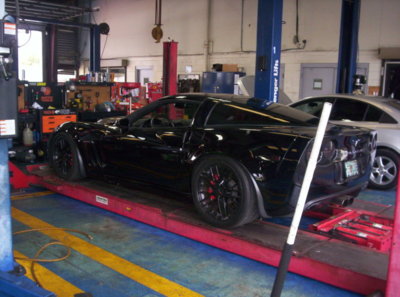 Last edited: