I have recently purchased a 2016 SRT 392 with 8spd auto 8HP70. The car only had 182 miles and still has the original oil in it. It is going into a 68 Coronet. From all the links and reading I'm going to need a new gas tank/fuel pump system, correct oil pan, oil filter kit, exhaust, motor mounts, radiator and everyone's favorite wiring. I like the Bouchillon tank and fuel pump because there are no trunk modifications needed compared to the Tanks Inc. For the oil filter it sounds like I just need the 45 degree kit to keep it simple. TTi makes both the headers and motor mounts unless there's a better option for both?
As for the wiring here's where I am running into problems. I talked with Chris at Modern Muscle. The industry has not caught up with the electronics needed for the 8spd auto trans. A manual is out, the gf can't push the clutch due to knee issues if she were to have to drive it.
The engine purchased is also missing the power steering pump. Will a modern 6.4L pump adapt without problems to the 68 steering box?
The next big question is the gf also wants it to be nasty, considering running twin turbos from Hellion (if the kit will fit) and exhaust cut outs. Will the stock 2016 exhaust manifolds work or would the TTi header system be a better option.
Starting to think I am in a little too deep. Any help would be greatly appreciated.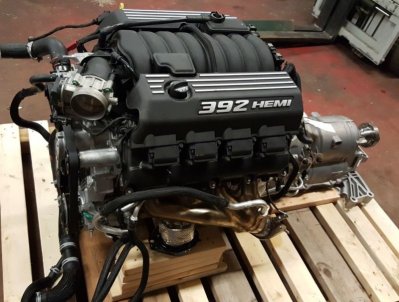 Last edited: