After finishing the 70 Bee tribute car earlier this year, it's now time to start on the next project. I bought this roadrunner a few years back from an older gentleman who had it stored outside for several years. He had originally planned on fixing it up, but never got around to it.
We knew it was rough when we looked at it, but the price was right. Car was missing both front fenders, but hood was repainted and stored away along with trunk lid in etch primer. Originally a B5/B5 383 N96 car with auto transmission. Not sure if engine and tranny are original until we tear it out and inspect numbers.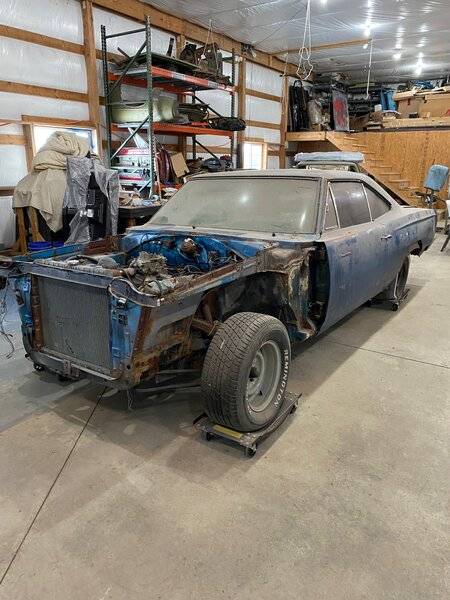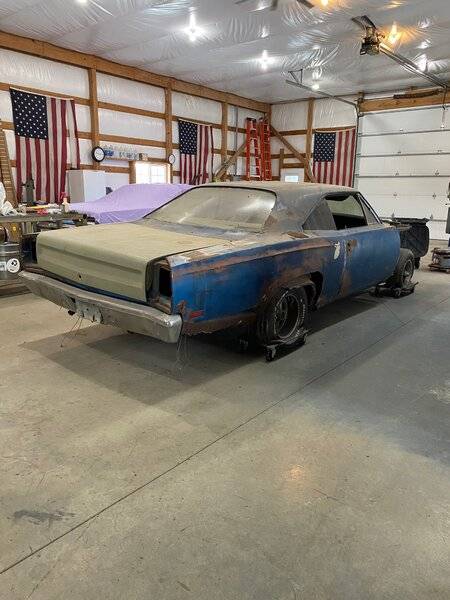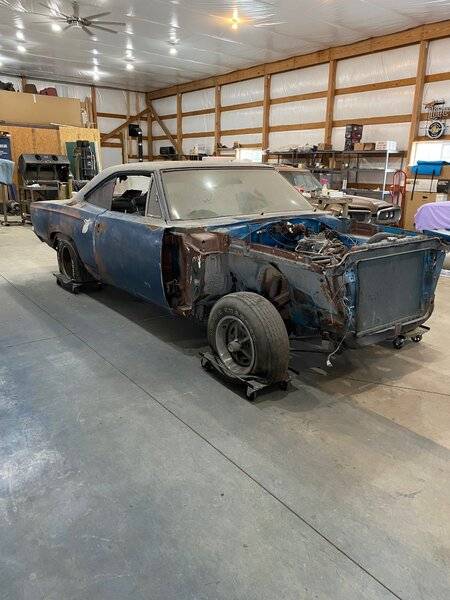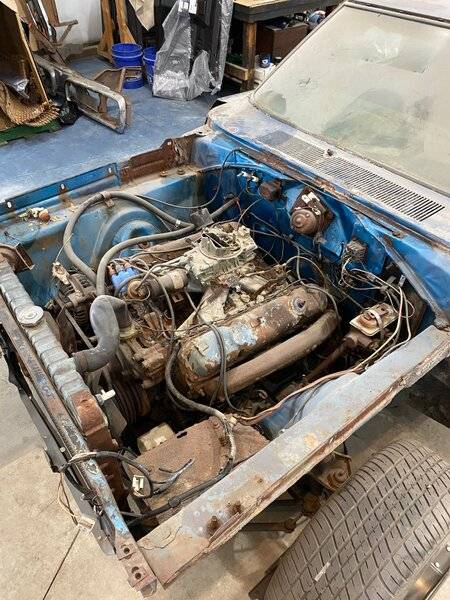 Front driver side frame rail is toast.
Not sure why someone cut trunk floor out above fuel tank either. Must have been at same time they cut out quarters above wheel wells too.
And a couple pics of toasted interior.
Looks like a lot of the misc trim is still with car which helps, but every piece of sheet metal likely needs replaced. The driver side door and possibly roof skin may be salvageable, but time will tell. Over the past few years I've been picking up new metal when I find it, either by someone who had new metal and didn't use it or buying new myself. I already have full quarters, trunk floor, extensions, floor pans and outer wheel houses. I also bought a set of original fenders via an online local auction.
So the plan is for this to be the wife's daily driver. Only request she made is it has to be purple, cause it's her favorite color. I'm looking to do a full resto as well as put a new 6.4L Hemi crate engine in it. Been reading and researching a ton of threads on here to plan my strategy for this swap. I haven't decided on tranny yet, but I know she doesn't want a manual. Knowing TCI makes a new 727 that bolts directly to the 392 would simplify things, but I'm not sure if it has OD. I'd prefer OD so if anyone knows details on that tranny please share. Otherwise, I'll have to call them to confirm. I see most folks put modern manual tranny in with Gen 3 engine, but that's not an option for me. I also haven't seen any posts/pics of how the engine wire harness marries up to stock dash harness. Maybe I just haven't come across that yet on someone else's thread.
After getting the Bee done, I'm feeling confident on tackling this project. I'm actually excited to get started tearing into it. With experience under my belt I'm not nearly as intimidated as I was starting on the last car. Let the journey begin. My main goal is to get it done a few years sooner than the last project, LOL.
Anyone with comments or ideas, you're welcome to chime in. Anything that helps me avoid pitfalls of the Gen 3 swap is appreciated.