Local time

9:52 AM
Joined

Apr 5, 2022
Messages

19
Reaction score

6
Location
In the process of upgrading my differential back to sure-grip, I pulled the axels to have the seals and bearings replaced (they were original AND there was a Axel Bearing noise). Now that everything is out and cleaned it was apparent the outer axel seal at the "adjuster" (passenger side) was leaking. Additionally, previously, my Brake Wheel Cylinder was leaking which of course drips right onto the external axel seal. I am sure one compounded the other. On inspection of the bearing it has a slight visible rust in the bearing and is not as smooth and easy to spin as the Drivers side axel. But no real apparent damage to the Axel.
Much more apparent is the muck and residue in the Axel Housing after removing the axel. I popped out the seal. Good news is on the inside of the seal the Gear Oil appears clean and undisturbed. But on the external side of the seal it is covered with muck (gritty and rust colored). I did also remove the backing plate so then cleaned the Axel Housing Face and internal back to the seal. The pictures below are the result. They cleaned up reasonable well but there is evidence of pitting on the surface.
So here is the question. The Seal area appears to be fine and should slide in ok (of course the seal is really on the Axel.
So since the rest of the tube is neither a seal or a bearing surface is the pitting a problem?
After cleaning I have coated with wheel bearing grease just to keep any residual surface rust/deteriation from continuing.
Is there a problem with going forward with the seal replacement and then axel re-Assembly?
Is there any surface prep I should additionally do before sealing it all up?
Both Axel Faces cleaned up enough to leave a complete smooth surface ring for sealing.
A picture is worth a thousand words so here are the pics.
Passenger Side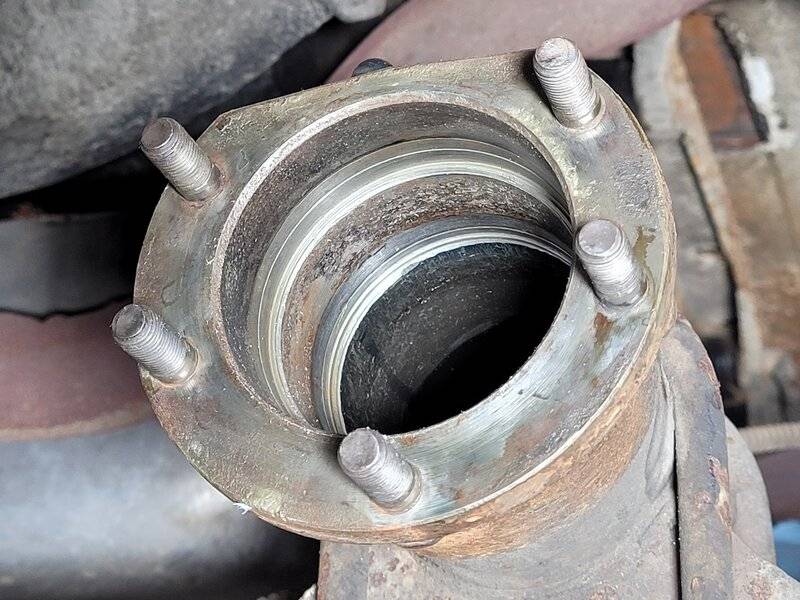 As a comparison here is the Drivers Side