Local time

2:33 PM
Joined

May 28, 2013
Messages

4,653
Reaction score

7,011
Location
My wife's grandfather Chet Dawson owned the drug store in Russell, Kansas. A mid-size oil town out on the great plains. In the 40's the drug store was the hub of activity, especially for young people. Chet was a good businessman and knew the way to get all the girls to the soda fountain was to hire the handsome boy in town. Bob Bole was just that. Bob was too poor to own weights so he and his brother lifted car parts, axles, and such to build their bodies up. It worked. The girls came to see Bob the boys came to see the girls. Bob Dole wanted to go to college at Kansas University but he couldn't afford it so he worked as a cook and cleaner at a fraternity for his room and board.
When World War 2 broke out he felt it was his duty to join up. He didn't last very long. While trying to help his wounded friend he was shot in the shoulder and sent home. Things weren't looking good and his recovery was in serious doubt. He needed an expensive surgery in Chicago. Chet Dawson his former employer started a fund and ended up paying for the surgery and his subsequent recovery. Bob Dole became a hometown hero. He worked his way through politics and eventually ran for the Kansas senate.
My wife's mother remembers campaigning for Dole by carrying around little cups of Dole pineapple juice to prospective voters. One man thanked her by pouring the juice over her little head. Robert Dole went on to become one of the most respected US Senators in the history of our county. Despite his injured arm, he was a symbol of our nation's great strength.
When he ran for president against Bill Clinton in 1996 my 6-year daughter drew and colored a little election ballot. We thought it was cute and we sent it to his office. A few months later on a Saturday morning I got a call from a lady saying Bob Dole was on the line calling for my daughter Kylie. Sure enough, it was Bob Dole. They talked for a few minutes and he thanked her for her vote
No matter how you feel about him I will always remember Trump kissing Bob Dole at Bush's funeral. Robert Dole was a class act.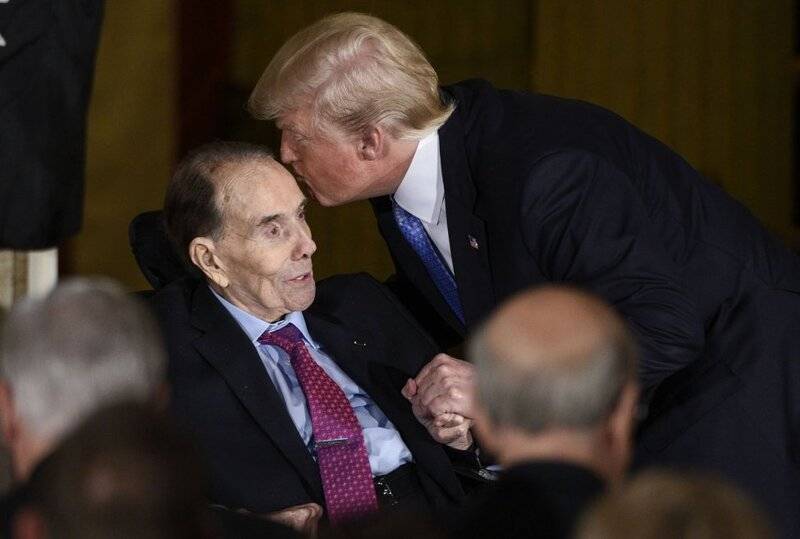 Last edited: