Life is full of turns. Build your car to handle.
FBBO Gold Member
Local time

4:47 AM
Joined

Apr 13, 2012
Messages

33,362
Reaction score

115,213
Location
It has been awhile since I have tinkered with the carburetor in Ginger but a few things have changed lately that require me to go back in.
I rebuilt the 440-495 with slightly less compression. I was at 10.1 to 1 before with THICK head gaskets, no quench, a MP '528 cam, 1.6 ratio rocker arms, 2" headers, Edelbrock Performer RPM intake and the trusty Demon 850 vacuum secondary 4 barrel carburetor. For that combo, I had #85 primary jets, #92 secondary jets and a 6.5 power valve. I have an air/fuel meter which is both a blessing and a curse because it often attracts my attention at times when I can do nothing with the information.
The rebuild included new dished pistons with 9.8 compression and .041 quench distance. I went back to an old cam that I saved, a fairly rowdy Lunati with the following specs: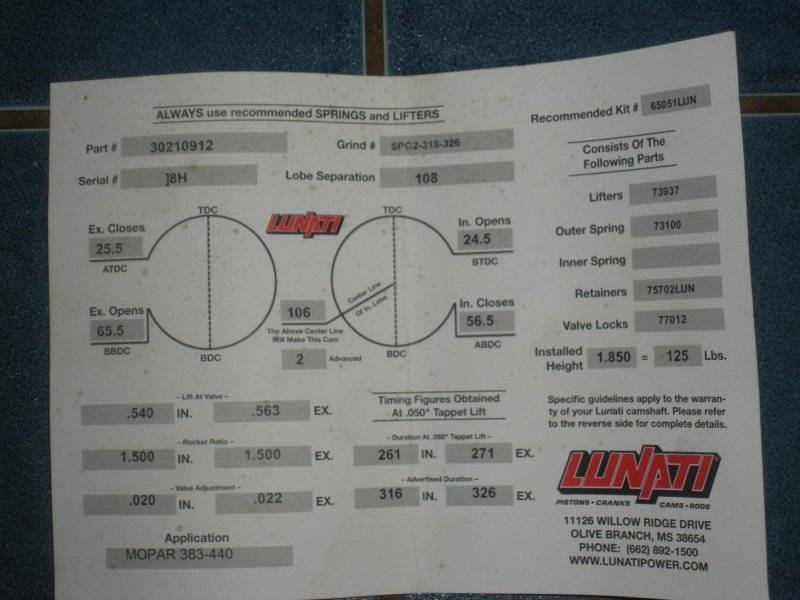 It actually idles better than I expected but I think I need to fine tune the combination to get the A/F numbers in line. I have a 5 speed manual trans and 3.55 gears.
I'm running a MP electronic ignition at 19 degrees initial, 33 degrees total timing.
At idle, my A/F in neutral is creeping into the 15s and 16s. In cold weather, I've often had to back out the idle mixture screws to fatten it up a slight amount. I just haven't done that yet. At light cruise, the numbers fluctuate to as low as the mid 13s. Now, with 10% ethanol, I know that the magic target is not 14.7 like with pure gasoline so I'm guessing that something in the mid 13s at idle and light cruise is fine.
Just tipping the throttle drops me down in the 12s, WOT goes even further.
Before when I ran this cam, I used a 3.5 power valve based on the guideline of taking the idle vacuum number, dividing it by 2 and picking a PV closest to that number. My idle vacuum now.....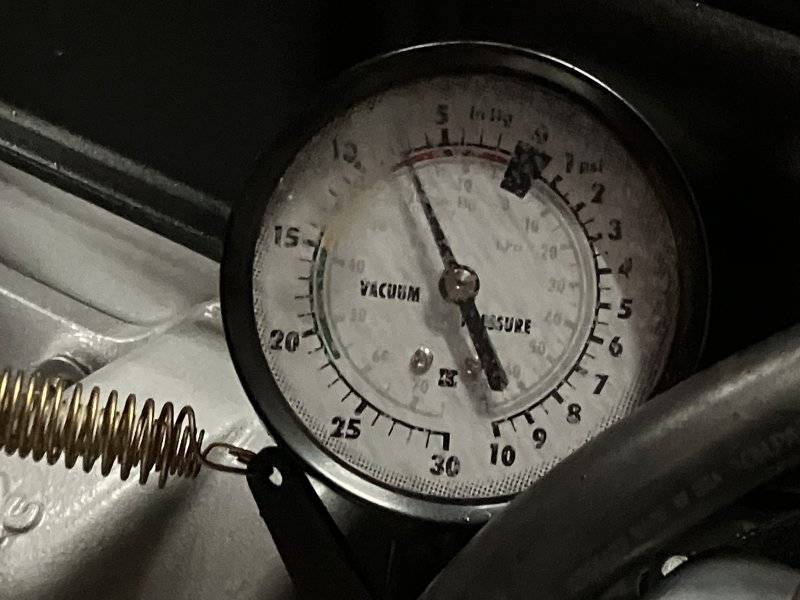 Looks like 7 1/2" to me. The 3.5 power valve might be the right choice again.
My question....
I probably knew this at one time and gave forgotten: Does the power valve have that much influence on the A/F ratio at part throttle?
I've tried reducing jet sizes before and often times that only reduces power while barely changing the readings.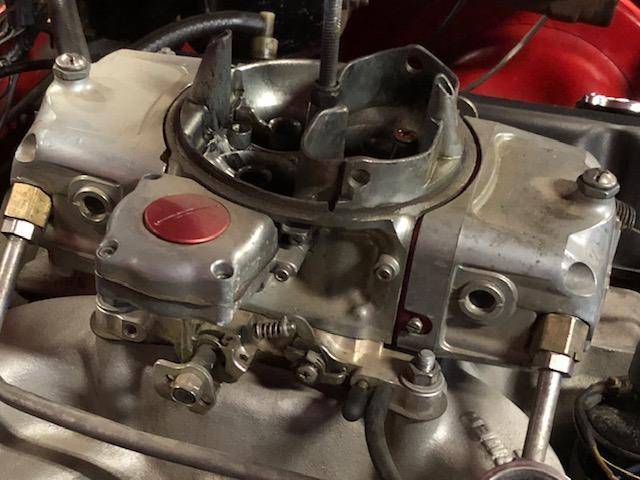 Comments?