Dad was a Plymouth Guy... his Dad had/ran a Plymouth Lot in the '50s in Port Townsend, WA. I have many memories of Dad's 60 something 4D Plymouth (pretty sure it was a Belvedere) 2 Tone Red/Mauve and Silver with matching interior. I have never owned a Chrysler - there was a Fiat 4d, a Country Squire Station Wagon, an '81 VW Rabbit GTI, a 280z 2+2, an 80 something Buick, Ford E350 van, Nissan P/U, 1990 Suburban (still running and daily driving), an '84 Volvo 244, a 2003 Ford F150, and a 2002 F350 Super Duty 7.3 - but not a single Mopar.
I have gotten up in years and looking back I see this clearly needed to be rectified. I needed to fix this.... Craigslist and FB Mkt place filled my evenings before it was time to head for bed... the days and weeks past. I started watching "Will it run and can I Drive it Home?" and "Driven from the Grave" Videos on the Tube of You's. Then it happened- that one car struck a cord. It was close to me... it was a Muscle Car but not in the obvious way... it had a 440... it had 4 doors... it was the perfect mobile to force my family into for long car trips and adventures. It looked right, it looked clean, it looked almost too good to be true - but it wasn't. It was a 1966 Dodge Coronet almost all original except for a 440 replacement motor (built out in the late 90s early 2000s) and a Disc Brake from end conversion with new springs, shocks and bushings. Current owner had it running and driving until about 2 -3 years ago when an ignition issue made him park it and move on to another project and another. The paint is "Medium Turquoise Metallic" and the original interior L1Q Turquoise showed their age, but were Intact with the exception of the usual driver seat tears and a ding or 2. Rust Free except for one bad spot in the trunk about 6x6 that could be patched easy. And the price... she was right "divorce forces sale." It turns over on the Laughing Gas... no bad noises... on to the trailer she went.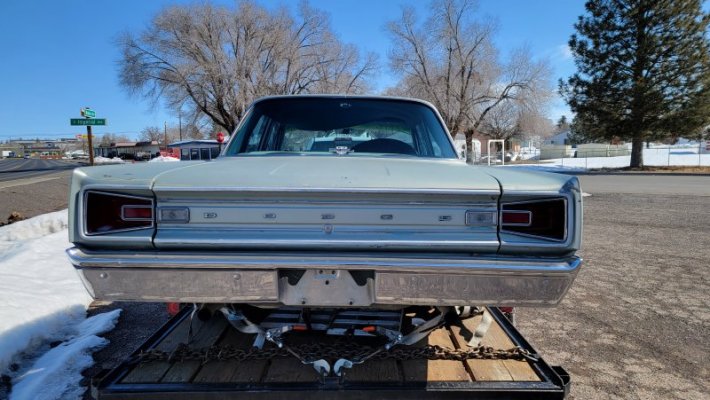 As we pulled out of the little town we got several double takes, a thumbs up, and one guy at a Rest area spun around twice craning his neck to get a better look her and then stopped and looked again before heading to the washroom - each time I just kinda yelled "Its a '66." With the looks and well wishes I felt like the investment was already paying off.
The plan is to get it back on the road and driven. New shoes- those tires are rotten. Clear/clean the gas system - she still has the original Tank and lines. It needs some light electrical - it was turning over but wasn't exciting the coil, so we ran a wire from the battery to the coil and it ran. Clean - shine - protect the Interior- it is all original, dirty and it needs a scrubbing and maybe a couple seat covers. A little music would also be nice.
She will be a Driver... no trailer queens here. Long Family driving vacations to see America; maybe some meet ups, car shows, cruises; definitely some chirps, a little tire smoke, and perhaps an exhibition of speed or 2- no guarantees.
Appreciate your time and looking forward to your feedback.