Life is full of turns. Build your car to handle.
FBBO Gold Member
Local time

10:35 AM
Joined

Apr 13, 2012
Messages

30,494
Reaction score

100,367
Location
I love this hobby.
I love the hunt for parts, chasing down leads and tips on classics that have been out of sight for years. Some pan out, some don't. That "old Dodge" is sometimes an '82 Omni.
Yippee!
Sometimes it is better than that. Most people are NOT car enthusiasts like us. An old car might as well be an old dishwasher to people like that.
A few days ago, I got a call…."Hey Greg, do you want a parts car"?
Of course I do.
I get this picture….
Okay…not a '68 Road Runner or a69 340 Dart but I am still interested.
I make plans for Friday and got a buddy to help out.
I drove in today to find this: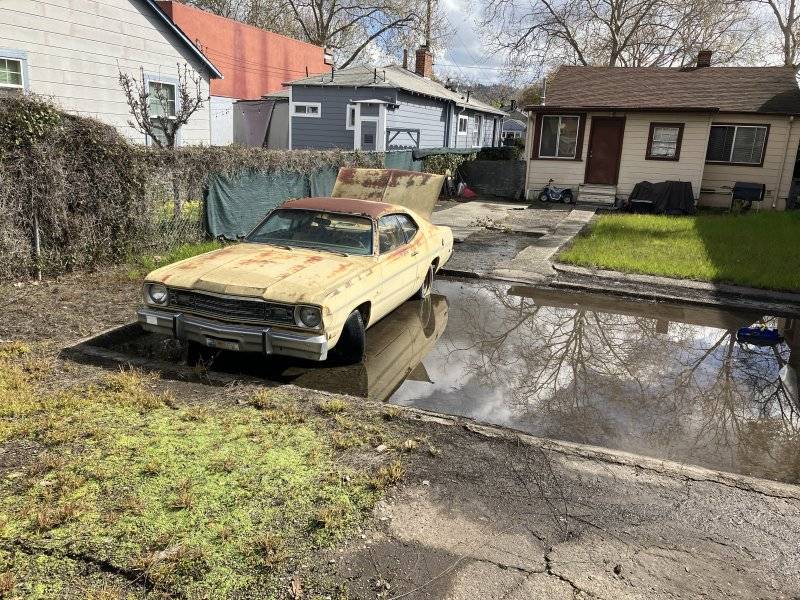 Yeah…we have been getting a LOT of rain lately. This car is within 2 miles from the San Francisco Bay so it rained even more there.
Two inches of water was all around the car. This usually isn't a problem but this car has been sitting in this exact same spot since at least 2002. I looked at the address on Google Earth and all photos prior to 2002 were too blurry to see anything.
Sitting this long with salty air meant that the brakes were likely rusted. Through some crazy luck, the fronts were fine. I did have to cut off the right rear drum so the axle shaft would spin.
The car was facing a fence to a narrow alley….
Last edited: