I recently decided to restore/refinish my grille and headlight bezels on my 72 plymouth roadrunner. After doing a little research, i really didnt find much on how everybody else is doing this or what materials they are using.
After some preliminary tests and trials, i have found some success and decided to share everything with those who are also looking to freshen up those old plastic grilles.
First ill start by including the list of materials/chemicals i used....Easy Off oven cleaner, Soda Blaster, Liquid Dish soap, Adhesion Promoter, Denatured Alcohol, SEM Trim Black paint, Plastic Epoxy Resin sandpaper and scotchbrite pads.
Heres what my grille and bezels looked like before. Who ever owned this car before me had sprayed painted these pieces and they looked like crap. And the cheap rattle can paint job was starting to flake off.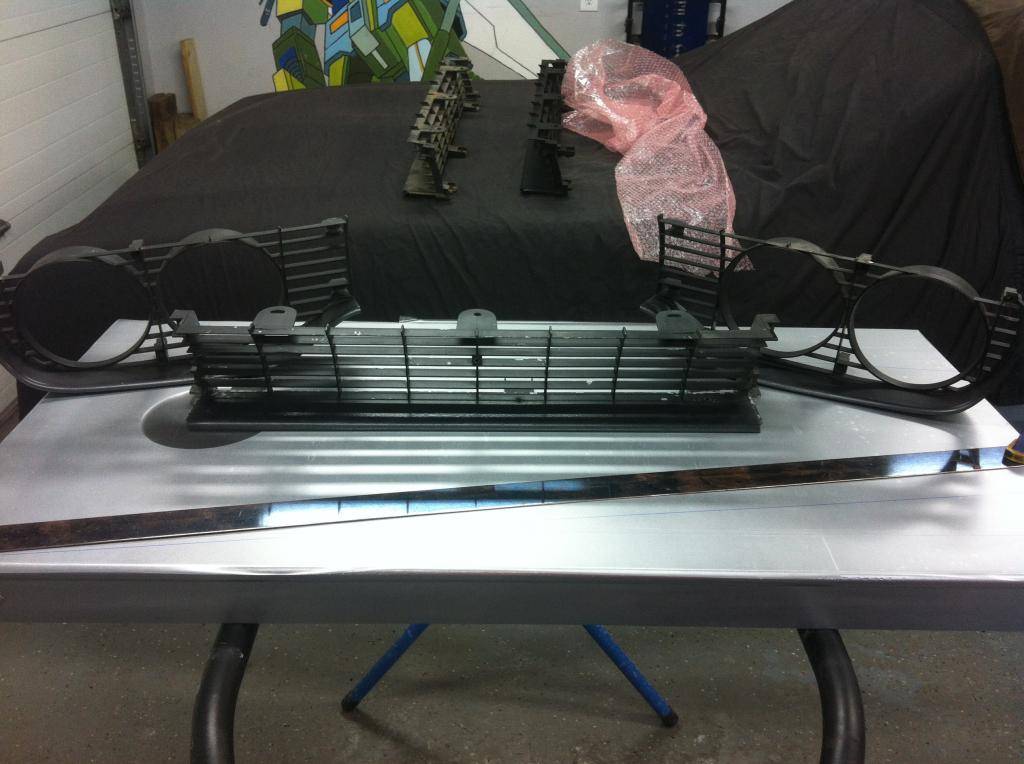 A good friend of mine actually recommended i try Easy Off oven cleaner first to remove the old spray paint. I was hesistant at first and approached this phase very carefully because i wasent sure how harsh the chemical was. Turns out the Easy Off worked great! I coated the pieces and placed them in a garbage bag and tied it closed. The first soak lasted for about 4 hours. I used a firm toothbrush to agitate the paint a little. Then rinse with water. Here you can see the factory silver paint showing through what was under the black spray paint. This must have been from a satellite i imagine.
I repeated this process again. The second soak lasted about 6 hours. This second round nearly removed all the black spray paint completely. However, the silver paint underneath seemed to be unphased. Note the right bezel is silver, which i believe belonged to a satellite. The left bezel was black though, my guess is that this was from a roadrunner. And the center grille section appears to have been painted silver, because the shade is different and also it was coming off at a different rate as the other pieces. My guess is that it started out as a roadrunner grille that somebody painted silver to put into a satellite, but then painted black again when it was made into a roadrunner clone.
I repeated the process again with very little results. It seems the oven cleaner is just no match for the factory finish. Realizing i needed something a little more aggresive, and not really wanting to use a harsher chemical, i turned my attention to soda blasting. Ive had years of expierence with sand blasting, but never tried the soda before. I figured it was worth a shot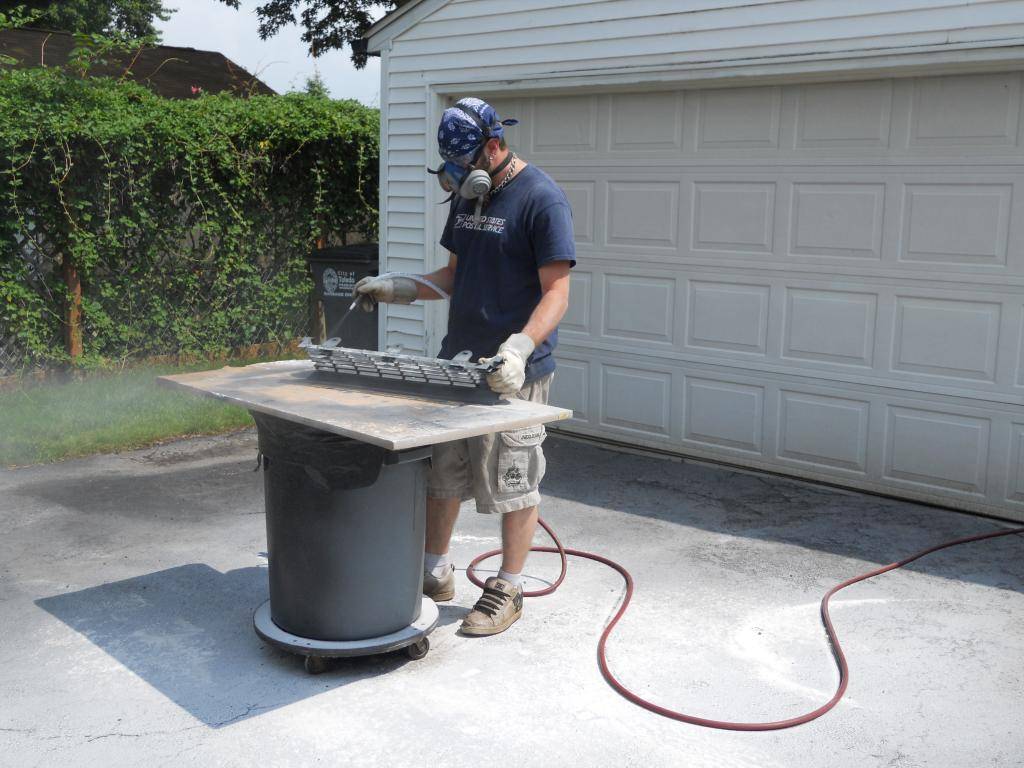 Ive got to say, i was impressed! The soda blasting worked excellent. Keep in mind, this process DOES have the potential to damage the plastic. So keep the pressure down around 60psi and keep the nozzel roughly 6-10 inches away from the part, and always keep it moving never staying on 1 spot for too long. I bought my soda from harbor freight and it was labled as "medium" regaurding the courseness. After i soda blasted everything, i used a RED (fine) scotchbrite pad to sand down the entire piece. Then i wash the part using what i call a hot cleaning method. I put about 5 gallons of VERY hot water into a tub and add liquid dishwashing soap (like dawn). I scrubbed the parts thoroghly in the water using the scuff pad and let them air dry only. Here are the results
Right Headlight Bezel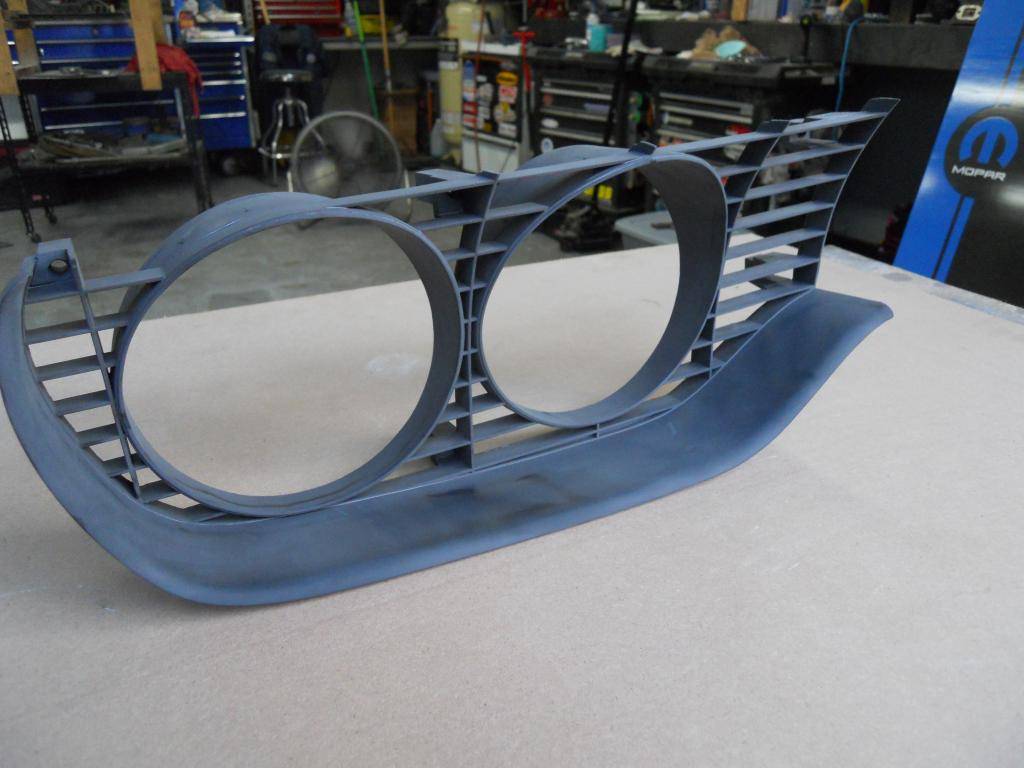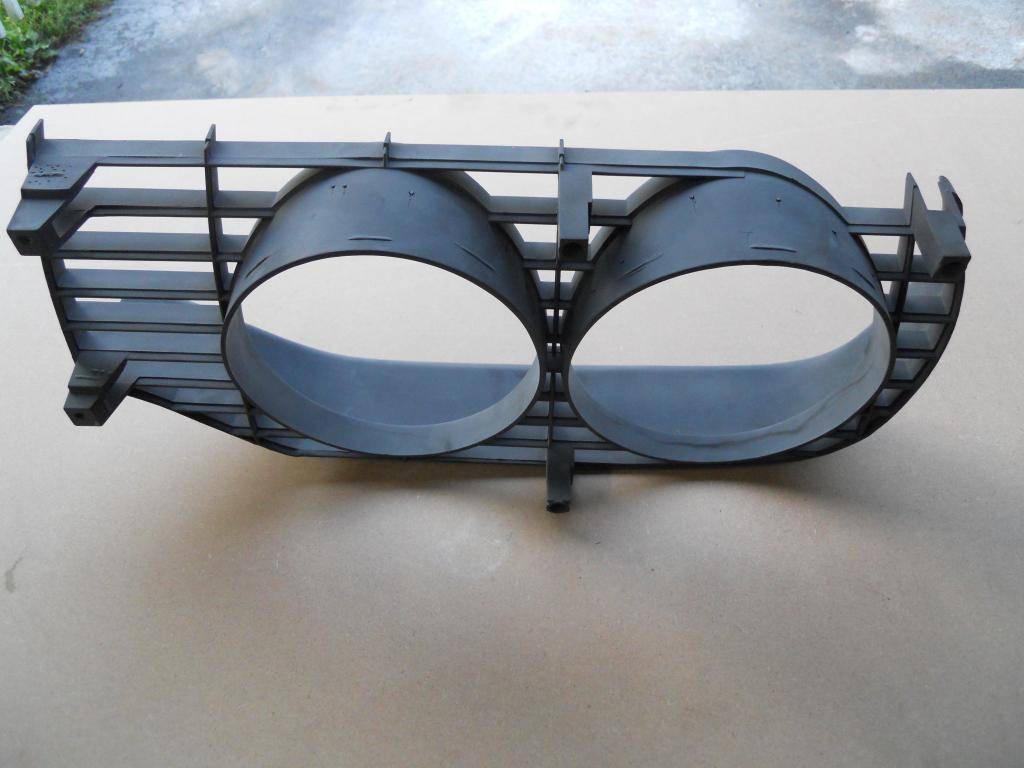 Left Headlight Bezel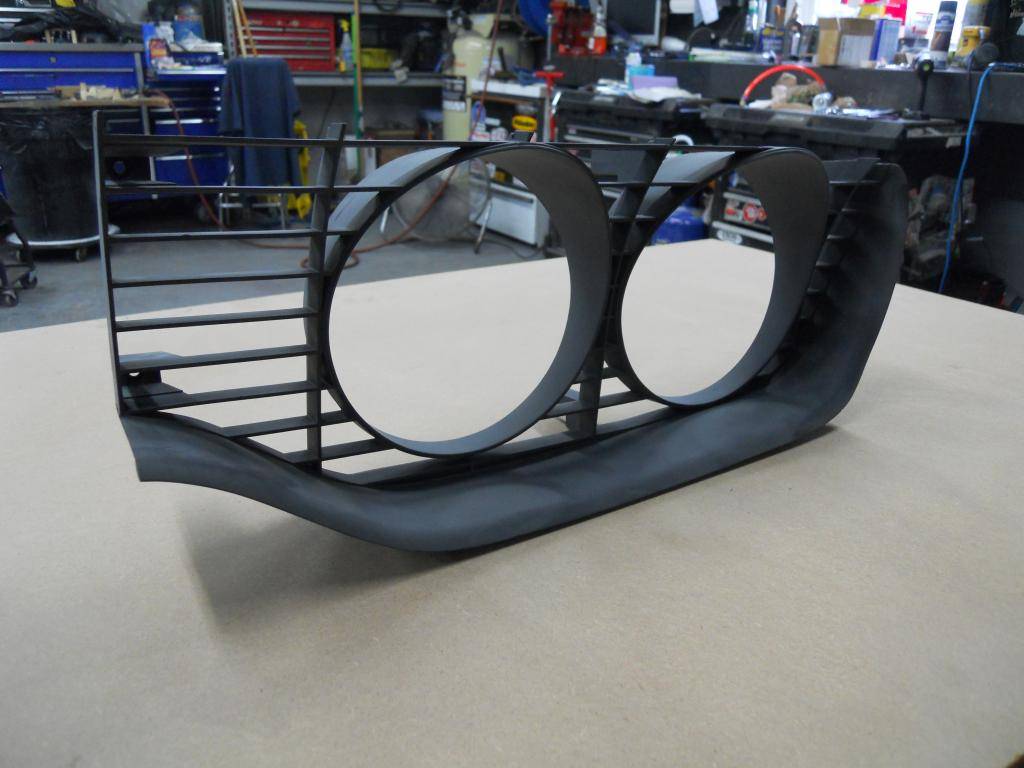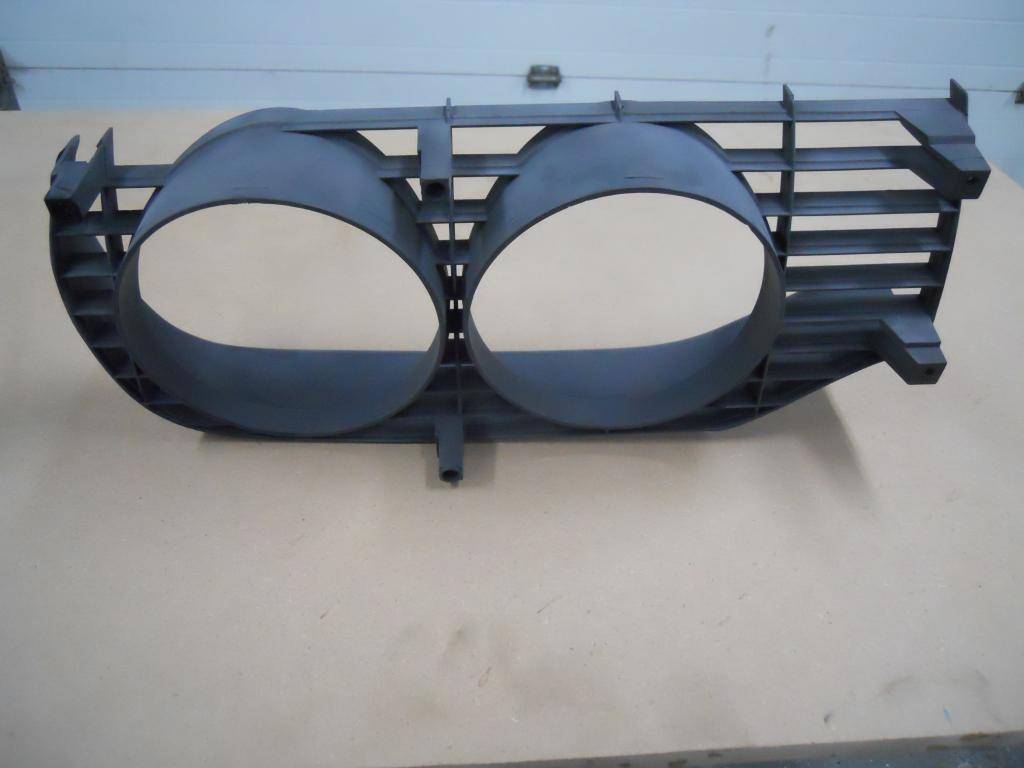 Now the center grill needed some additional attention. Whoever owned this car before me was clearly missing ALL of the brackets that attach this grille to the bumper itself. So they must have thought it was a better idea to drill 3 holes along the bottom edge and ZIP TIE it to the bumper! :head_smack: To repair this, i used epoxy resin to fill in the holes. Once cured i gradually sanded them down, stopping at 400grit. (Sorry i forgot to take pictures of the repaired damage)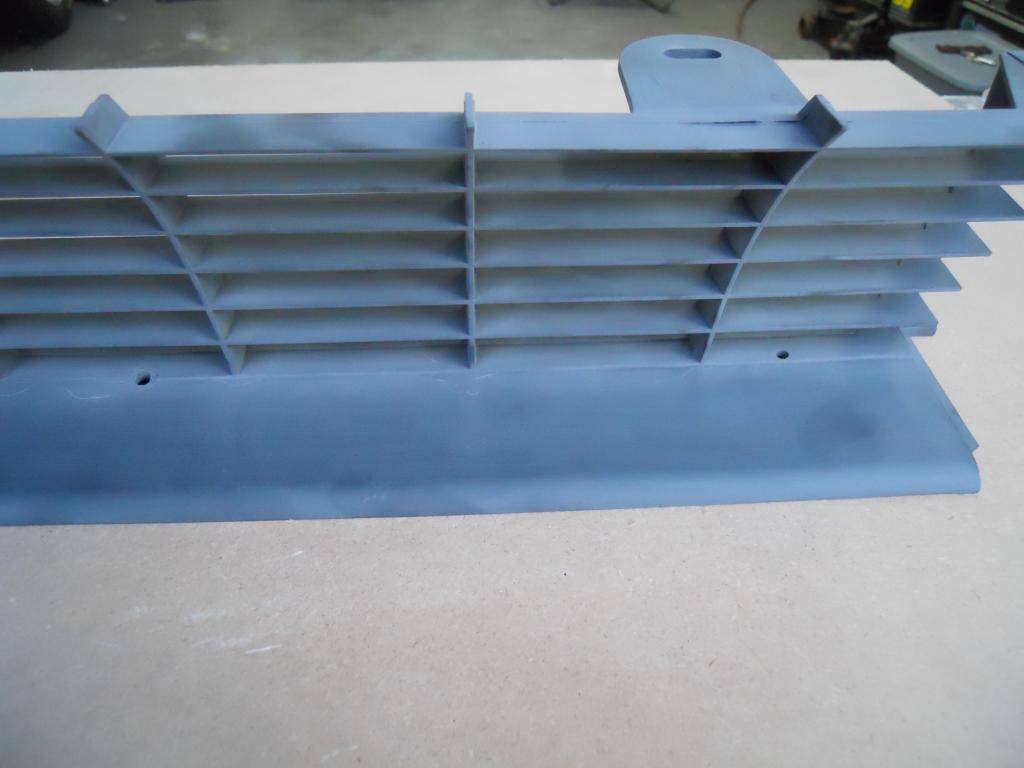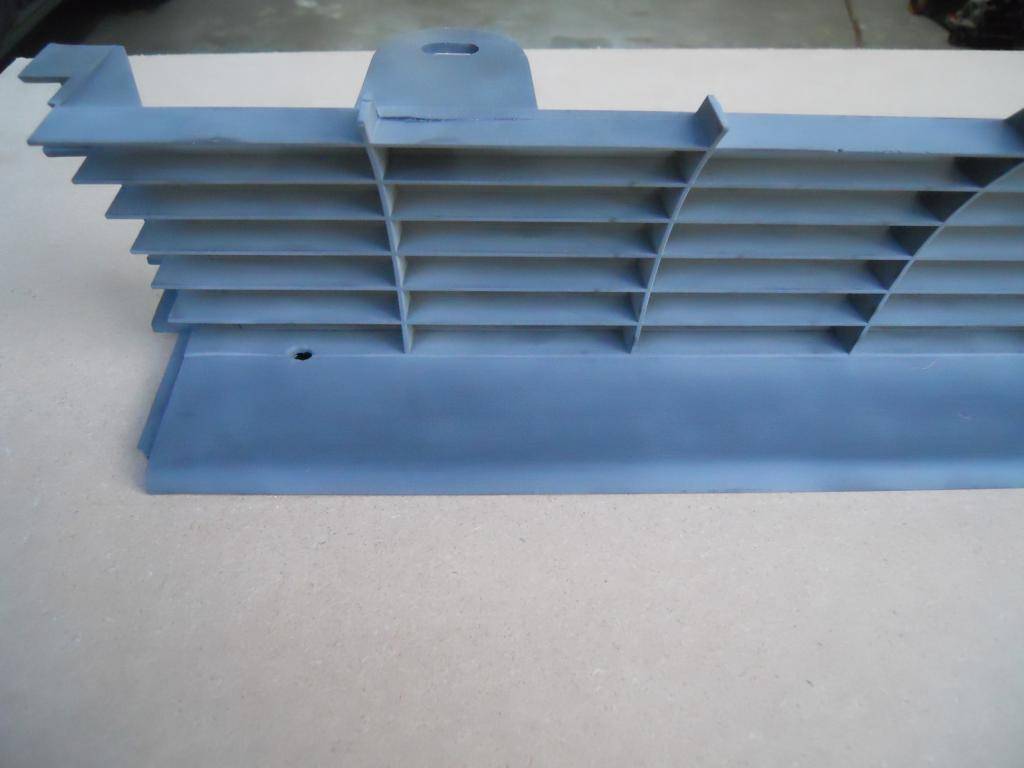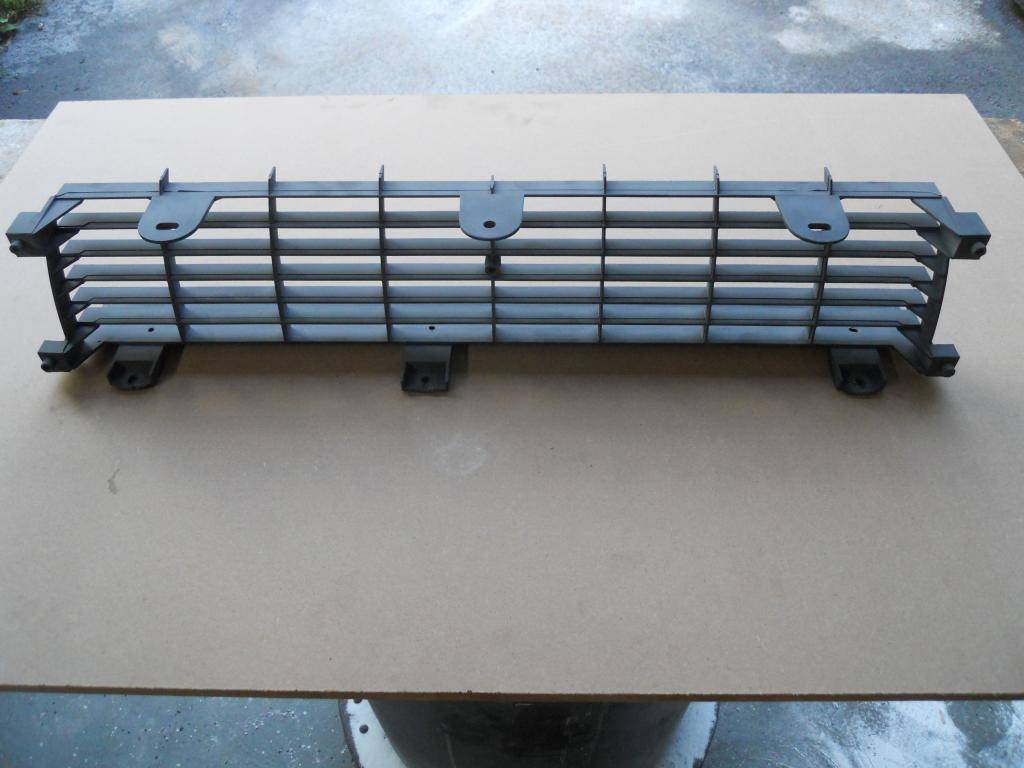 But the prep work isnt quite done yet. I went ahead and dry scuffed all the pieces again, but this time using a GREY (very fine)scotchbrite pad. Followed by another HOT cleaning session and let air dry. I recommend you use extra caution when handling the parts and avoid touching the raw plastic with bare hands. Wear disposable gloves to prevent oils on your hands from getting onto your work pieces. I then used a paint gun to spray the pieces with denatured alcohol. This proved to be very effective vs. trying to wipe the piece and get into all those nooks and crannys. After the alcohol evaporates off, i used an adhesion promoter made by Bulldog, this was just to ensure the paint would have a better chance of biting into the plastic. Follow the directions on the can.
Finally time for paint! I decided to use SEM trim black, which is a laquer based product. I have found this product to be great on other exterior parts in the past and its easy to work with. It has just the right amount of sheen in my opinion, comparable to a satin finish (more sheen than just flat). Here are the results...
Right Headlight Bezel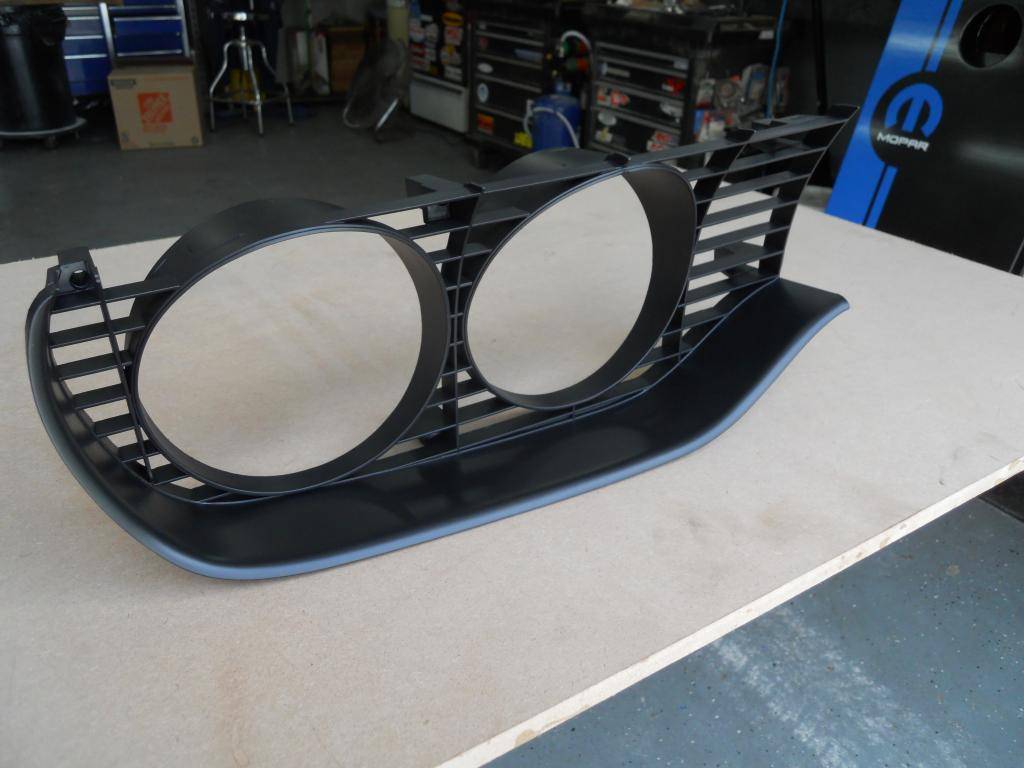 Center Grille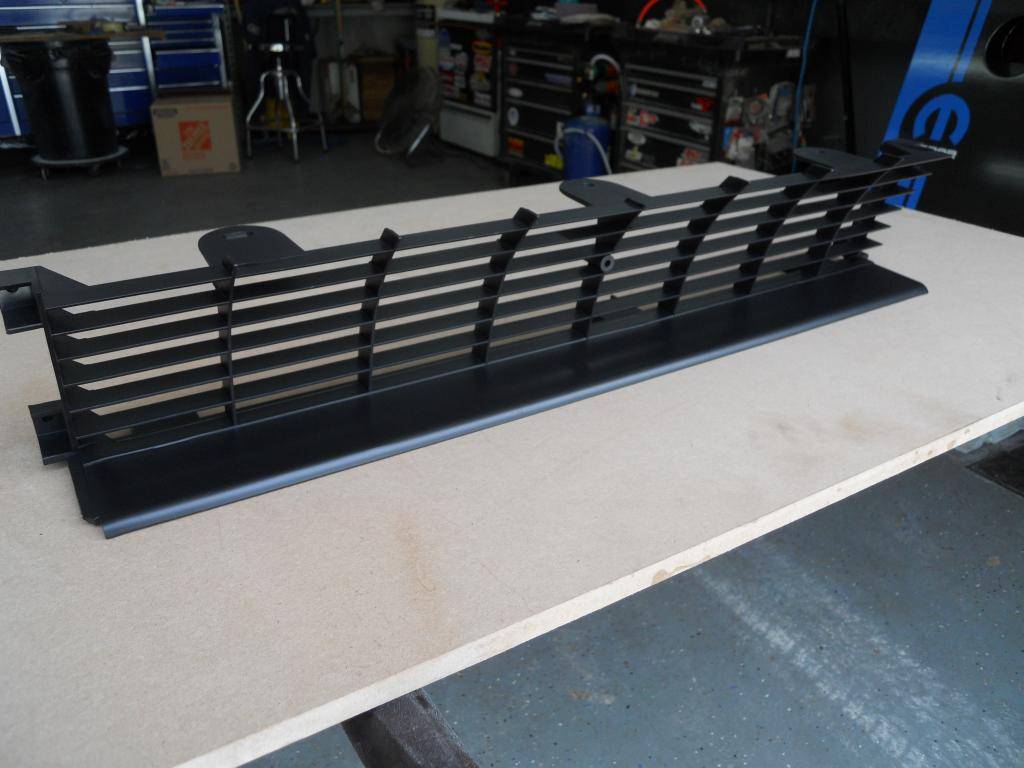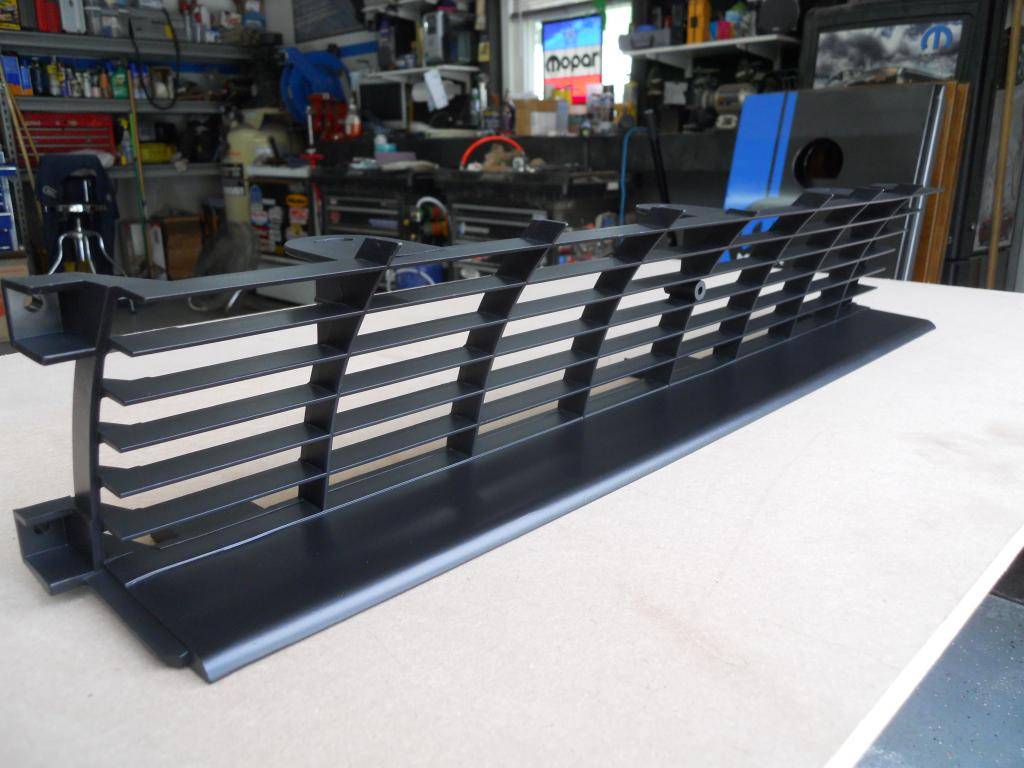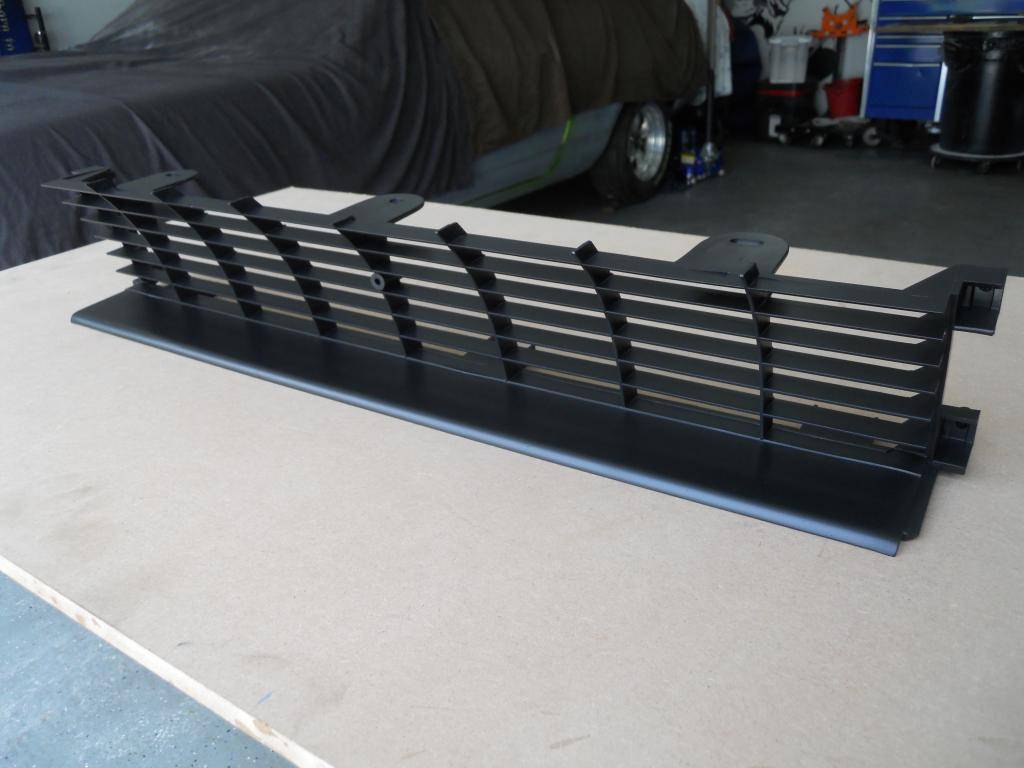 Left Headlight Bezel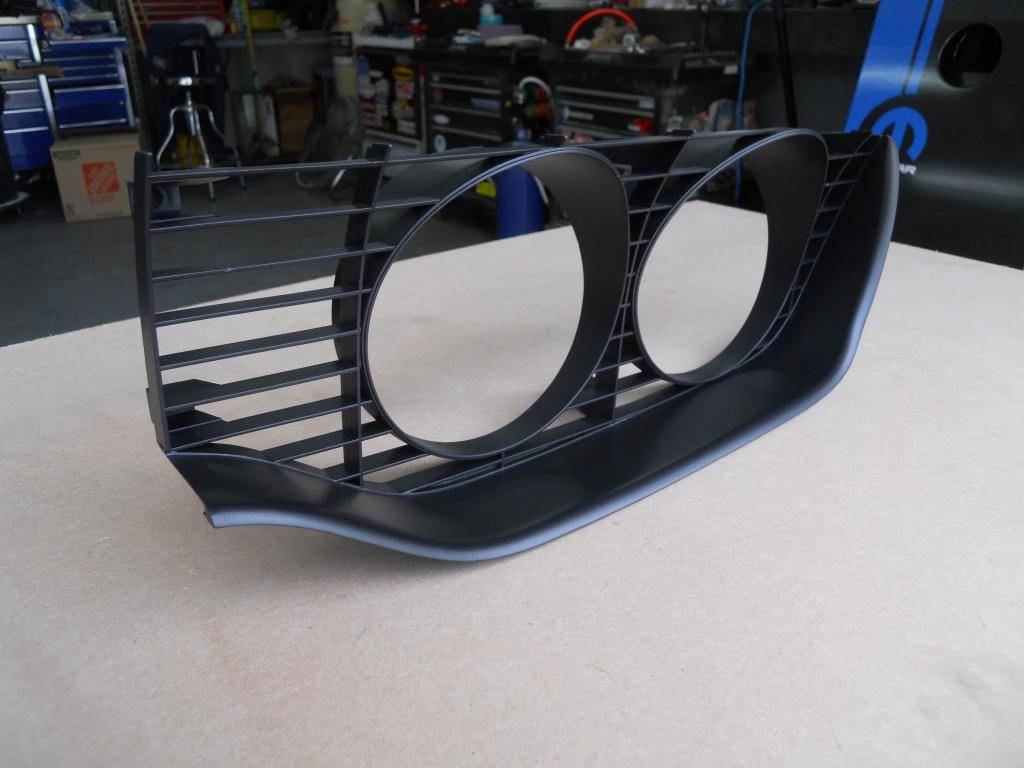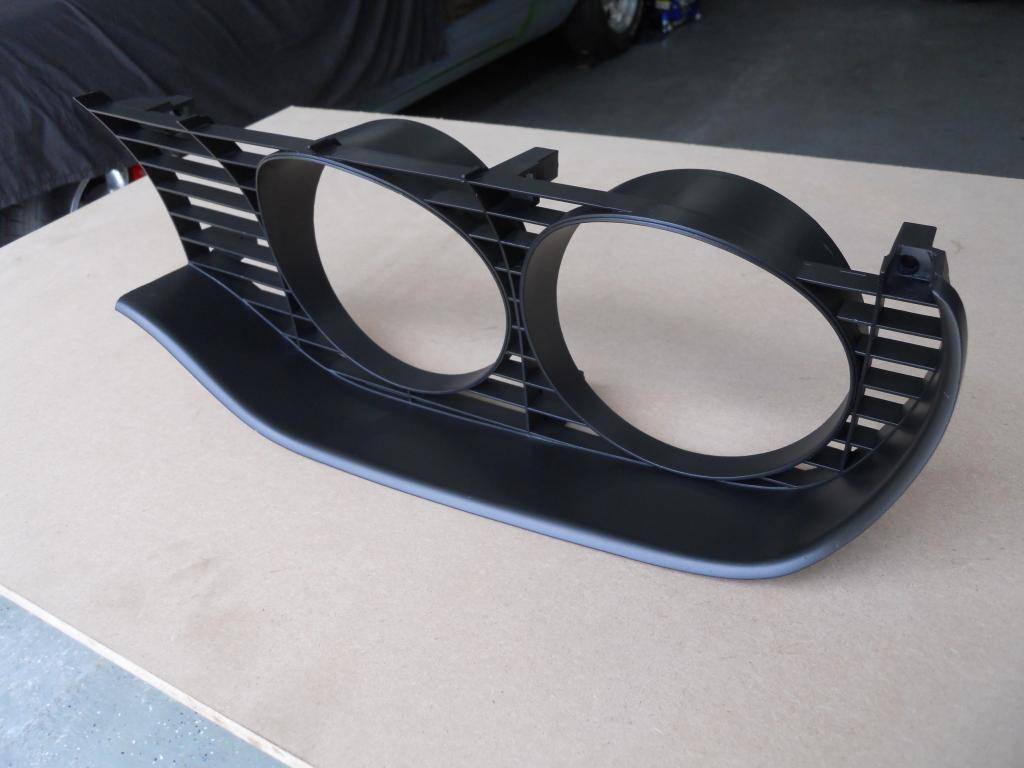 Well thats about it. I have 35+ hours of work into this project, but i couldnt be happier with the way it turned out. These pieces look like brand new and i cant wait to get them on the Roadrunner. I hope that what ive learned can possibly help someone else with their project. Let me know what you guys think. ENJOY!
Last edited: