FBBO Gold Member
FBBO Gold Member
Local time

8:24 AM
Joined

Sep 22, 2013
Messages

143
Reaction score

83
Location
Car was originally supposed to be a drag car, narrowed rear end and has frame connectors.
Long story short the frame connectors cover the hole in the back side of the cross member that the brake line would normally come through. I've searched around quite a bit but haven't seen any good examples of how folks have handled this. It does sound like you don't want to run the line down the inside of the frame connector, if anything in the drivetrain fails it could take out your brake line.
What I've been thinking is using the hole close to the normal one, which if I drill a hole in the other side of the crossmember its is pretty much a straight shot (I figure I would put rubber grommets in both holes to protect the line even with gravel guard).
I've circled the hole I was thinking I could use on the engine bay side of the cross member.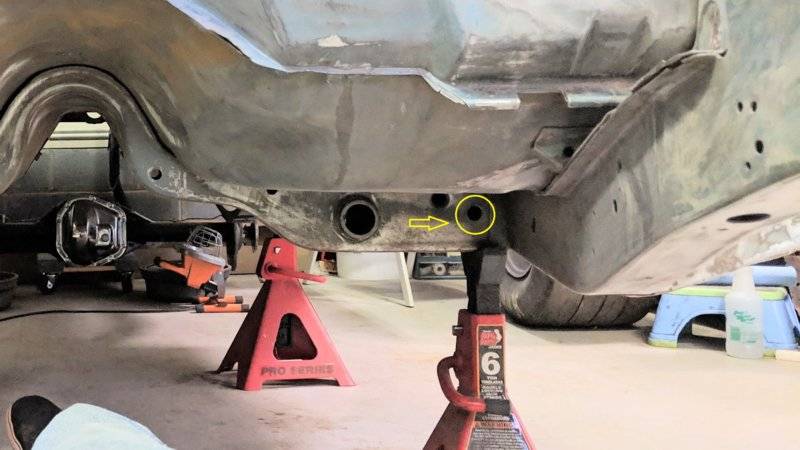 Here's where I was thinking I would drill a 3/4" hole in the other side of the cross member.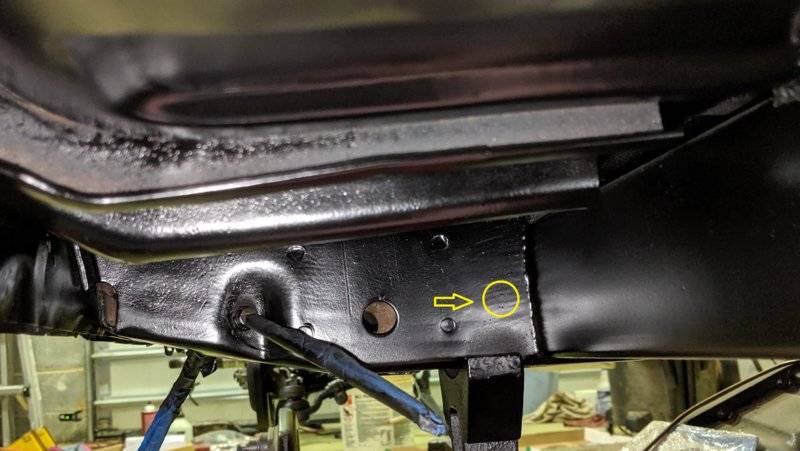 Once on this side of the cross member I could either go straight along the frame connector, or over to the edge of the floor pan (like the factory line).
I figure several folks have solved this problem before, any advice of what to do and what to avoid would be greatly appreciated.
The second part of this is the hose to the rear axle. The dana 60 has the tee block about halfway between the pumpkin and the wheel (as opposed to just off center of the pumpkin).
This rear end housing was in the car when I bought it, but its quite possibly not a mopar. From what I've looked at so far, I'm afraid the standard hoses aren't going to be long enough. Hoping someone might have fought this before and have some advice on this as well.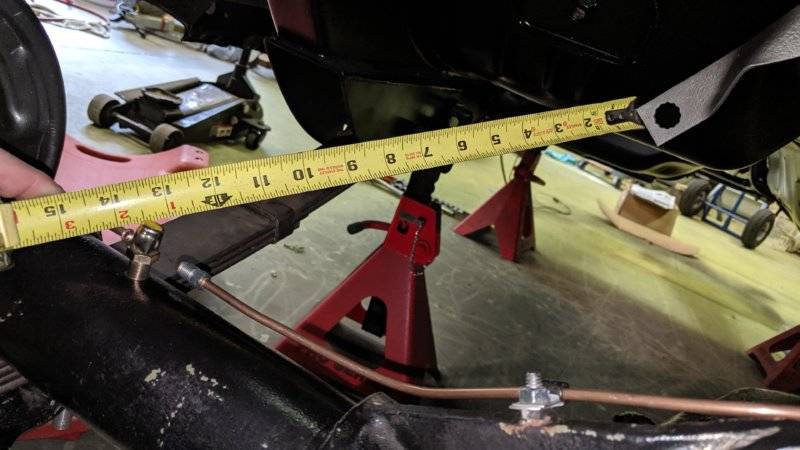 Worst case I guess I could go with a stainless hose, but not sure what the rules are for passing safety inspection.
Thanks once again folks.