Local time

12:07 PM
Joined

Dec 30, 2018
Messages

1
Reaction score

1
Location
Hi all
I am just wondering if anyone has any good (factual) information (pictures PLEASE) on the single 4 barrel 413 and 426 Max Wedge engines that ran in NASCAR between 1962 and 64 (before the Hemi came out, which is everyone's main focus obviously, and it seems the MW just plain got glossed over after the race hemi dropped) And they may have run in any road racing classes like SCCA when new.
I am specifically looking for data on the intakes, blocks and heads used in these engines, it is easy to find info on the 2 x 4 barrel Super Stock MW engines and the units used in drag racing, but any circuit racing stuff seems pretty scant, or the threads are from 15+ years ago and the pictures and gone / links are dead. I did find one 2406185 nascar intake in my search.
I also wonder if anyone has any info about headers? I did find this lowres picture of a super speedway 426 MW setup, but I dont know what car it was or what book it came from?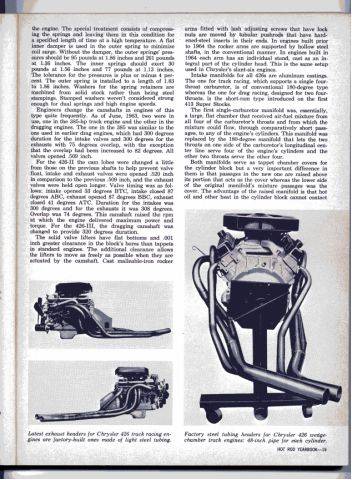 Thankyou for any help any of you can lend! the MW info out there is thin on the ground!
I am contemplating building a 64 plymouth post car for vintage (pre '66) touring car racing, but I would need to collect as much # matching stuff like heads and intake to build the engine as possible to satisfy governing bodies.. Consequently I would be on the hunt for an engine builder who could build me a strong and powerful 426 that knows these engines and knows how to make them last (oiling system?)
Cheers all..