MSGT(ret) and MOPAR only distributor rebuilder!
FBBO Gold Member
Local time

4:39 PM
Joined

May 5, 2016
Messages

4,745
Reaction score

2,479
Location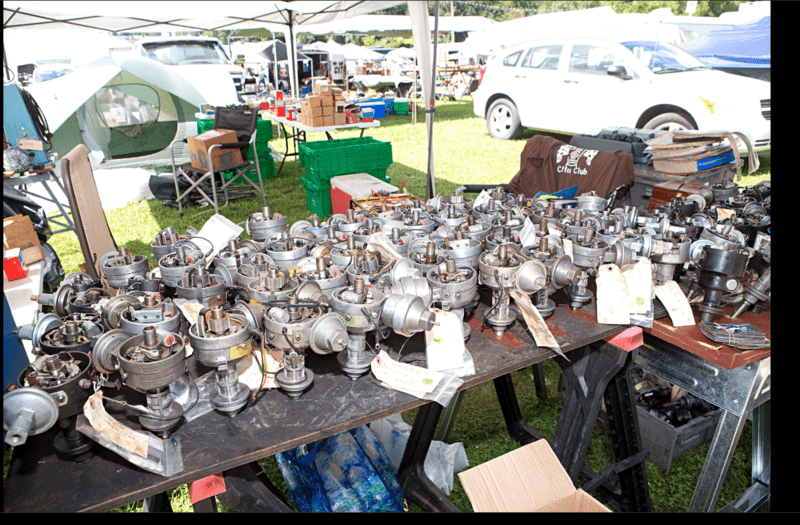 Rebuilt Mopar distributors, all clearances checked, disassembled, cleaned, brought back to factory specifications then re lubed and assembled NOS or NORS points and condensers installed so no premature fails with the junk new components that have a very high fail rate. Then ran on one of my six distributor testers by needed RPM. Can curve also if needed using all oem parts no welding and grinding. Have a few hundred cores to choose from so I only list the completed units don't see what you need just ask. Prices range from $85 to $1600. Been adding prices to the new ones as I go.
I also have points and condensers, pickups and caps just ask.
Slant six
Cast iron Prestolite slant
225 2642795 31/3 New old stock
IBR 4203A Canadian 1842810 $190.
63
170/225 2098671 17/3
65
225 1v AT 2444648 39/4
66
170 2444255
73
225-1 3755042 51\2
225-1 3755042 at 7/3
75
76
225 3874714 1BBL MT 47/5 $130
LA
MP
LA 3690430 28/8 $170
MP LA TACH DRIVE ELECTRONIC 3690200 48/7 $385
63
318 2098695 FORWARD LOOK EMBLEM $170
64
273 2444448 13/4 MAN/AUTO A
318-2 2444259 3/5 AT C ONLY $175
65
273-2 2444794 18/5 MT A,B $148
273 2444791 21/5
318 2444291 48/4
273 2444853 IBS 4013 A body only 37/4
318 2444259 29/4 AT B/C
273-4 2444853 IBS 4013 5/14 A only
66
273-2 2642460 replacement for 2642238 AT single point Prestolite 42/5
318-2 24444259 32/5 AT B/C $175
67
273-2 2642359 12/3 (replacement) $175
318-2 2642718 19/7 AT B/C $190
273 w/petronix 2642242 no tag
273 2642242 IBS 4013A 7/7
273 2642238 7/7 A/B
318 2642218 16/7 A/B/C
318 2642718 at 18/7 B/C
273 2642242 IBS 4013A 51/6 A $355
318-2 2642718 AT B,C $180
68
318-2 2875338 48/7 MT $175
340-4 2875105
IBS4015A AT A ONLY
318-2 2875342 MY/AT A,B,C $175
69
318-2 2875747 29/8 AT B/C
318 2875796 46/8 A/B/C
318-2 2875796 31/8 AT/MT A/B/C $160
318-2 2875796 A/M A,B.C 48/8 $175
70
340 3438317 IBS 4018 MT A/E 40/9 $425
340 3438317 IBS 4018 MT A/E 1/0 $435
318-2 3438225 7/9 AT B/C/E
340-4 3438325 42/9 AT A-E ONLY
340-4 3656278 MT/at A,B,E 240HP 35/1 $200
340-4 3656278 AT/MT A,B,E $275
71
360 2V 3438422 A/M C ONLY $125
318 3438225 42/0
340 348522 IBS 4018C 38/0
318 3438225 49/0
318-2 3438225 AT A,B,E 43/0 $150
72
318-2 36567275 15/2 MT-AT A/B/E W AIR PUMP
318 3656587 17/2 A/B/C/E
340 3656278 51/1 100 Point clone $425
318-2 3656390 21/6 AT A/B/C/E $175
73 318-2 3656763 10/3 MT/AT $185
73
318-2 3656763 22/3 at/mt all $145
360 3656780 40/2 EARLY C
360 3755365 18/3 C
340-4 240hp 3656771 41/2 at mt A,B,E $180
73 340-4 3656771 29/2 AT/MT A,B,E $190
73 318-2 3656763 21/3 AT/MT all $175
74
318-2 3656763 20/4 AT/MT ALL $145
318-2 3656763 12/4 A/MT $140
318-2 3656672 48/3 all $140
75
318 3874090 38/4
77
77 360-2 3874917 49/6 $175
80
318-2 4111950 46/4
B
MP
B 3656791 Elect 47/2 $180
B 3690431 Elect 24/4 $180
60
361 2075679 9/R IBP4005E $170
61
361-360 2095679 IBP 4005E NEWPORT/WINSOR $250
61 361/383 2095679 9/r IBP4005E $185
63
63 383-4 2095832 IBS 4006 AT/MT POLICE C ONLY $285
64
361 2444241 43/3
361 2444261 30/3 $300
361-2 2444261 AT/MT 8/4 C $200
65
67
383 2642728 32/7 B/C
68
383 2875354 3/8 AT B/C $155
383-22642727 38/6 M/AT B/C $175
383-2 2875354 8/8 AT B/C $150
383-4 330 HP 2875358 28/7 AT A/B/C $220
69
383-2 2875747 2/9 AT B/C $165
70
70 383-2 3438231 7/9 B,C,E E ADVANCE $265
383-2 3438231 49/3 290 HP A?M B,C,E NOS e advance $440
383-2 3438231 9/0 AT/MT B,C,E NOS e advance $415
71
383 3438534 25/0 B/C/E
383-4 3438690 35/0 300 HP AT B,C, E adv $385
72
400 3656593 11/2 AT-MT B/C
400-2 365696 15/2 B/C ATMT $165
400 3656593 49/1 AT/MT B/C
400-4 3656329 22/1 B ONLY
73
73 400-2 3656791 26/3 AT/MT B,C $175
400-2 3656791 11/3 A/M B,C $160
400-2 3656792 2/62 AT/MT B/C $175
400-4 3755681 AT/MT B,C 35/5 $190
74
400-2 3755150 MT/AT TRUCK $150
75
400-4 HP 39741110 23/5 $155
76
400 3755157 47/5
81
400? 4091018 37/1 lean burn, nos $175
RB
MP 3690432 37/0
MP aluminum case tach drive 4120942 54/5
MP Electronic 36590432 49/5, 24/3
MP ALUM TACH DRIVE 412092 48-4
MP 3690432 1980 $175
Mp Mallory style adjustable NOS $175
62
361/383 2095836 2/2 C
63
413 209834 IBS 4011a TACH DRIVE $365
413-4 2098690 AT (forward look symbol) C/D only $235
64
413 2444263 48/3 C $300
413 2444263 48/3 C/D $225
426-4 2444247 IBS 4011E tach drive A/M C only $475
413 2444867 48/4 C $300
413 2444869 C
66
440-4 MT/AT 2642252 4/6 C/D
440-4 MT/AT 2642252 35/5, 35/5 C/D
440 MT 2642251 2/6 C body
440-4 MT/AT 2642252 48/5, 28/5 c/d
67
440-4 2642730 52/6 B/C $225
440-4 2642748 375 HP AT/MT B,C 27/6 $355
68
440-4 350HP 2875362 29/7 C only $190
RB 2875346 $140
440 2875362 350HP 46/7, 52/7 C
69
69 440 (350 HP) 2875754 33/8 C body
70
440-4 3656341 AT 7/2 B ONLY $225
440 3438219 350hp 6/9, 37/9 C
440 3438222 41/9 at/mt B,C,E Like new 90% nos $600
440 3438222 2/0 at/mt B,C,E Nice $450
440-4 3438219 350HP AT C E ADV 21/0 $325
71
72
440 3656341 12/2 B
440-4 3656344 27/1 AT/MT C only $225
73
74
75
440-4 3755157 AT B,C $200
Early pre 1960
IAZ 4001A 1345967 (HEMI) $310
IBR 4001 1689323 67-59 6 CYL
IBS 40067D/1345967 DODGE $180
IBS 4006d 1842810 8CYL $300
IAT 4101X3 chry 6 $175 EA
IAT 4101B 54 Chry 6
IAZ 4001A 1345967 C-52, C-55 $180
IAZ 4003L 60 8 CYL DUAL POINT. EARLY HEMI? $300
IGS-4108 39-40 Chry
IGS 4201-1 needs a vac advance
IBJ 4302A 56 Desoto
IBP-4003L 1889564 10/P 60 DART $170