Life is full of turns. Build your car to handle.
FBBO Gold Member
Local time

6:04 AM
Joined

Apr 13, 2012
Messages

29,722
Reaction score

96,479
Location
I'm just spitballin' here but I am considering a camshaft swap.
I'm running the Mopar Performance 528 solid in my 440/493.
It makes adequate power, great vacuum and idles pretty good but the wide lash and the clatter is getting to annoy me.
I have a Lunati solid that I ran for awhile that was much more rowdy but it didn't clatter like this. The Lunati specs were as follows...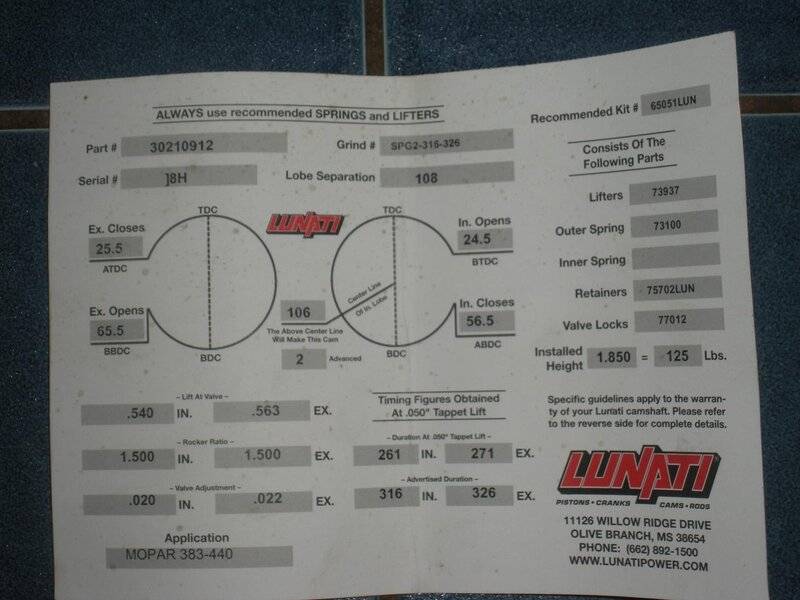 The MP 528 has a lash of .028 intake, .032 exhaust. I tightened up the lash to .025 Int .028 exh and it still is too noisy for me.
I liked the power of that Lunati but it did idle a bit choppy. I still have it and the lifters are all in order. The power brakes didn't like the cam though. Idle vacuum was low and I had to run a vacuum pump.
I'd consider a hydraulic flat tappet just for the quieter operation but don't want to go backwards in power.
I've considered a switch to a manual brake setup. This would negate any drawbacks of a cam that produces low idle vacuum.
I have read from some guys that ran the lash tighter on this 528. I'd do that if I knew that there were no damages related to that.
Suggestions?
Last edited: