Ed on the Ridge
FBBO Gold Member
Local time

12:48 PM
Joined

May 14, 2011
Messages

15,450
Reaction score

26,931
Location
2004 Ram SLT hemi 4x4, aka "Bert":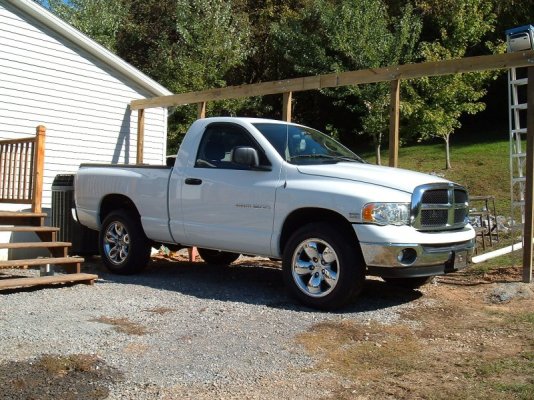 Bought new way back then, been a fantastic truck ever since....until today, that is....
As I went to slow down for an upcoming red light (with light traffic, thank God) I go for the brakes,
when something then proceeded to "pop" - with the accompanying pedal heading for the floor FAST
- at speed.
Needless to say - that was a bit of a surprise.
Much frantic stomping of the emergency brake ensued as I looked for something soft to ground that 5k+
pound "plane" into - which wound up being a front yard of a local business.
I get out and look under the hood - nada.
Looking under the left front, however,
THAR SHE BLOWS
- brake fluid pouring out from somewhere behind
the wheel, lickity split.
Duo-system safety systems my ***!
Now with zero brakes and zero fluid (not to mention, the emergency brakes now shot too), the only recourse
was to call for a rollback - something I'm just not used to doing in my life.
I get the thing home and tear into it and here's what I discover:
See it? A friggin HOLE, right there in the drivers' side caliper hose!
The amount of corrosion was stunning - we don't live in "salt country"...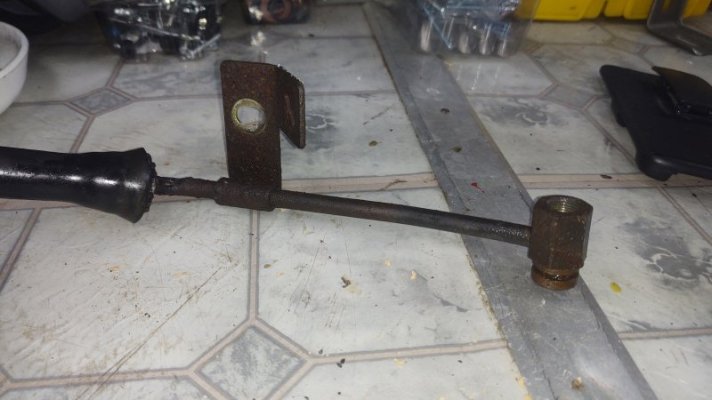 What kind of cockamamie rig is this? Metal bracketry to attach the hose to the FRAME
even before the connection to the metal lines?
The junction on these things at the frame end has a small metal line with flare coming to it
from below AND above??
Well, the "below" one didn't fight coming loose....
but the top one sure did, despite PB Blaster and repeated attempts at hold-backs.
Twisted the end right off her, I did....so I need to do something about that, too.
Ok, discovered the hose is readily fetchable (from what I find online, this has been apparently
a "known" issue with these trucks??). I'll fetch a decent one and effect repair, BUT...
I'm seeing others using compression couplings to put the top metal line back together on these
from where they had to twist theirs off as well.
That just seems janky to me.
Is that advisable?
Otherwise, reckon I have to fetch a factory line replacement.
Oh....and this truck just fell a couple pegs on the "last truck I'll ever own" board.