Accelerati Rapidus Maximus
FBBO Gold Member
Local time

9:02 AM
Joined

Mar 28, 2014
Messages

32,443
Reaction score

50,058
Location
Please bear with me, I'm going into a lot of detail because I want you to know why I'm so determined to keep and use this intake, but I also really want the N96 setup on my 70 Roadrunner.
Ok, some of ya'll said that you didn't think the old school Weiand P3690982 6bbl intake would fit, a guy on Moparts in 2 separate posts assured me that he had a racing friend "way back when" with this intake, a 70 440 Roadrunner, and not only did it fit, he "trimmed the airbox" and had that under the hood as well.
Well...it does NOT fit, at all, not even just carburetors on the intake with no air cleaner would fit. The height of the center carb from base to choke horn is 4½" and I only have 3½" of air between the intake to carb base mating surface and the opening edge of the sheetmetal of my air door square hole in the hood. The available space gets worse (less) from there, but we can use 3½" as a starting point of available space. The other carbs are about 4" tall, but 4½" is the height I need, and then room for an air cleaner above and beyond that.
I am disappointed and bummed out, but I want to see what I can do about it.
Let me say that I really like the intake, I haven't tried it out running yet, but I have read every page of information about it the internet has to offer, emailed the guy whose unique mods are pictured in the article on this intake in the Victory Library site, and got a reply much to my happy surprise. I have spoken with forum members who run it, including one who has run it over 10 years. I've also emailed the guy whose pictures of his Weiand setup by F&B for their direct port injection 3x2 throttle body setup first set the hook in me that I just can't shake loose from. The consensus is that this intake, hands down, makes the most power of ANY 6bbl intake, ever, other than custom fabbed units some guy in Sweden is running.
I love the way it looks, and polished, it is stunning jewelry
. (I wouldn't run the spacers, but this is the only pic of this intake polished I can find) Chromed, or "chrome powder coat" are options too.
Here's the top on my car as I would run it, without the spacers: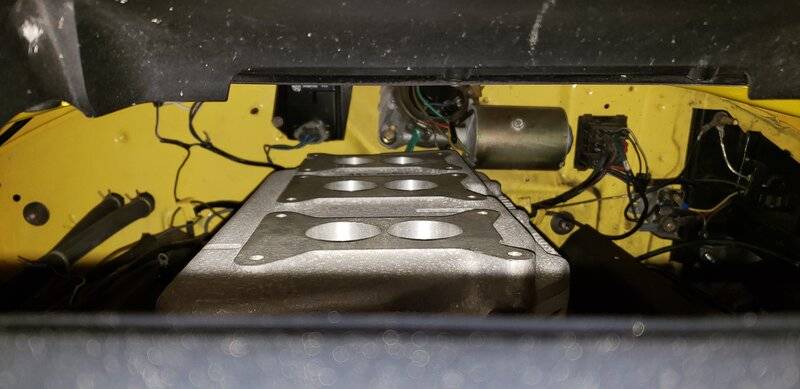 So...
I'm having a lot of parts and systems installed in my car starting June 10th, including a complete QA1 front suspension, w/the QA1 K-member. Let's say I would need at least 3½" additional space, is that possible with K-member spacers or is that crazy? I can see how much space I have between the oil pan and steering linkage if the K-member spacers aren't a ridiculous idea.
Otherwise the only option is to modify the hood, which I would entertain, but I need ideas. My first thought would be to raise the height of the "power bulge" keeping it the stock width, but having it rise higher than the slope and total height of stock. I would still want the airbox and hood scoop actuator. Another option is to do the same modification, but use an A12 fresh air base, top, and hood seal that I bought from a forum member.
The least appealing option but one I'd consider is to switch to the A12 six pack scoop.
So thanks for reading this, and let 'em rip.
Edited: it's "Victory Library" not Liberty
Last edited: