FBBO Gold Member
FBBO Gold Member
Local time

2:08 PM
Joined

Dec 3, 2020
Messages

7,655
Reaction score

17,868
Location
Hi, I'm Joe, and I have a Mopar problem....wait...what? This isn't that meeting? Ah....
Anyway.
Hi all! I just joined due to my newest acquisition. I've had a '72 Satellite Custom 7-passenger non-a/c wagon for about 25 years, that's been from OEM 318/904/8.75" suregrip (3.23)...to crate 360/727 with the same rear...currently in the garage with a mild LA 360, waiting for me to get around to installing the 2005 5.7 EFI Hemi that I have for it.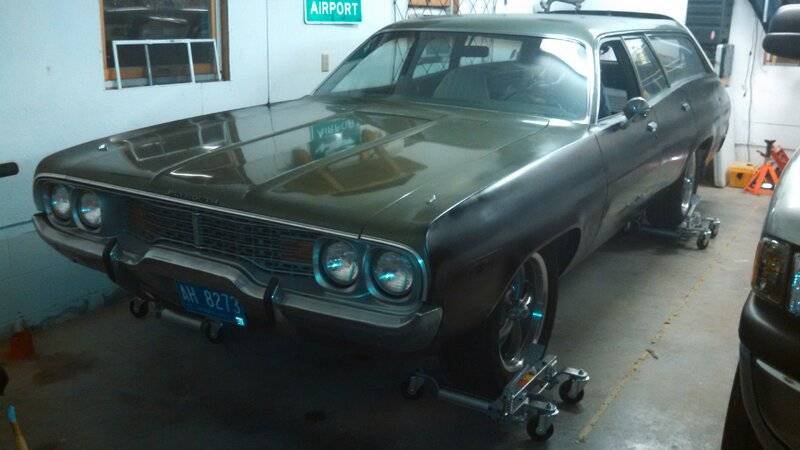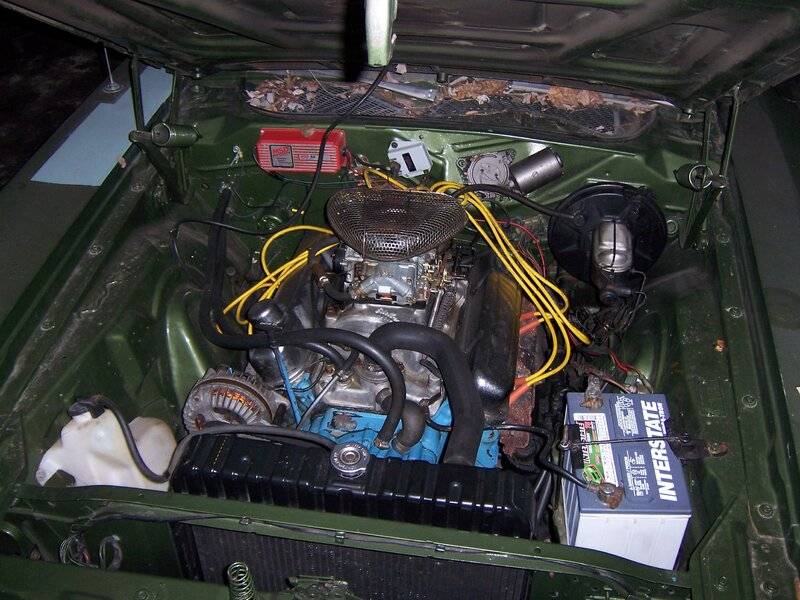 But that's not what made me join up today.
What made me join, is my new '70 Charger 500. It's got some work for me to do. Cliff's Notes version of this story - my mother bought a triple-green 1970 Charger 500 brand new. Drove it for a couple years, ended up getting a 'family' car, gave the Charger to my aunt and uncle...and one of their sons totaled it in '75 or '76. I've been looking for one ever since. Last week, I found it - a '70 500 survivor in triple green (although this one is FF4 light green; mom's was EF8 dark green). Factory air, buckets/console, 318/auto...just like mom's.
Mom with hers, in 1971: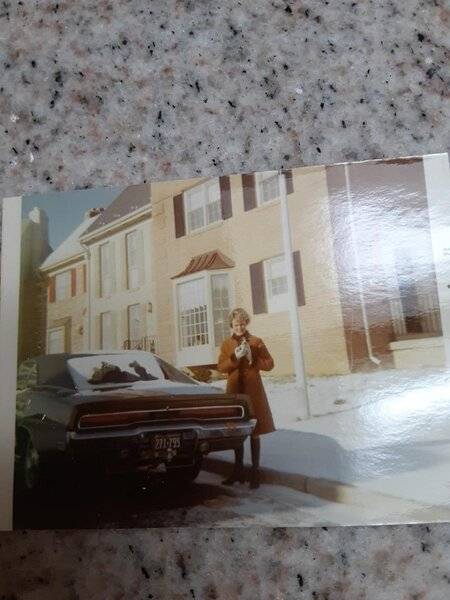 And mine, last Tuesday, the day after I towed it to mom's house when I picked it up on Monday: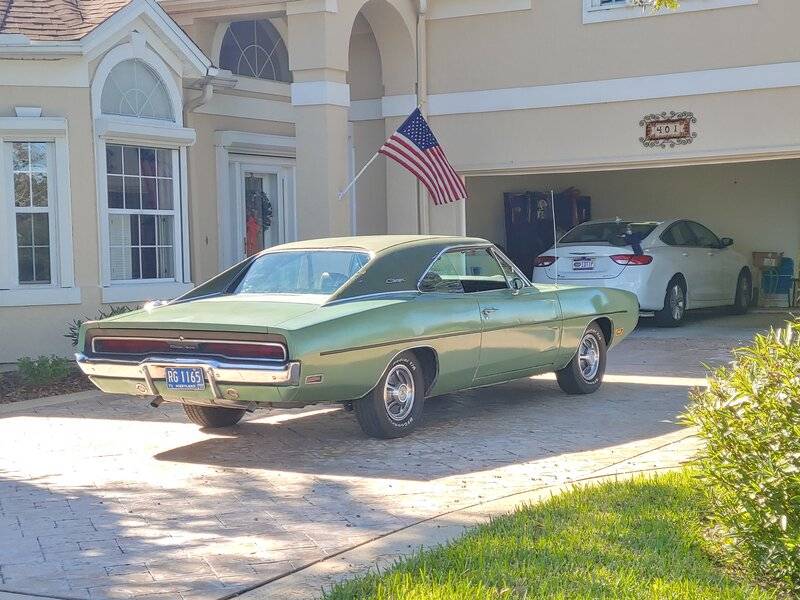 I live in Maryland; my new car was in Gainesville FL; mom currently lives in St. Augustine FL. So, I went to visit...and picked up the car.
More ties to "mom's car": when she bought hers, she was teaching at the University of Florida (go Gators). UF is in....Gainesville, where my car had been living the last couple years. And, the original title (which I got with my car) shows a lien release stamp from the teacher's credit union - the woman who bought MY car, was a teacher - in Tampa FL - when she bought it!
My car has been in FL all its life, until now. It is not quite 100% original. But close. REALLY close. It was painted once - I can see chips at the leading edge of the front fenders; I can see the mismatch under the hood and in the trunk and on the doorjambs. And someone painted the panel above the taillights black. The current color (still quite old, my guess is late 70s/early 80s since it's still lacquer with no clearcoat, likely a Maaco quickie job judging by the tape lines and overspray spots) is more blue; the original has more gold in it. Fender tag calls it out as FF4 though. All the sheetmetal is 100% original. Stickers, trim, body lines, original color underneath...it's all there, on every panel. The only thing I can think is, the factory paint faded and they re-shot it. There's no door sag, they click open and shut like they did on day one. Zero rust - door bottoms, quarters, wheelhouses, fenders, rockers, all of them are ROCK-solid. Even the tray between the back window and the trunk is solid. Valences are pretty straight. No dents. Some ripples - 50 years of door dings - but no creases. It has some goofy black stick-on rub strips down the sides that I need to figure out how to get off. They're UGLY, and they hide the arrow-straight body line. But, someone tried to pull them off starting at the right rear...and it's taking the paint with it. So...they may stay on. I really don't want to paint it - they're only original once - but if I have to, it'll get a fresh coat of the CORRECT shade of green.
And a new top. It has what looks like an original vinyl top...but the fender tag calls out FF4 roof color, even with the M31 body belt moldings (which I understand, are the stainless moldings at the base of the vinyl roof?). And, the Charger emblems on the roof are in the wrong place - too high by about an inch, and too far back by about 2 inches. But damn if they don't look original - faded, dry vinyl and correctly-pitted badges. That'll take some research.
She's pretty well-optioned: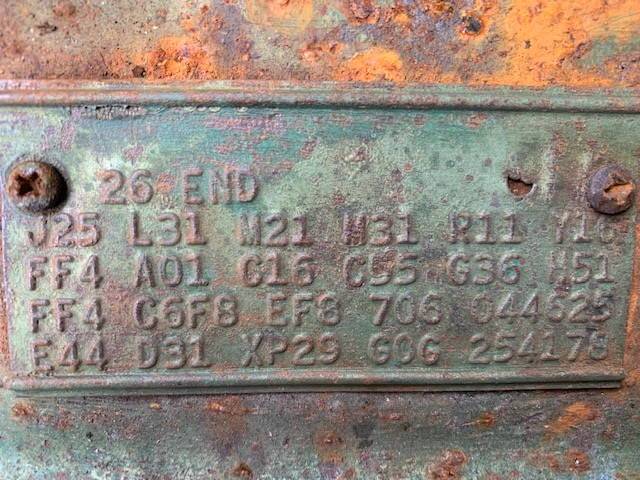 I have both copies of the broadcast sheet; I have the original title; I have the original bill of sale ($3889.59 out the door!); I have the original dealer invoice; I have the owners manual; I have the original loan paperwork.
As I said - the paint is rough, and the top is rough. Can you tell which side I buffed? LOL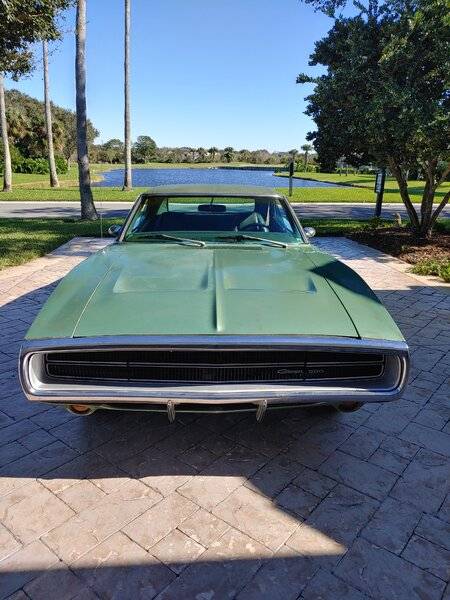 Even buffed out, the paint still has all sorts of stains in it. It was kept in a garage, but apparently they stored stuff on any flat surface - I think the stains are marks from tools - rust, or oily stuff, that just soaked into the paint and left marks all over the car. Ten feet away, it looks ok...but you get up on it and you can see everything.
The interior is actually quite nice - the driver seat shows some threadbare areas on the patterned vinyl (I'll get more photos tomorrow) and the carpet is faded to brown, but all the bits are there. All the trim is there. All the gauges (except the clock) work. AM radio works. Light package works. Headliner is good. I need to replace the drivers 3-point seatbelt because the buckle is a solid chunk of rust, but that's about the worst part inside. Even the dash pad is in great shape! And ohhhhh, that smell. I L-O-V-E that old vinyl smell!
The floors are ROCK-SOLID. Someone in the not too distant past spray-undercoated everything - not original, but I'm good with it for the protection factor. I can knock (well...POUND) on any spot in the floor, and it is solid metal. Clean embossing visible throughout - no rough spots from rust-fluff. Floorboards front and rear. Outer rockers. Floorpan 'wings' in the rear quarter panels. Fenderwells. Inner quarters in the trunk. All of it - pristine. The ONLY rust in the car, is the trunk pan, center section (the part that sits about an inch lower than the rest). Something in the trunk leaked - the rubber trunklid gasket looks pretty crappy, and I also need to check the vinyl top molding clip holes - and it ate out the lowest point in the trunk floor. But that's all. Original spare, jack, handle, and trunk mat are all there. Even the plastic piece that covers the taillights is there - it's cracked, but it's there.
It has factory glass, all around. It has factory taillight lenses (with reflectors), and marker lenses, and turn signal lenses (including the hood). It has a factory grille, and working factory headlight doors. All (and I mean ALL) the trim is there. All the bolts and screws are there. The exhaust is recent - duals, with 2 chamber flowmasters. I'm not really a fan...but it works. Drones on the road...but sounds good when your foot is in it!
The only stuff that's not OEM is 50-years-of-life stuff - hoses. Plug wires. Voltage regulator. Tires. Shocks. Exhaust. Brake lines. Fuel lines. Fuel tank. Valve covers (has Mopar Performance covers on it now, but I have - and will likely re-install - the originals once I repaint them, they're super-crappy looking right now). Some wiring is...amateur (wire nuts do NOT belong on a car!!!). Some knucklehead installed a Dixie air horn (drilling a half dozen holes under the washer tank in the process...ARRRGH!!), but I pulled that out earlier tonight. I'll have a buddy plug-weld the holes for me. A couple of A/C lines have hose clamps on them, and there's no belts on the compressor - it spins, but it's crunchy. Dash lights don't work. Couple of side markers don't work. Signals flash fast (but they work- and so do the ones in the hood!). And the horn doesn't work - the center of the steering wheel is just flopping around, so I need to figure that out.
This car is SO original...it's a debate for me, honestly. Do I paint it and put a top on it? Or...leave it as-is? They're only original once...
I do want to change from the factory manual 4 wheel drums, to power front discs - nothing Wilwood or anything like that, just factory style, and just for safety. But, that may require a wheel change from the factory 14's (and original hubcaps!) to 15's because I'm guessing the disc brakes won't fit inside the 14's. But that's about all I WANT to change - the rest is just fixing stuff that's original, getting it working again, and having a fun driver. No motor swaps; no "R/T clone" business, no making it worth so much I'm afraid to drive it - just keeping it true to what it already IS, and having fun with it.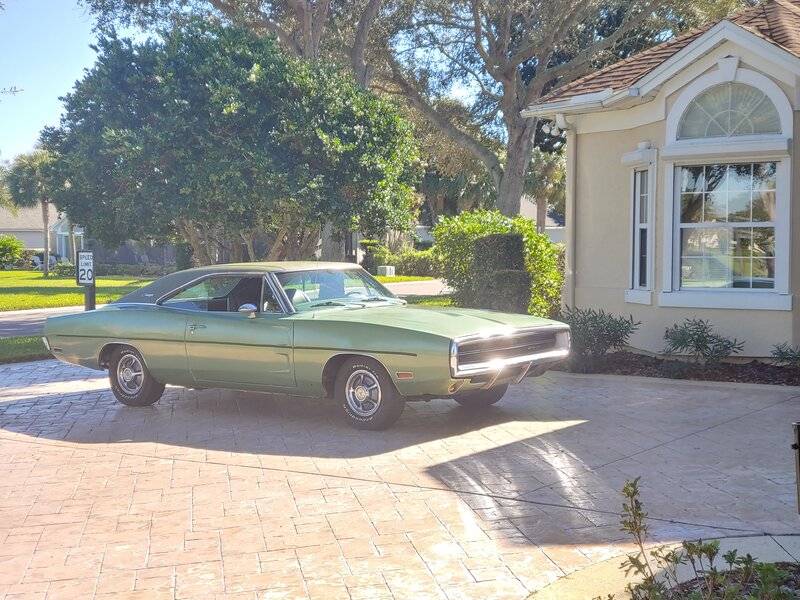 I've been looking for 40 years...and now, I have my Charger. And plenty of time this winter to make some progress getting stuff fixed up - my toy cars don't go out when there's salt on the roads, so I can dig in and make some progress.
I just need to find some manuals, and some wiring diagrams, so I can learn the lay of the land...any suggestions? Don't need factory-original books, just something accurate. .pdf versions are just fine - they're for the garage, not for shows.