Local time

6:42 PM
Joined

Dec 16, 2021
Messages

28
Reaction score

25
Location
Hello B-Body Family,
New member here from San Antonio and just recently acquired a '78 Monaco Patrol car- a model I've been looking for for years. Original 440, 727, 9.25 diff complete with oil/PS coolers, HD suspension, brakes, and all of the goodies. Been off the road and uncovered for 18 years so definitely a project to keep me busy and likely leaning on the vast archives here and the fantastic mopar family to get this roadworthy and enjoyable soon. This is my first classic mopar, but definitely not my first classic car project.
Hope there's still love out there for the last of the B-bodies among all of the better known earlier examples I've seen among y'all's posts for the years I've been lurking the site!
EDIT: Some basic pics added. Sharp-eyed viewers will notice a quadrajet has found a home where the thermoquad once was so there will be some backyard "refixing' going on sooner than later. The 15x7 wheels gave way to 6" ones at some point so if anyone in central Texas has a lead on 4 matching 15x7's that would be great (6-hole or standard are fine)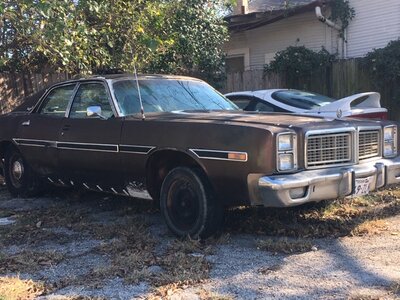 Last edited: