FBBO Gold Member
FBBO Gold Member
Local time

6:51 AM
Joined

Sep 6, 2009
Messages

900
Reaction score

664
Location
Brand New in Box P4120237 Mopar Camshaft
292 Duration (248 @ .050)
108 Lobe Center
Complete with Instructions/Cam Lube
Box only opened for Pictures
This has the Early type Mopar Performance
Desirable (Johnson Lifter Vender) Hydralic Lifters
These are what I use in our Stocker that we shift @
6800 RPMs. You cannot find these anymore!
$475.00 plus the ride
This is identical to what I run in my 1969 Valiant
that was on the cover of Mopar Muscle and a feature car.
It runs 10.80 @ 119 Thru the mufflers @ 3,000 FT.
It is docile enough to drive to work every day on 91 gas.
It is a 440/030Zero Deck Flat top engine. I will sell shortblock for $2,500
or$3,000. with ported 906 heads /springs/rockers/pushrods etc.
This Cam/Kit was being held for one of my friends on this site for 3 months
on his word and he flaked on me!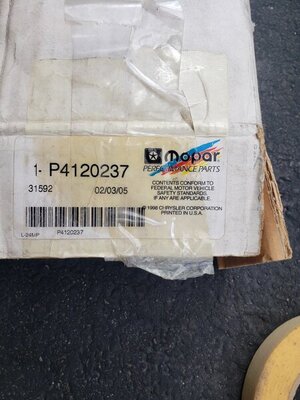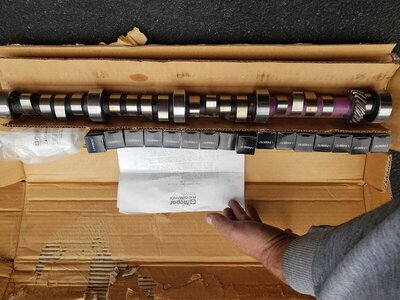 Last edited: