Life is full of turns. Build your car to handle.
FBBO Gold Member
Local time

3:59 AM
Joined

Apr 13, 2012
Messages

30,502
Reaction score

100,401
Location
What?
Yeah....Over the years, I have stumbled upon and taken delivery of Mopar parts from a variety of people. I have some 15" stock steel wheels with bad tires so I dismounted the tires and went to replace the valve stems. I found that the hole in the wheel is almost the same size as the valve stem, something like 9/16" give or take. There is no way they would stay in place and hold air.
These wheels are nothing special except for being 15" size.
I have never seen a wheel that had a hole that big. At first I thought I bought the wrong size valve stems but now it just seems that some wheels used a different size.
I suspect that these wheels were from a 1968 or earlier car.
I saw THIS online....
***************************************************************
Tubeless Rubber Snap-in Valves
If you drive a regular passenger vehicle, such as a standard-size car or a minivan; a light truck; or a light-duty trailer, then you will likely be interested in a tubeless rubber snap-in valve.
One key factor when considering valve type is maximum inflation pressure — this particular snap-in valve allows a maximum cold tire inflation of 65 pounds per square inch (PSI). You'll be able to find rubber snap-in valves to fit holes that are either 0.453" or 0.625" in diameter and in lengths that range from 0.88" to 2.5
*********************************************************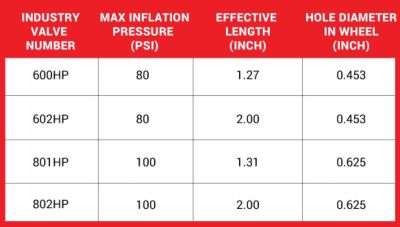 Anyone have any info on what wheels had which size?