Local time

8:04 PM
Joined

Dec 3, 2020
Messages

8,561
Reaction score

20,490
Location
Contact seller
Yep...I know. But it made ya look! Yes...it's a Mopar.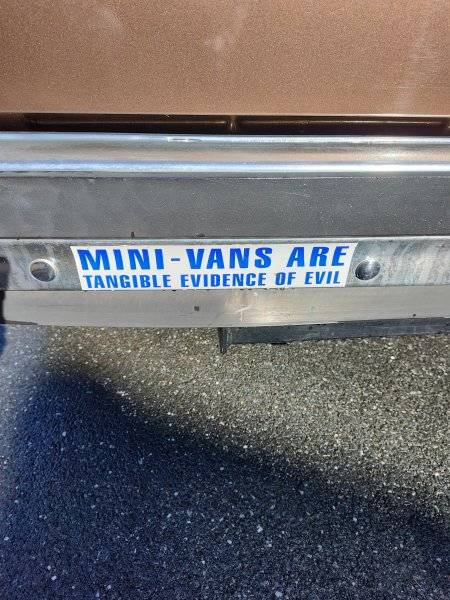 The "pooper" is my brown on brown on brown(gold) 1990 factory-turbocharged Plymouth Voyager.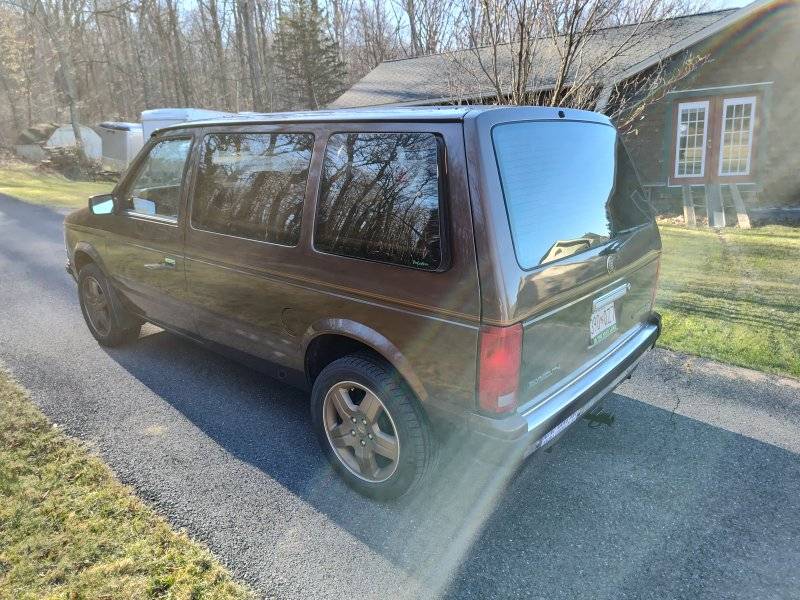 This is an original turbo van, not a transplant. 2.5l "turbo I" 4-cylinder, A413 3 speed automatic transmission. 125k-ish miles (goes up, as I do drive it). Engine mechanicals are stock (Mitsu TE04H turbo; factory forged internals; head; intake) with slight porting of the intake, larger 52mm throttle body (from stock 46mm), manual boost controller set currently for around 12psi. Added a good-sized intercooler and aftermarket blowoff valve; boost and air-fuel gauges. Trans is bone-stock, with limited slip diff - this van will leave some NICE burnout stripes!! If it sits in the garage for a long time (a month or so) it will have one or two small (nickel-size) spots under the trans - there's a seal leaking somewhere but it's so minor I haven't bothered chasing it yet.
It is a factory a/c car...but the underhood stuff was removed to make room for the intercooler (priorities, right?). I believe I have all the pieces still. I'll dig.
Suspension is stock, good struts and shocks, with Daytona Shelby quick steering rack, and fat Shelby swaybars front and rear - it actually handles great! Yes, that's a T/A style side exit exhaust - 2.5", bullet muffler, stainless tip. Cat shell - won't pass emissions, but I run MD historic tags so I don't have to inspect it. Doesn't drone, and it really barks when you lay into it. Wheels are 17" off a Caliber; it's the large 4.5" bolt pattern, not the standard FWD 5x100mm.
Body is original and totally rust-free - you can eat off the underside. It was painted once - fade - in the factory color, a really nice caramel metallic: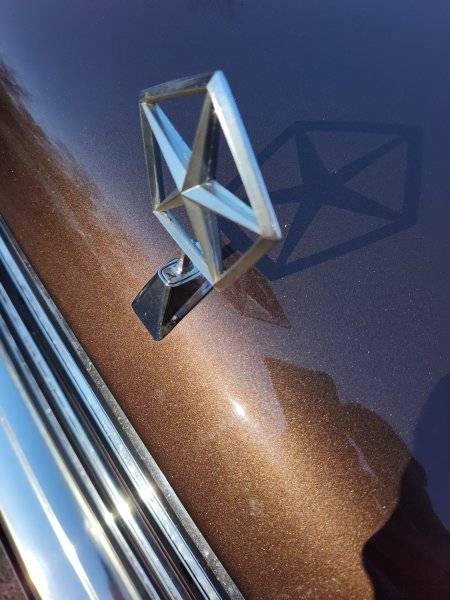 The roof rack was removed and bolts left in place, if you ever want to add one back. Surprisingly good body, considering it was the "family taxi" - no dings, and as I said, no rust. Interior is excellent. I have the cargo area carpet covered with home remnants because it has some discoloration (light tan carpet); if I were to keep it, I'd get some chocolate brown carpeting for it. Seats have no tears. Second row pops out - heavy, but removable. I've carried my pro-audio sound system in it with no issues, it's got a LOT of space. Power front windows (work, but a little slow when you first start the car; I need to lube the window runs to be safe). Manual middle windows (pop-out at the rear). Power rear window pop-outs, switches on the overhead console. Rear defrost and wiper all work. Alpine bluetooth stereo (no media player, just BT/AM/FM/aux jack) with newer speakers. I stream Sirius from my phone and it works great. Power mirrors, power locks, tilt, cruise, intermittent wipers...it's pretty loaded for a 32 year old van!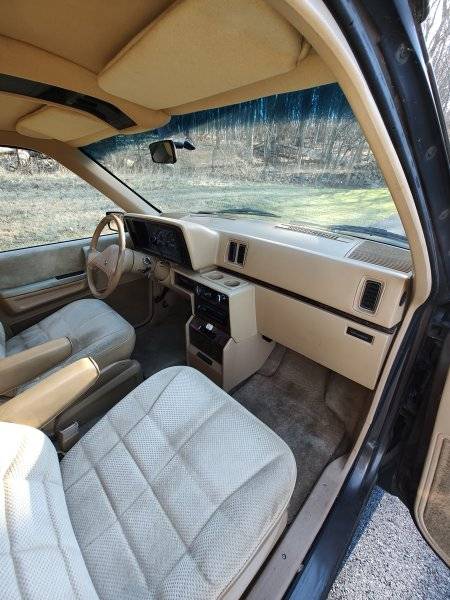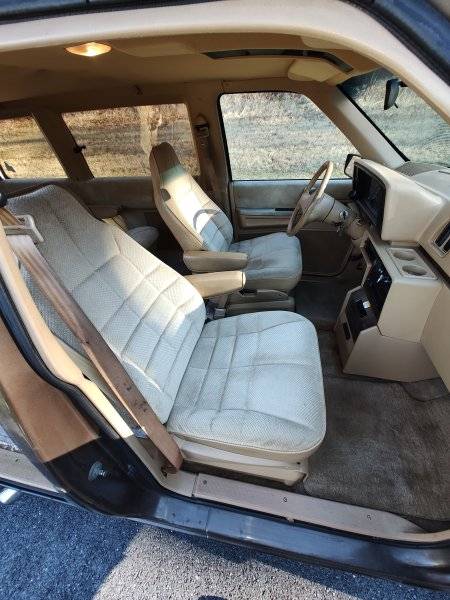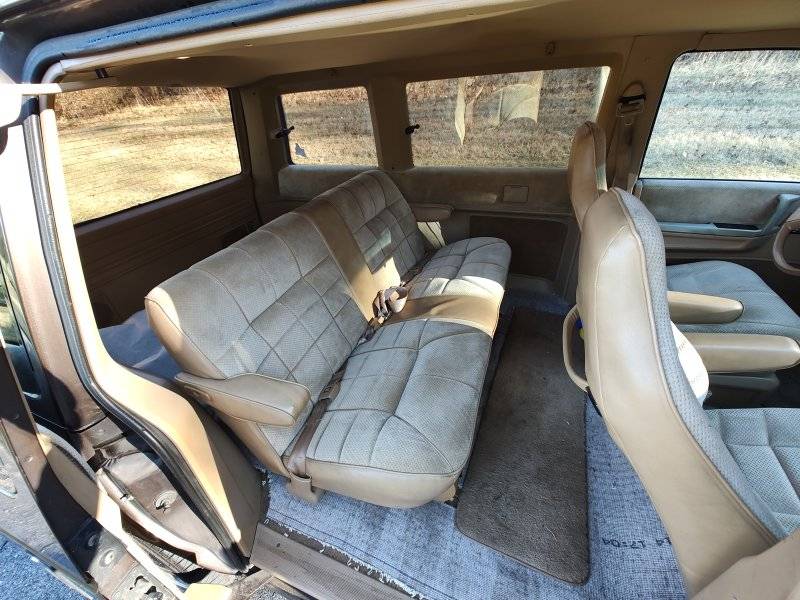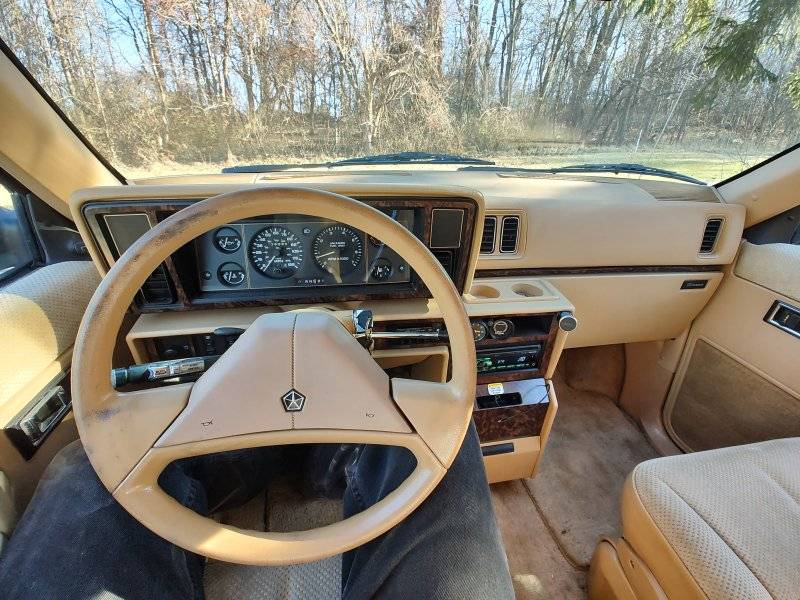 EVERYTHING works on it, except the a/c as mentioned before. Non-smoker (the van, and the drivers) - no odors, clean exhaust, good temps, good oil pressure, 20in-hg idle vacuum, all gauges work (including the tach and factory 125mph speedo), hvac blower works great.
I put brakes on it a couple years ago. Tires at about the same time. Added a 1-1/4" receiver hitch for a bike rack (no wiring, just the receiver) a couple years ago, for when I mountain-bike. Headlights are new OEM lights with 35W HID bulbs - nice and bright. I replaced the headgasket last winter. Good, heavy-duty gasket, new bolts, proper torque, new timing belt while I was in there - I've been playing with these turbo engines since they were new, and I still have my show-quality one-owner '91 Daytona with the same 2.5 turbo engine. I do the work right. I used to be able to do a headgasket, in the pits, between rounds, with hand tools when I was racing them regularly. It wasn't a headgasket...it was an 11-second fuse! But...that was at 38+ psi boost, so...
These things are FUN. Being in a van? Makes it even more fun! It isn't blistering-fast...but I'm keeping the boost down because of the stock transmission. If I wanted to up it, I'd get a custom calibration from FWDPerformance, a 3-bar MAP sensor, and build a bulletproof transmission (I can include a core if the buyer wants a spare to build)...and there are streetable minis that have run in the 12s on pump gas. This, isn't that...but it could be, if built right. Or, it could just be a fun, entertaining, goofy, perfectly viable family truckster as it sits.
Not something I
have
to sell...but some garage space would be nice (I keep it indoors) and some money would help with the budget for a fireplace insert. And Charger parts. And Satellite wagon parts.
Asking $5500, located in western Maryland. I'd have no hesitation to hop in this thing and drive it anywhere. If you're interested, shoot me a note and I can send more photos; I'm happy to take any that you'd want to see. It's a fun van, it's been a great spare car/truck for me when I need it, or just a toy to play with when I'm in the mood for big smoky burnouts that NOBODY is expecting...but if someone can get more use out of it, great. Clear MD title, in-hand.