Local time

8:55 AM
Joined

Jul 4, 2010
Messages

314
Reaction score

684
Location
It's been years, more than twenty years, since I've had bumpers that I had to have rechromed. Back then, my go to place was always Tri-City Plating in Tennessee. They always had the best reviews, and the best warranty, the best customer service and reasonable prices. So, when I needed to get a bumper straightened and rechromed for my 67 Belvedere wagon, they were the only place I considered. I'm pleased to report that nothing's changed. Well, the prices maybe, but that's to be expected.
I'm slowly restoring a 67 Plymouth Belvedere wagon. A second 67 Belvedere wagon is kind of a beater car. I bought a new reproduction AMD front bumper from AMD (Auto Metal Direct), but there is no such option for station wagon rear bumpers. The rear bumpers from both my wagons appeared to have taken multiple hits over the years. I finally decided to send the worst one out and hope for the best, since both would require alot of work. I ended up dropping off the slightly mangled bumper at Tri-City's vendor spot at Chrysler Carlisle last month. That way I would only have to pay for shipping one way when it was done. The guys were busy setting up their tents and unpacking when I went by, but were happy to allow me to drop off the bumper. They took my name and number and told me "about six weeks". I was even impressed that the guy who took the bumper recognized it as a station wagon bumper.
Well, it's been about six weeks. Yesterday they called me to let me know the bumper was ready. They needed my credit card info and my shipping address and said it would ship out that day. That was yesterday. Late this morning I ventured out to my garage and found this sitting by the garage door. Wow! that was fast! I know I'm about a twelve hour drive from their place in Tennessee. And the bumper, how is it possible that its the same twisted piece of metal I gave them to work with. All I can say, is I'm almost tempted to have them work their magic with the original front bumper rather than use the reproduction piece. The cost was $800 for the one bumper plus $80 shipping. But this was also the roughest bumper I ever gave them to work with.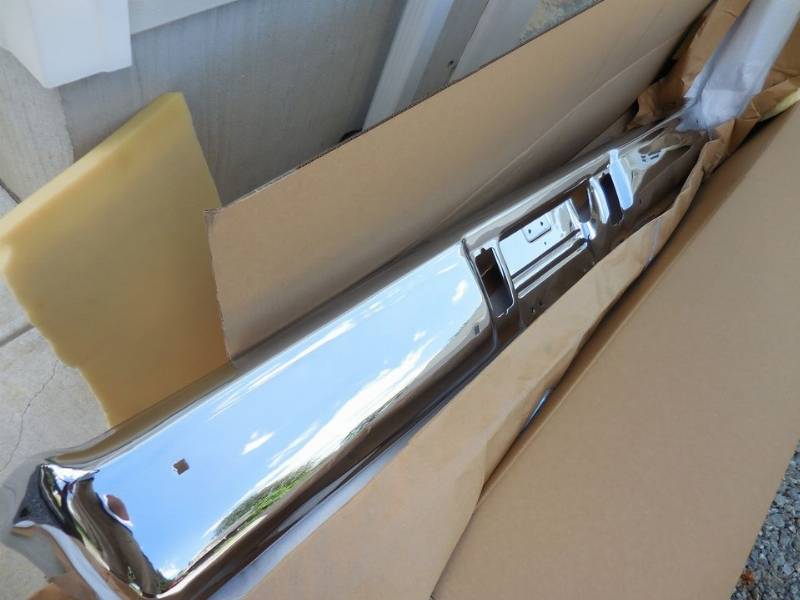 Last edited: