FBBO Gold Member
FBBO Gold Member
Local time

12:23 AM
Joined

Jun 19, 2021
Messages

231
Reaction score

220
Location
440 6-pack 71 Charger with the expected vapor lock issue. The solution is to install a fuel-vapor separator, which I purchased a few weeks ago, to replace the fuel filter. I was going to run a fuel line from the return tube of the vapor separator back to the tank, replace the sender unit in the tank with one that has the extra nipple specifically for this. However I noticed that the vapor vent in the center carb attaches to a fuel line that then disappeared under the car. I asked about it here a few weeks and was told it probably just vents onto the ground.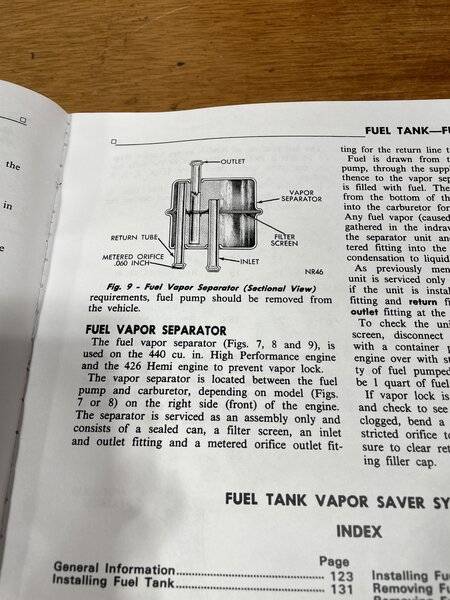 I got the car onto my lift today and discovered that the carb vent line goes all the way back to the vapor saver next to the fuel tank. Fine, I suppose the vapor savor is there for that exact reason.
My question is this: can I just connect the return tube of the vapor separator to this line that would then return said vapor to the 'vapor saver' or do I really have to run a separate fuel line back to the sender to get the vapor lock vapor back into the tank? I have no idea how much 'vapor' is created in the typical vapor lock situation with these engines, but I have to think it isn't a ton. Seems like the vapor savor could handle this fine, but I don't want to be stupid when gas is involved.
Related question about the carb vapor vent. I have seen a few setups where this line is fed into the valve cover along with the fresh air line for the pcv system . Is this an acceptable practice? I am envisioning the engine vacuum sucking fuel out of the center carb for some reason.