Ed on the Ridge
FBBO Gold Member
Local time

10:14 AM
Joined

May 14, 2011
Messages

16,043
Reaction score

29,006
Location
These little projects that go towards finishing our cars can sometimes get so damn frustrating and this was one for me for sure.
Notice I used the past tense
"was"?

Quick backstory/review to this point:
This car came with no hole for a radio antenna in the "normal" place at all. This fender never had one, even though the car
did
originally come with a radio.
What this fender DID have was a little 5/8" hole way up in the corner of the fender right in front of the door.
Here's a pic of the car as it was dragged out of a field a decade ago: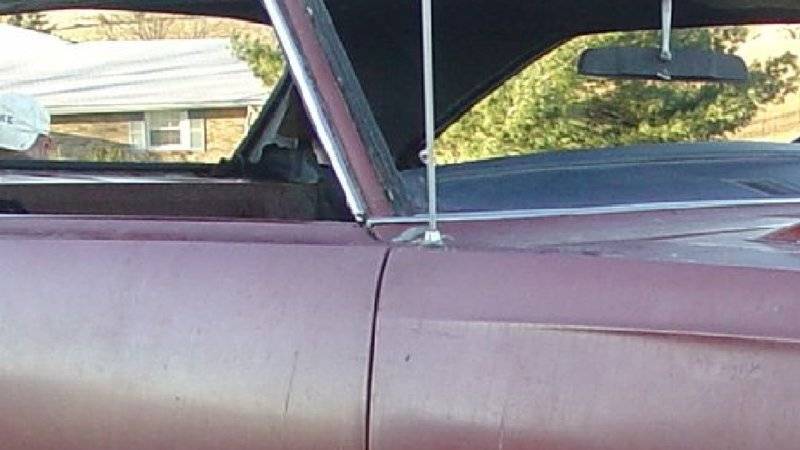 We're talking WAY up in the corner of the fender - and was evident it had been punched, not drilled, like with a Whitney punch if anyone remembers those.
Well, a normal factory correct antenna wasn't gonna fit, obviously. Note the cheesy old antenna the car had on it back then.
A lot of debating, research, fretting and gnashing of teeth then occurred over what to do.
Several folks on here suggested welding/sealing the old hole shut and drilling a correct hole in the proper location, but I lack weld-fu skills and I couldn't bring myself to risk hurting the fender with an errant drill.
I even bought a nice radio from a fellow member (thanks again
Plumb Crazy R/T!
) and installed it with a repro faceplate, wired it up and all, holding out hope of finding some sort of antenna that would work in the very tight confines of the inner fender and still clear the door swing in there.
Well, months go by, other things take priority...
One day I'm hanging at the local NAPA and I mention I'm looking for the smallest bodied antenna known to man, one where the threads are small enough to pass through the tiny hole in my fender AND be short enough underneath to clear everything, too.
He says they don't carry antennas anymore but to hold on a sec - and into the the back he goes, then returns with a cute little antenna with a single, solid mast, threaded body looks to be real close, too.
Price: $12.00.
I figured what the hell and buy the thing.
This evening, I go out to the garage to see if this thing has a chance of working and thinking "no way in hell" - but the threaded part of the antenna squeeked through the hole.
Ok, but there's no way there's enough room for the door's full swing in there if the antenna is in place, right?
The door cleared.
Barely.
A little grinding on the appropriate base adapter, finding a rubber gasket, test fitting enough to see if the nut could get a thread - all passed.
Ok, but there's no way I can snake my arm through the door jamb opening back inside the fender and get the antenna lead through the hole in the kick panel, right?
Nope, not this arm.
Then my wife said "gimme" - and then proceeded to do just that.
Ok, antenna is actually installed and tight and plugged in (thanks again, my dear wife!), but no way this obviously Chinese cheap *** antenna will jive with my newly-fetched radio, right?
Well...
Even in my metal sided and roofed garage after dark, it was picking up stations from faraway places like Chicago and NYC thanks to signal skip that happens at night.
The radio works. lights - dial - tuning and all.
The 50+ year old dash speaker works (!!!)
The antenna fits.
Most importantly of all, a silly little project is over on the GTX (and successful!) and I can't stop grinning about it.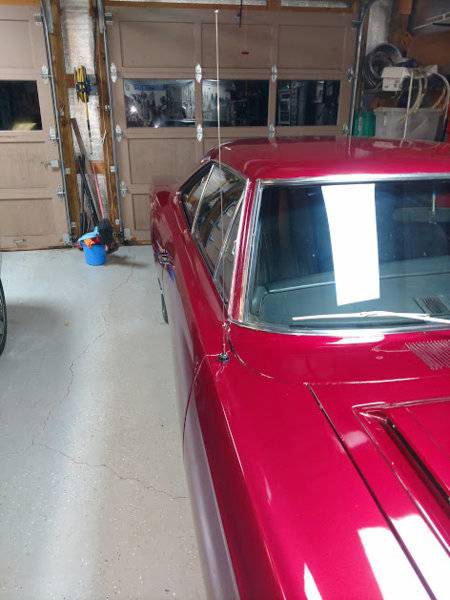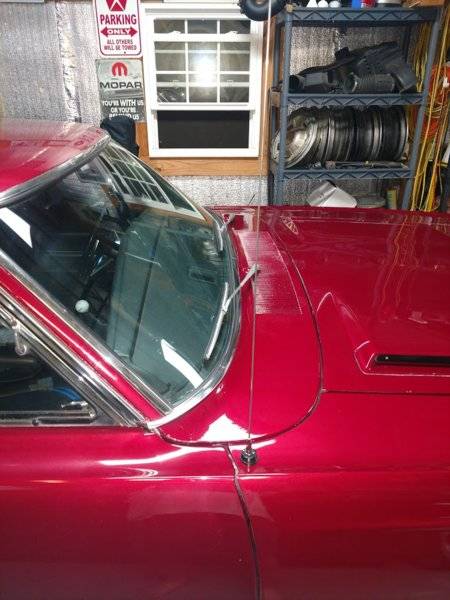 I TOLD you all I was gonna make it.
No burdens left for the wife when I'm gone...
Last edited: