Local time

3:21 PM
Joined

May 28, 2013
Messages

4,226
Reaction score

6,303
Location
It doesn't look a heck of a lot different but it's coming along. I have been using the Jimmy guy you recommended for used parts. Besides parts, he's a wealth of information about these cars. We found out you couldn't get hideaways with a 500, Someone added that. BUT, they necessitated different shallower headlight mounting brackets so the doors could clear the headlights. The car had a mix of interior panels some that didn't fit and we required power window door panels. We got those in after getting all the power windows operating correctly. I had to have help with the windows. I knew when I was dismantling the car for new Hemi Orange paint I would never get the windows back in by myself. The front seats have recovered in the correct black vinyl. The gas tank has been reinstalled. We have the headlights all hooked up and we're working on the rear lights. We found a new radio antenna.
The radiator and shroud were their own weirdness. The shroud that came with it was a hacked-up mess and couldn't be used. I ordered a new shroud and it wasn't even close to fitting. Through some research on B Bodies, I found out my 26" rad is from a 1970 Hurst 300. Do you know anyone that needs one or is part of a club? I tried to post on C Bodies but even though I can log in it won't let me post. I wrote to the Mod but no answers. All the chrome trim is on. There are just a few more things then it's start-up time. The original engine has been rebuilt and it just has a couple of minutes of start-up time on it and that was years ago. I bought the rod that primes the oil pump off Amazon so we'll try to lube it before turning it over.
I've never driven it. The tag shows it has been off the road for 16 years. When I bought it, it had a bad 440 in it but the original 383 High-Performance came with it As I said it was rebuilt. We believe the actual miles are 90K.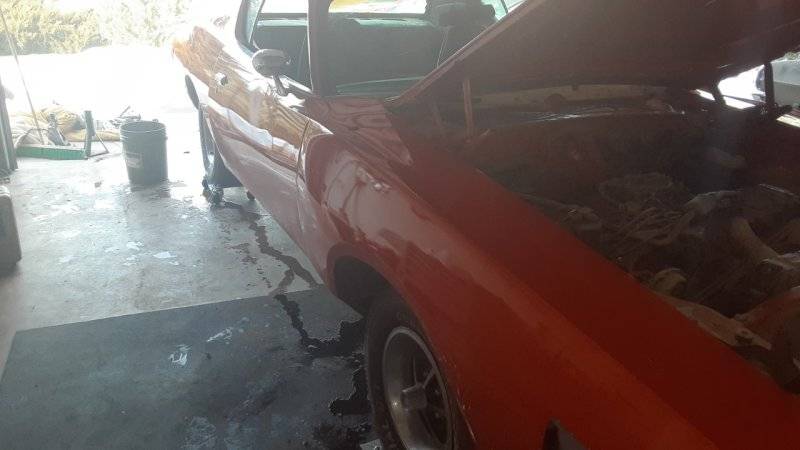 Last edited: