For my SOUTHERN Mopar Brothers and Sisters, or anyone traveling to the Mississippi Gulf Coast...
I am late posting this, but I DEFINITELY hope I see some of you at
Gulfport Dragway
this afternoon and evening, or tomorrow!
Link to tickets and rules for racing:
JJDABOSS JJ's ARM DROP - GULFPORT DRAGWAY tickets
I know there are "mixed feelings" about all things Street Outlaws, but my wife and I are BIG FANS, and I have to say that ALL of the folks we've met have been very nice or at least welcoming when we have seen them in person.
I'll get to the point of the post: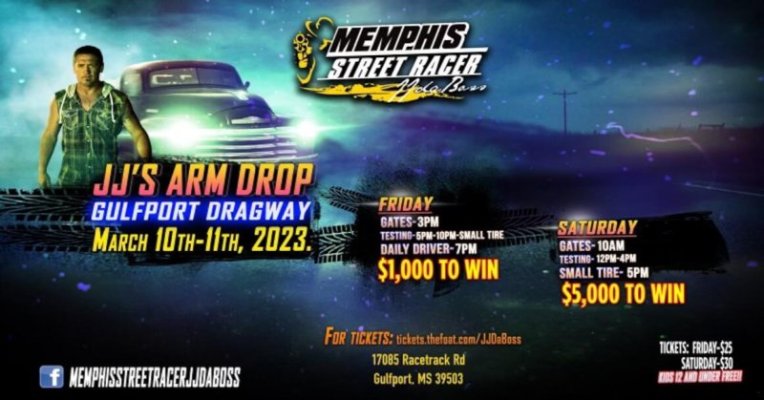 DAILY DRIVER and SMALL TIRE racing events at Gulfport Dragway this Friday afternoon and evening, and Saturday into the night. I'm especially interested to see what kind of cars show up in the "daily driver" category, because although I'm not racing my Roadrunner, I find the parameters to qualify interesting. For example, wheels MUST be 17" diameter or larger in order to run DOT legal drag radials! I have taken some heat for running "short sidewall" drag radials, and while they aren't "rubber bands" I totally understand that taller, more flexible sidewalls would help fix one of my biggest problems, off the line traction. Well, the rules for Daily Driver category wheels and tires states:
All entries must run a 17" or larger wheel package, DOT Drag radials allowed (NO SLICKS IN STREET CLASS) 15" wheels allowed on a 200+ treadwear.. (No Drag Radials or Slicks on 15" wheels
)
So it seems like a "harder" tread compound IS allowed on a 15" wheel, but clearly drag radials are NOT. For me, the jury is still out on the absolute traction performance of my Toyo Proxes TQ drag radials, BUT the wear and rain/wet road questions have been answered, and BOTH of those categories have been OUTSTANDING for me. The way I use my car just doesn't allow me to run a drag radial that I don't have confidence in should I get caught in the rain. One experience with Nitto 555R drag radials in near to new condition on my 89 Chrysler Conquest and me losing traction at 60 MPH in a light rain on the Interstate driving carefully just to maintain speed, and the *** end kicked out and I wound up off the road and in the grass between the 2 Interstate roadways. Fortunately, there weren't any concrete culverts, or drop-offs, or TREES or other cars.
Here's another rule I believe my Scat Procar seats would NOT pass:
Must maintain stock style interior (no Kirkey or plastic racing seats
) I'm not sure what Kirkey seats are, but I know my Scat seats are "plastic".
Also, I am very likely to use the relatively "new" AMD mini tub steel tubs to give me
some
chance of traction when I put the 572 in. Mini-tubs are also not allowed in the Daily Driver category!
Two-steps are also forbidden, and I am either going to have one as a stand-alone or hopefully Ted at Progression Ignition will have that promised feature built in once I buy mine (along with a N²O retard option).
Anyway, I'm going to be there around 3:30 today, and tomorrow too.
I hope if any of you see me you'll say "Hi!"

I'll post pix and videos in this thread.
Apologies for not staying laser focused on just posting about the event, but I wanted to share my thoughts and excitement about how it relates to me and my Roadrunner.