Local time

12:34 AM
Joined

Jan 10, 2011
Messages

65
Reaction score

17
Location
FBBO-fellows,
don`t ask what Ma-MOPAR can do for you, ask what you can do for Ma-MOPAR!

Thus: let`s track down all the 1966 Plymoth Belvedere I HEMI-cars!
Should be a very solvable task, as very few were made: 79 w/4spd + 57 w/auto = 136 in total.
That`s the 2-door post-cars and they show VIN# "RL21H6…": lightest, stiffest and thus fastest 1966-HEMI-car you could buy.
Anybody here knows one…or two…or three?
l'll start and throw in 27 cars, that's ~20%: 11 w/VIN#, 16 without. My chart is attached.
Due to the lack of a 1966 SuperStock RO/WO-car (or were any RO/WO21`s build?), many of the RL21H6`s saw use in Stock and SuperStock-classes: the name of Jere Stahl being the most popular connected to these cars.
But I dug out some more names: Don Grotheer, Arlen Vanke, Ken Heinemann, Sam Pannuty and Evans/Evans&Cleve also campaigned RL21H6`s.
For sure many privates entered them in official events or "just" street-raced them.
Survival rate might be low...what makes them even more scare today.
Would be awesome if group-power could fill this blank spot in MOPAR-HEMI-history!
Thanks in advance!
___________________________________________
Update 20220930: up to 31 cars, updated list attached.
Update 20221003: up to 36 cars, updated list attached.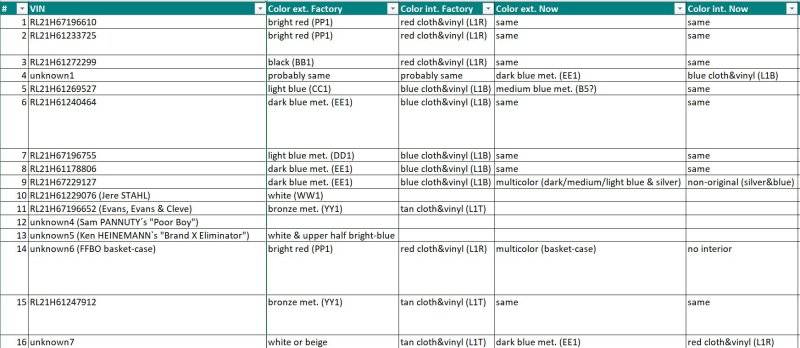 Last edited: