FBBO Gold Member
FBBO Gold Member
Local time

6:21 PM
Joined

Jun 11, 2011
Messages

5,080
Reaction score

10,238
Location
Hey guys, I am seeing posts about changing rear ends on early B bodies with the old style taper axles. I considered making that change, but, since nothing is really wrong with my original rear end, I didn't want to go through the work and expense to do it. However, I am in process of a front disc conversion on my 64 Fury, and wanted to get rid of the remaining left hand studs on the rear. Plus, I needed one new drum, and would like something easier to work on. I did a bunch of online research about cutting the swaged lug studs so they could be removed. I read this article>
Mopar Tapered Axle Brakes
, and used a slightly different method on my car. (NOTE: Do NOT try to just beat or press the original. swaged studs out. They are hydraulically pressed to swell out kind of like a rivet, and you will ruin your hub unless you cut the swages first.) I started by pulling the old drums and hubs:
Notice the small serrations around the lug studs. That is where they are swaged and swelled out to hold them in place.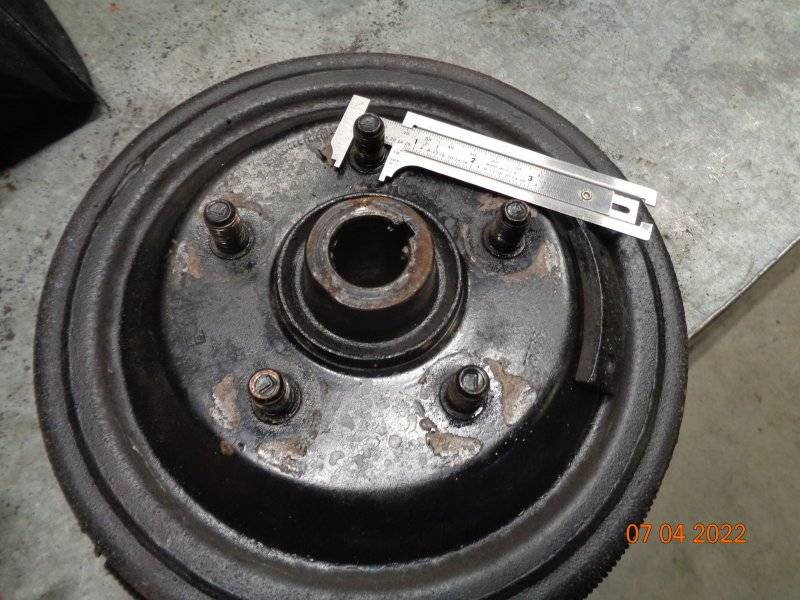 After careful measuring and figuring, I purchased a couple of 11/16" hole saws. I used the saw with no drill bit in the arbor. The 11/16" saw fit over the lug studs to keep it in position. It wasn't perfect, but it worked just fine. I used a big drill, took my time, worked slowly, and used a lot of oil to lube and cool the hole saw. I ended up with 3 broken teeth in it, but was able to cut out all 10 studs with only one hole saw. I had to be careful to only cut through the swages and drums, and to NOT cut into the actual hubs. Once the drums are cut through, it is pretty easy to persuade the studs out without damage to the hubs.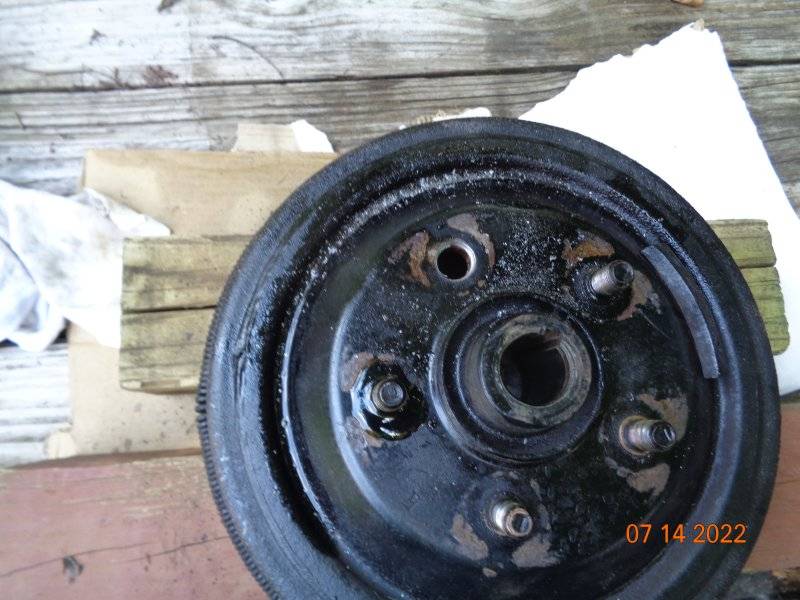 After a couple of wrong guesses and assumptions, and wrong parts ordered, I finally came up with studs to use. Dorman part number 610-095 from RockAuto. I pulled them into the hubs with spacers and a few old lug nuts turned over with the flat side toward the hubs. I stripped a couple of the nuts, which gave me the "oh ****" feelings when it happened. But the studs survived just fine. I guess they are harder than the nuts. I was a bit concerned that the shoulders might protrude too far out of the drum, but I checked out the clearances with one of my old original wheels, and it looks like they will work OK.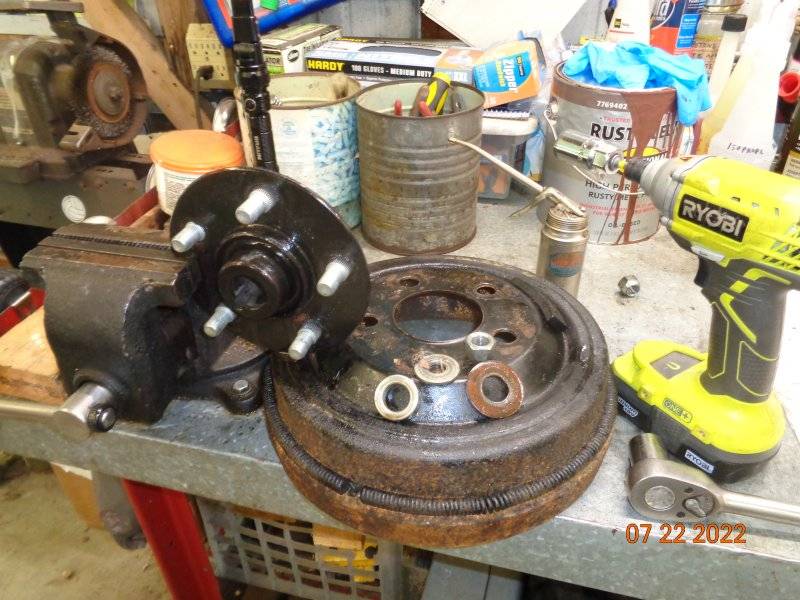 I ordered two new drums from RockAuto. Raybestos part number2947R. Once I got the hubs on and snugged down, it looks like the drums are going to work for me. I still need to torque the axle nut to 145 ft/lbs, but will do that after the tires are on and the car is back on the ground.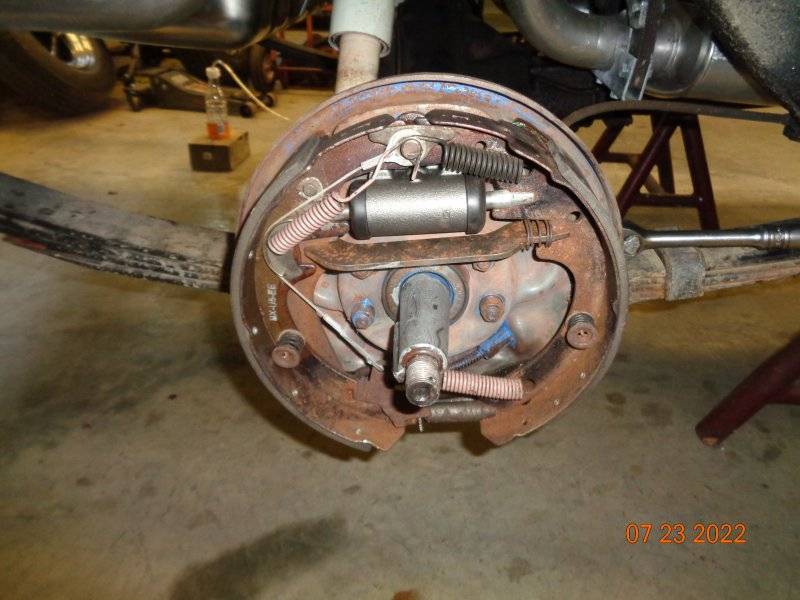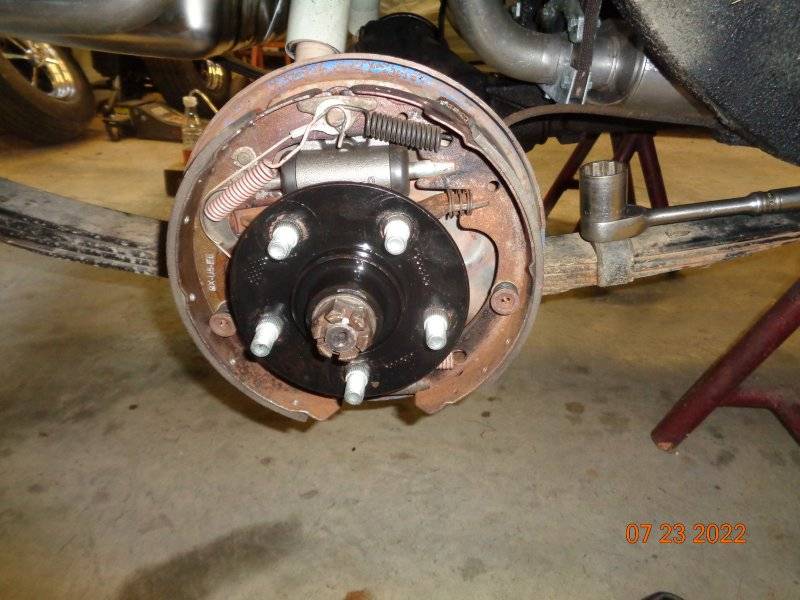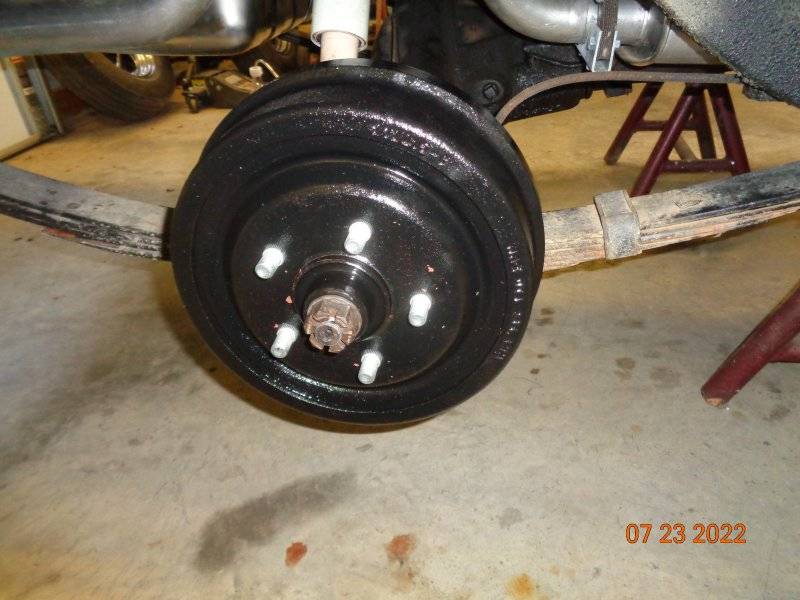 You may have noticed that I put a coat of ant-seize compound on the axle before I put the hubs back on. Just in case there is ever a need to pull the hub in the future, it should be much easier.