Local time

6:48 AM
Joined

May 26, 2022
Messages

36
Reaction score

86
Location
Hello all, my name is Buddy Hopson and I am a disabled combat veteran (I was blown up in Afghanistan) and I have recently been given a 1967 Dodge Charger 383hp 727 torque flight survivor car in Dark Green Metallic. Here's the story on how I got this sweet ride. Feel free to get a hold of me if you want more information on this wonderful group or would like to chat.
So it all started around Christmas time of 2020. I was scrolling through instagram and I happened to see a sponsored post from Mopars5150 (I have not heard of them before this point, they are from California and 5150 is the California Penal Code for crazy so they are crazy for Mopars). Well Mopars5150 was doing a Muscle Car project Christmas Giveaway. All you had to do to enter into the contest was to submit a 60 second video on why you believed you deserved a project car. I didn't want to do it at first, and I have never really won anything before. And being a combat veteran I really didn't feel comfortable putting my story out there, but something told me to go outside my comfort zone and do it. So I took over an hour to record a 60 second video because nothing sounded right. I finally submitted the video and thought nothing of it because honestly I didn't think I would win. Well Mopars5150 had 3 project cars they were giving away [A 1967 Plymouth Baracuda, a 1969 Plymouth RoadRunner, and a 1973 Dodge Challenger] and they ended up choosing their 3 winners before he saw my post. Somehow he missed it. Well after seeing my post he called me and we talked for a good 45 minutes, next thing I know they are adding a 4th car (a 1967 Dodge Charger) and he chose me for it. I was super excited. He ended up delivering it Jan 2021. This one was red, originally a 318 car with a 3 on the tree. They took out the old worn out 318 and put in a 383hp with a 4 barrell carb and a 4spd manual console shift. Now everything needs completely rebuilt but it is a solid california car with almost no rust. They even put on some brand new Crager SS wheels and brand new Firestone tires. I will include pictures of the original car they gave me. Troy (the owner of Mopars5150) said he had to deliver the car to me personally because he really wanted to meet me since I was a disabled combat veteran and Troy has a huge respect for members of our armed services. Well he brought the car and we visited for over an hour. I would later find out that he planned on continuing the giveaways but after meeting me he decided to change his gear on how he wanted to do them. He now wanted to give back to the members of the armed forces that have deployed for our freedom. Well 9/11/2021 happened to be the 20 year anniversary of 9/11 and he wanted to do something special, so he decided to do the first annual combat veteran project car giveaway and what better way to announce the winners than at Muscle Cars at the Strip MATS in Las Vegas Nevada on the 20th anniversary of 9/11. Troy ended up getting in touch with me and said that since I was his inspiration behind him doing the combat veteran giveaway that he wanted me at the event so he actually flew myself and my wife out to Vegas, paid for our hotel room, our rental car, and gave us $500 spending money because he wanted me on stage to help announce the new winners. We actually were able to have some of the winners at the event with us which was really cool. So we had that really cool event and then came Christmas time of 2021 and he was doing the combat veteran / deserving citizen Christmas giveaway again. The lady who won the 69 roadrunner in the first giveaway is an Airforce vet and she is doing a complete restoration and doing a killer job on it. She had put in for this giveaway to try to win the Level 1 stiffening kit from USCT Motorsports. Well because of all the hard work she has done on her RR, she won the kit. I commented saying that she definitely deserved it and that I wish I could do more to mine but with how bad my back has gotten and how bad my right hip is I can only do so much before I can't do anymore and then it takes over a week to recover from it and that I felt like I was letting Troy down because he gave me this killer vehicle and I haven't been able to do nearly as much as I wanted to. Troy had gotten a hold of me not long after that seeing if I had done anymore work to the charger. I told him that I had completely gutted it and then told him about all the problems I was having medically and couldn't really do anymore. I had to have back surgery January 19th and I am not healing like I should. I am still having the same problems as I had before surgery. So they are looking at having to do a 2nd surgery where they will go in and cut out a large venous cluster, cut out a good portion of my spine, do a disc fusion, then add hardware to stabilize my spine. I have been off work this whole year and who knows when I will get back to work.Well I thought that was the last of it. Troy would send me the submission videos from the ones that he liked and would ask my opinion on them. Well Frank Fanelli from Fanelli Restorations who is a Captain in the U.S. Army submitted a video to win the 69 Dodge Dart GT. He didn't get that one but he did end up winning and so did I, even though I didn't even submit for it. Troy was going to give Frank a 67 dodge coronet RT and in exchange for that he was going to have my 67 charger sent to Frank to have him get it road worthy for me. Troy was going to pay for all of the parts and Frank was going to do all the work. I was super excited about that because my charger was going to go to a guy who knows his stuff, he's done several Mopar restorations and my car was going to get the time it deserves. The car was supposed to be picked up the end of Feb / beginning of March. Well March comes and goes, same with April and I was getting antsy. Well May 18th comes and Troy shows up to my house. I was thinking he was here to FINALLY pick up the red charger. He comes inside and asks if I can come outside and help him load up the red charger. So I hobble outside and sitting in my driveway in a dark green metallic 1967 dodge charger 383hp 4 barrel with power steering and power brakes survivor car. This thing is clean and now it is mine. All original paint, the only thing that looks like it was used was the driver seat. There is a crack in the driver arm rest and the driver seat has some cracking but other than that this thing is super clean. It looks like the passenger seat and the rear seats were never used. The trunk looks like it was never used.Troy said that it was just going to cost too much to have the red charger shipped to Frank, fixed up since it needed everything done, and then shipped back to me. So he found this one and knew that green was my favorite color and immediately thought of me. It's so nice that Troy said if for some reason I didn't want it he was going to take it back home with him and put it in his personal collection. Also this one is an automatic car which is easier on me since my back and hips are bad. It also isn't a console car which is better for me and my family because all 5 of us can fit in it. This car has been sitting for 30+ years so they did a good amount of work to it to get it running. They Installed new hoses and belts, Installed a new fuel tank; used old hoses as new ones did not arrive in time, cleaned and replaced valve cover gaskets. installed new fuel pump and hoses, installed a new Edelbrock AVS2 carburetor, Installed new water pump, Installed new radiator, Installed new points, cap, rotor, plugs and wires, and Installed newer brake hoses and bled the brakes. So I may have been blown up, but I have all my digits and I get to be home with my wife and kids everyday whereas a lot of my buddies aren't as fortunate and I have this beautiful 1967 Dodge Charger. My dream car has always been a late 60s early 70s muscle car and now I have one. This one needs some stuff done to it, but it is a running and driving car that I car work on while I drive it. So yeah like I said long story but you should look up Mopars5150, they have a facebook page and Instagram page. He is doing a lot for our veterans and first responders.
P.S. I have attached a photo of my broadcast sheet, if someone can help me decode it I would really appreciate it. Thanks in advance.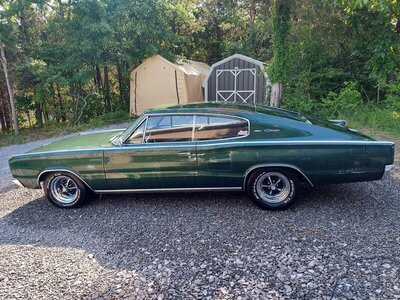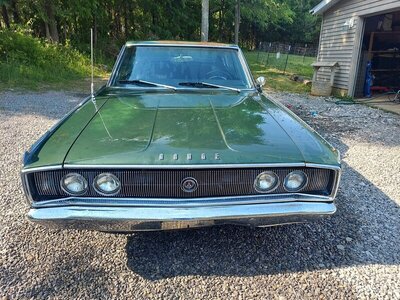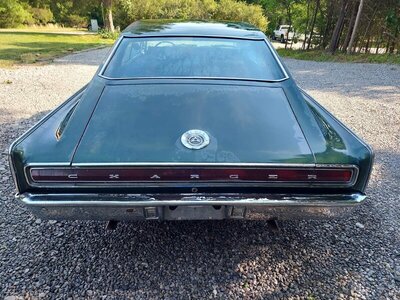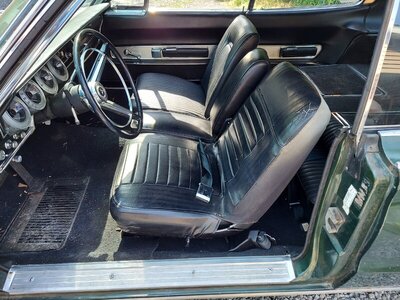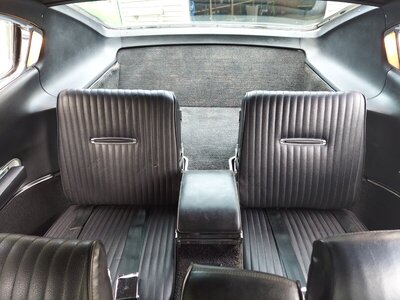 Last edited: