Local time

4:46 AM
Joined

Dec 1, 2013
Messages

68
Reaction score

86
Location
Contact seller
For Sale is a
1970 Plymouth Road Runner 440 Six Pack Hemi 4 speed car with Dana Differential.
It has manual brakes and manual steering.
The Car has been completely disassembled, Main Body has been cleaned. Both rear quarter panels on this car are pristine. Rear window valance panel and tops of rear fenders where typical rust is found has been replaced with all new steel. Trunk has been replaced. Floor pans are in very good shape and original. Trunk hood has passenger rear corner minor damage. A substitute trunk lid is currently on the car (blue).
Doors are in excellent shape with no signs of rust. Front fenders are in very good shape with a little bit of "Fender Rash" on the tops where it looks like cylinder head dents may have occurred from previous Engine work. But NOTHING MAJOR here. Engine Hood is complete with Air Grabber set up.
Body and Engine hood is in Primers – Front fenders and doors are still wearing original paint.
The Engine cowl and rocker panels are in very good shape. Inner fenders and frame rails are very good with no deterioration. Small patch under battery tray on inner fender.
All serial numbers on Dash, radiator core support, trunk rail and driver's door decal are matching with the Fender Tag and VIN number.
Bumpers, Grill and all trim is with the car as well as all the original glass.
Car is very complete. All interior parts are with the car. Headliner, carpets, door panels, Seats front and rear. Radio is missing.
It DOES NOT have the original Engine but the block is a Correct Date Coded Block. The engine is currently not in the car. It is completely disassembled. Missing parts would be the wear items – such as Camshaft and water pump. The heads , valve covers, timing cover, crankshaft, exhaust manifolds, 6-pack rods and pistons, harmonic balancer, flywheel, bell housing are included. Six pack Carburetors, and Air cleaner are with the car along with the correct dated code part number intake 6 pack manifold. The 18 Spline Transmission has been rebuilt- but IS NOT numbers matching. Radiator is a replacement and NOT the correct part number. Hurst shift is with the car.
Basically all the difficult body work on this car is complete. All it needs is final prep work and paint.
90% of the original parts are with the car. Just clean, refurbish and reassemble.
The reason I am selling is I've had the car for about 10 years. Worked on it off and on over the years. Other projects have taken priority during that time frame and this one took a back seat. Time to move it on.
Price is $29000. NO TRADES Please contact me through B-Bodies Only.com
Follow this link to many pictures of the car.
https://www.dropbox.com/sh/a51ye7evydr92os/AACnKpc7yZlVr1W6ii10a5C5a?dl=0
I have reassembled all the large parts of the car to make it easier to be transported- as you can see in the photos. I can upload additional photos of whatever areas you need to see.
Below is a breakdown of the Fender Tag:
1970 V Code Road Runner
Fender Tag Information
29104 – Gate & Base #
181690 – Line Sequence #
122 - 440 Six Pack Engine
082 - Dana 3.54 gears
676 - 18 Spline Hemi 4 spd
26 - 26 inch Radiator
EK2- Vitamin C Orange
V21- Performance Hood Paint
N96- Air Grabber Hood
L31- Hood Mounted Turn Signals
EK2- Vitamin C Orange
H2X9- High Grade Bench Seat
TX9- Black Painted Upper Door Frames
C15- Deluxe Seat Belts
112267- Order #
E87- 440 Six Pack Engine
D21- 4 Spd Transmission
RM23- Road Runner Two Door Hard Top
V- 440 Six Pack Engine
0- Model Year 1970
A - Lynch Rd Assembly Plant
181353- Serial #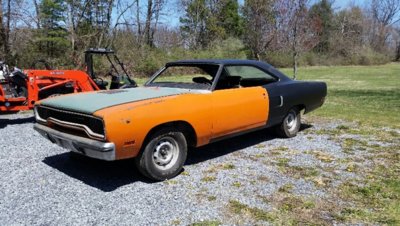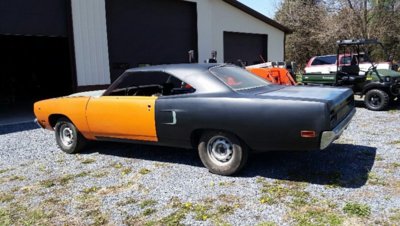 Last edited by a moderator: