Accelerati Rapidus Maximus
FBBO Gold Member
Local time

12:56 PM
Joined

Mar 28, 2014
Messages

28,770
Reaction score

42,368
Location
I would love to see a pic of your wifes GTO
Ask and, well, you know...
Here's a pic of the Cooling Components 16" two speed fan, shroud (only 2 ⅝" deep! ), Wraptor serpentine belt, pulleys, and accessories system, and ColdCase radiator.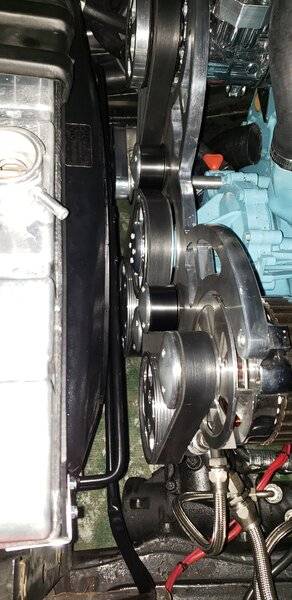 Because my yard is flooded, I couldn't do a driving test, but I've learned what generates heat and I put it through those tests. I left it on fast idle @ 1500 RPMs for a while, fan came on at 180 as programmed via the Dakota Digital PAC-2800BT fan control module. I tested auto switch to high speed ANY time the AC is turned on, and it went to high speed. I let it get up to 190 and turned the AC off, and it stayed in high speed per my program to go to high speed at 190. Then I kicked down the idle.
The highest it got was 203 and that was AC on blast and 2,100 engine RPMs stationary in the garage, for about 5 minutes, circumstances that really get the heat up, but would never happen in actual use.
I think it's going to be fine, but I won't know for sure until I can road test it.
Here's some more pictures and a video of me going down the 1320 right after putting the modified Rochester 3x 2bbl carbs on, that I had just got back from a guy on the Pontiac Performance Years forum who has been racing Pontiacs since the 60s, and modding Rochester Tripower carbs for high performance and stroker motors.
Tripower, right after installing them, after they were modded.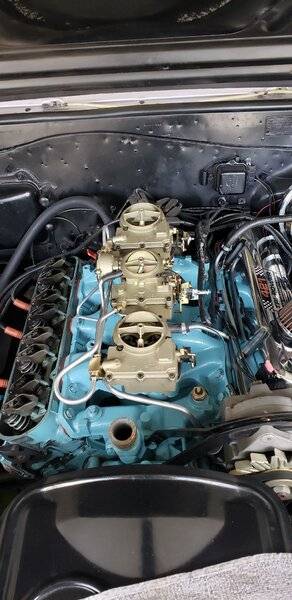 General "pretty" pix. The paint color is the same color as factory original. One year only. Iris Mist. Depending on the weather and sun position, it can look anything from silver gray but with purple and lavender hues. Chevy called it Midnight Orchid.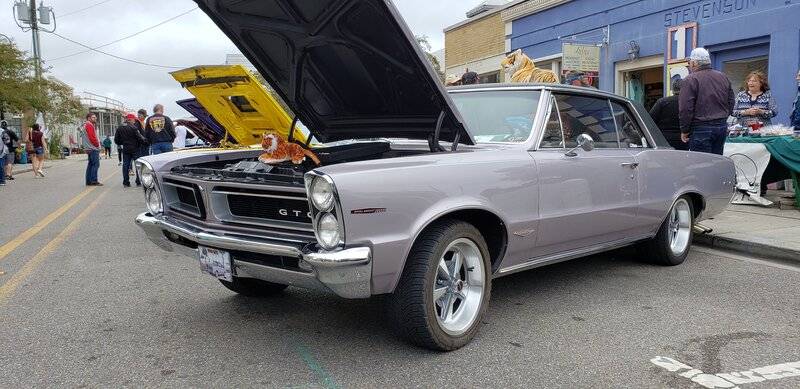 I hadn't quite got the idle speed set yet, and I really haven't had any time to tune the carbs, although baseline isn't horrible, I can tell they are rich at fast idle. I have to see what I can do with the very tunable Pertronix billet aluminum distributor w/Ignitor III module. It was dropped in and set at idle, and I haven't touched it since. It has springs, weights, advance limiters, basically ways to tweak the advance curve. I am pretty sure I'm leaving a few tenths of a second on the table, and a few more elsewhere. This car should be running high 12s and I'm at 13.5 but it didn't even have a tach at the time. Now it has Dakota Digital VHX gauges and a shift light. The TKO600 5 speed is in a box, in my garage, and that's going to really help too, because the Muncie 4 speed shifts just "ok", but the TKO600 has their top of the line "White Lightning" shifter, and is just a much better design. We really need the OD 5th gear with the 3.80 ring and pinion gears in the Quick Performance 9" rear axle.