Local time

10:22 AM
Joined

Apr 6, 2022
Messages

4
Reaction score

9
Location
The 1944 family I was born into had always driven and continued to own and operate Plymouth, Dodge, Chrysler, and DeSoto cars. I came into this world a Mopar Guy.
The most interesting cars of my life's experience all have a story.
Before 1962 it was disappointing for us Mopar guys and gals that our brand wasn't as competitive as we had hoped they would become. GM and Ford racers dominated the top level at the strip or on NASCAR's ovals.
Everything changed in 1962, no longer isolated incidences, the new calendar ushered in the golden age of Mopar domination. The 413s of '62 and 426s of '63 race wedge motors coupled with lightweight bodies of the Dodges and Plymouths were too much for the Fords, Chevys, and Pontiacs in Super Stock.
Things got crazy in 1964. The year started with the 426 Stage III Max Wedge Super Stockers. Oh yes, I thought that was good. But then, on February 23rd, 1964, Richard Petty showed the world the 2nd Gen 426 HEMI! Dodges and Plymouths. Petty went on to dominate NASCAR. At the Hemi's coming out party at Daytona. After 500 miles, all the podium spots went to Mopars. Petty dominated the race in a 1964 Plymouth Belvedere two-door hardtop with a 426 Hemi and 4-Speed.
I had found my dream car.
Only one thing stood in my way of realizing my dream. I was a poor freshman working my way through college. I wouldn't be able to afford a new car for another eight years when I bought a '70 Plymouth 340 Duster.
In 1994 I was working at a customer site in North Las Vegas, and the sound of a car over a block away grabbed my attention. I immediately spun around to see what the approaching monster was. It was 64 Plymouth Belvedere, and It had the right look. It was a red two-door hardtop with a single headlight Hemi Super-Stock grill, bigs and littles, and a deep sump oil pan. But most of all, the car was a sonic assault on the senses. A Jackson Gear Drive whined like a HellCat supercharger. Big tube headers fed a 3" exhaust system featuring single-chamber mufflers that dumped exhaust just behind the rear axle.
What was under the hood? What was the tranny? Who knows? I asked around but couldn't find the car.
Like many gear heads, the first section of the Sunday paper I read was the auto want ads. About six months after the thrilling encounter with the mystery car, I found an ad for a 64 Plymouth Belvedere. Could it be? I made the call and was at the guy's house within an hour. It was the car! He let me take it for a quick drive, and I paid the asking price; no negotiation. I had to have this car.
What made this mystery Mopar special? First, it is a Vegas car, and you know the line. "What happens in Vegas stays in Vegas." And this car did. Old cars that have spent their lives in the high desert mean one thing. They have nothing worse than a bit of surface rust, and the chrome is good. Second, it came from the factory as an airconditioned 383 4-Speed car with a 3.91 Sure Grip eight-and-three-quarter rear end.
The seller had done some tasty modifications. He had painted it factory red from the original 12647 Turquoise Poly and had the installed correct red bench-seat interior.
He had installed Super Stock Springs (I added an adjustable pinion snubber). Rarest of all, he had also installed '77 Chrysler Imperial rear disk brakes and a more common '78 Dodge Diplomat front disk swap from a Highway Patrol car. I was impressed with the four-wheel disk brakes, all Mopar! The original Hurst shifter and the white ball remained.
he had swapped the 383 for a '76 cast crank 440 which wouldn't have been my choice. But he milled the heads to help with the low compression of that motor. Also added was a Team G intake and an AFB, B-Body long-tube headers, H-Pipe, full 3" exhaust with single-chamber Flowmasters mufflers. It would wake the dead. I installed an MSD 6AL with an adjustable dash advance and their big-block billet distributor.
I drove the car for about four years. Here is the unfortunate truth about the vehicle. It looked and sounded really fast but didn't have the power or performance it should have. I took it to The Strip and was embarrassed by the time slips. I had to work to get it in the 14s. To compare that performance, another project car I built was a 1500 cc normally aspirated '74 Fiat X-1/9 Auto-X and track car. (OK, I know it is a Fiat, but after January 2014, Fiat became part of Chrysler, and I have a 400 HP Dodge Super 60 2.2 Turbo II motor going into this 1800 lb. mid-engine track terror.) It that little motor it ran in the 13s in the quarter, over a second faster than my 7212 cc Plymouth.
I promised myself I was going to store the car and not put it back on the street or the track until it was an eleven-second car that performed as well as it sounded and looked with a performance that didn't embarrass it or me.
I toyed with rebuilding the motor with a forged stroker crank, rods, and pistons, building a 426 Hemi or a Hemi crate motor. However, in 2006 I bought an SRT-8 Dodge Magnum for my daily driver. I did a tune, a cat-back, cold air system, and
station wagon
almost half a ton heavier than my Plymouth, ran in the high 12s in the high desert. That made up my mind. The Plymouth would get a Hemi after all, but not a 426; I took delivery of a 6.1 Hemi crate motor. I planned a total restoration as a resto-mod build. I found a Viper 6-Speed to back up the Hemi and bought a two-post lift and a rotisserie, which I installed at a custom painter friend's body shop with space reserved just for my car. My spreadsheet included an AlterKation suspension, Wilwood brakes; you know the drill. The spreadsheet totaled about $40K to complete the car the way I wanted it. Ouch!
We took the car completely apart in 2003 as it sits now. We media blasting doors, fenders, and hood to get a good look at the sheet metal, it was all sound. Then, the sky fell. My buddy's body shop went bust and resulted in eviction. The landlord took possession of my lift and rotisserie in the process, and I almost lost my car, but I managed to remove it before the doors got locked and the locks changed. I put the unibody in my garage at home, and all the parts are stored safely around my house.
Our family business kept me too busy to restart the build project. Also, I have one too many car projects at this stage in my life. I am 78, and two out of three need to go. Which one?
The advantage of buying a wholly disassembled car is every part can be inspected. The only damaged part I can think of is the front bumper has a dent to the passenger side of the front license plate. I am asking $9,900 for the car and all the parts. A complete parts list is available upon request.
The pictures are of the car as I bought it before it was taken apart and stored. The Plymouth has the potential to be unique, fast, and fun. It can be anything from a roomy airconditioned five-passenger, good-looking cruiser to a race car. It is a model that can be restored more traditionally as a fast big-block wedge or 2nd Gen Hemi. Fortunately, if someone wanted the supercharger whine and over 700 hp from a stock motor, junkyards are overflowing with low-mileage wreaked Hellcats that can be picked up for a song. I can't understand how so many of them have crashed.
If I don't sell the Plymouth, my wife has blessed a plan for me to buy a salvage 4-Speed Hellcat Challenger and swap a bunch of stuff out of it for the Plymouth. I have four grandsons on board to help, and it would be nice to have a car that is both fast and starts right up when you push the red button.
$9900.00
Craig Miller
Las Vegas, NV 89117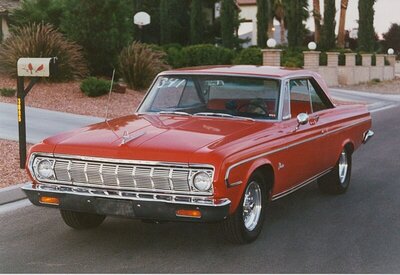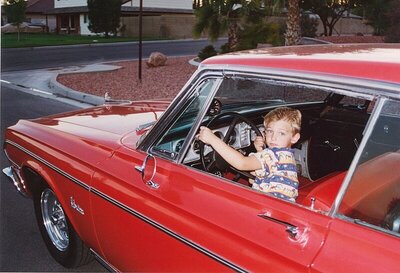 Last edited by a moderator: