Ed on the Ridge
FBBO Gold Member
Local time

2:08 PM
Joined

May 14, 2011
Messages

15,073
Reaction score

26,079
Location
ED STORY #1147:
Needing a quick little Sunday project on Fred, I coincidentally saw
@matthon
's thread this morning on issues with his
horn wiring and such in his custom steering wheel (flambe'!).
I recalled the times I'd tried to get Fred the GTX's horn working and it did - sort of - at one certain spot in the rotation
of the wheel -
if you held your jaw just right and wiggled the wheel a little
....
Oh, did I mention the
surging electrical charge
that passed from my hand on the wheel to the door windowsill when I
tried to honk the horn?
I'm talking
fire
, man - like interrupting the feed from the coil output when the engine was running.
Made my elbow wiggle - and cuss involuntarily like I suffered from tourettes or something...
Amps, not volts...
(I believe someone here told me that was probably the direct output of the alternator - I can believe it!)
Matthon's thread reminded me - and I shuddered a little bit in remembrance.
So - it was decided - today would be a quick Sunday teardown and zero $$$ expended repair attempt!
In my case, this is an all-original steering wheel (this was in a car sitting in a field for a few decades, recall).
Looks just like this one, only black: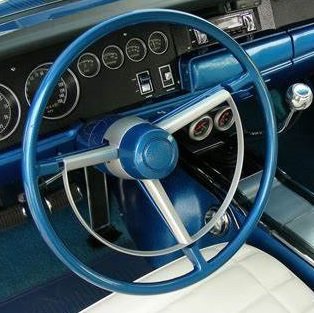 Setting the stage further:
Horn relay and horns are newer replacements I've fetched over the years at meets and such;
wiring is a new harness (wasn't much of an old one left when I got the car a dozen years ago) and I confirmed
with the FSM's wiring diagram it was hooked up correctly.
I installed a new stainless bolt and nut to secure the relay to the radiator support, confirmed good ground...
time for the wheel itself!
Removal of the wheel was uneventful - I've had the wheel off a couple times over the years and of course, the splines do have
an index so it only goes back on one way. A quick bit of work with a puller and it was all on my bench, where I tore it down
further to be presented with - nothing much, actually. All the components, although not new, didn't display any unusual wear.
The wire looked fine, didn't see much of anything really - EXCEPT for a telltale blue discoloration hiding in the back inside
corner of one of the spokes of the horn ring.
When I looked at the corresponding spot on the switch itself, yep - there it was. That rascal was jumping an air gap!
Why? No idea.
Pressing onwards nonetheless, a feverish (it's hotter 'n' humid-er 'n' hades here) cleaning of all components commenced,
utilizing WD-40 inside the switch "sandwich" and fine grit sandpaper on all the bits that are supposed to be shiny...
and it wasn't very pretty when I started: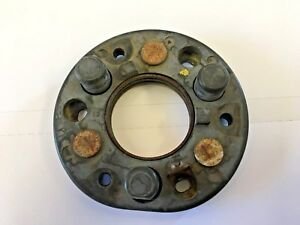 No matter, those rascals got silvery in short order; the copper contact ring on the butt of the wheel got shined up as well,
even though a good portion of the copper/brass layer is long gone from it, too.
Heck, I even flipped the switch over and made that steel facing all shiny again as well, even though I don't think that
matters to the operation of the thing?
Reassembly time came without event - well, almost - except for one small detail:
It's quite apparent none of the little screws that hold the switch in place on the back side of the horn ring - nor the horn
ring to the steering wheel itself - are original hardware.
Instead, a hodgepodge of Harry Homeowner screws this and tiny bolts that were incorporated sometime back in the cars'
history, which did provide some challenges to get just right when reassembling.
(Hint: I'd love to get ahold of a full set of both types of factory screws !!)
Slapped it all back in Fred, connected the battery while flinching....and no honky when I did!
Good, step one complete - now, does it actually honk the damn horn?
Reaching through the window at first (so as not to ground myself) and commenced to sending the wife Morse code messages
(turns out, she ignored me as usual - and doesn't even know Morse code).
Emboldened, I then grabbed ahold the vent window frame with one hand and honked with the other....no
bites!
Results: It now works in several positions of rotation - by more than one spoke of the horn ring - and even by the center
horn button (sometimes - let's not get carried away here
).
Semi-success!
Epilogue: This may have seemed to be but a trifling little project, hardly worthy of mention to you - and you'd probably be right -
but it should be noted that this car was reconstructed over a dozen years from a field marker to where he is now by literally
dozens
of these so-called "little" projects.
Fred is another smaller step towards the ultimate "done" - although none of them are ever really done - and he's already back
together and ready to ride anytime I want.
Can't beat that.
OH, PS: Brakes are
still
just fine, thanks.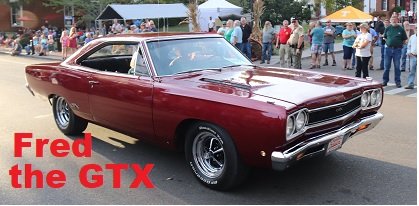 Last edited: