Local time

4:20 AM
Joined

Jul 18, 2008
Messages

189
Reaction score

117
Location
Just thought I'd share my 67 Charger L code 4 speed.
I'm a long time fan/owner of 1st generation Dodge Chargers. Currently I own and drive a 66 black CA car with 383 A/T and factory A/C and a 67 383 4 bbl. Charger from Arizona/Texas with 4 speed, buffed silver paint and factory A/C. Both are keepers that I could not resist buying.
Years ago, I decided to buy only those cars factory equipped with high performance big block engines. But, I stopped short of chasing a hemi car since the price of admission to that club was a might high for my pocketbook and a 1st generation hemi Charger was a rare bird.
I did a lot of research and purchased numerous books on the early Chargers which led to me knowing a 1967 Charger could be optioned with the new for 1967 375 horsepower Magnum version 440 engine producing 375 horsepower and gobs of significant low rpm torque. (as in 480 lb-ft @ 3200 rpms compared to the hemi 490/4000 rpm) At the time, most auto trade magazines made acceleration comparisons between the 440 HP and 426 hemi Coronet and Chargers and found them to be pretty darn close. With a 440 Magnum, Mopar performance could be achieved with far fewer bucks and still have near hemi bang.
The total number of 1967 Chargers produced that year was only 15,788 with the following partial production breakdown based on engine and transmission combinations: (a) L code 440 Magnum engine with A/T (528) (b) 440 HP w/manual; 4 speed (132) (c) J code 426 hemi engine with A/T (58) (d) 426 engine with 4 speed manual (58).
As it turns out, my other 67 Charger factory equipped with the 383 4 bbl. engine and 4-speed manual is one of only 601 made.
From the productions figures, it is pretty obvious a 727 Torqueflite was the transmission of choice for strip and street racers alike and for good reason. The T/F was competitive and reliable, and in some cases offered better than manual transmission performance.
In the early nineties, I bought two 440 Magnum 67 Chargers, both with A/T. The gold one I restored, drove for a while and then sold in 1999. The second, a blue one ended up being stored inside but never restored, nor driven, nor started, nor worked on for twenty-nine years. Oh yeah…. I intended to, wanted to but never got to do anything with that car except the visit the darn thing and dream. That was a cool Magnum car with factory A/C and disc brakes, but the PO was certainly an unkind and uncaring steward…very original car, but wrecked badly and repaired just as badly. I sold that car last year with full and accurate disclosure to a person ready to tackle a resurrection of sorts. I wish him luck and still have his contact information, so maybe in a few years I'll check in to see how things are going (or not going).
In all of my 35 years of "Chargering", I could never shake a nagging impulse to own a legit 67 L-code Charger with 4-speed transmission. For a couple of decades I checked Hemmings, Auto Trader, local buy and sell publications and the Mopar Collectors Guide for that elusive specimen. I did not seek nor would I accept anything less than an original unmolested car with minimal rust and fender tag intact. Any other surviving paper work or documentation was certainly a plus but not required. I was disappointed but not surprised one never came along.
Today I have officially cancelled my decades long search….an original 1967 L-code 4-speed Dodge Charger is now residing in my garage. I believe you will agree, this car is an astonishing time capsule of a rare car. Here is some of the story.
1967 L code Dodge Charger with 4-speed transmission. Picture taken by previous owner in the fall of 2019 and one of several included in the sale ad.
Some of you may recognize this picture if you, as I do, routinely peruse car ads on eBay.
My first reaction to the picture was: In 35 years of looking, I've never ever seen a red 67 Dodge Charger with a white vinyl top. Now, I have never been a fan of vinyl tops on cars and seeing a red car with a white vinyl top confirms my dislike. A black vinyl may have been slightly better looking, but the red body and white top just doesn't look right. To me, that red car would be much better looking without vinyl.
Same 1967 L–code Dodge Charger with 4-speed manual. Picture by new owner in VA
The most obvious difference between the two pictures is the wheel treatment…one has wheel covers and the other hubcaps. Which is factory correct? It's the bottom picture and I know because documentation tells the tale. Here is a portion of the car's buildsheet.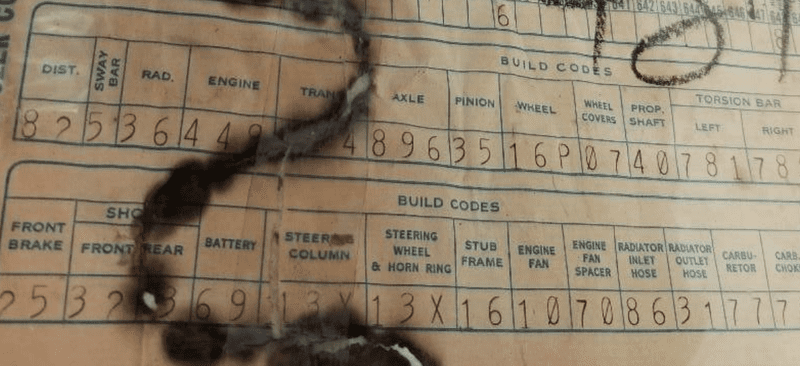 Cars with wheel covers came with black wheels, cars with hubcaps were painted to match the body color. P(red car) = P-red wheels and # 07 under wheel covers=2768007 hub cap.
The standard (no option specified) wheel treatment for the 1967 Dodge Charger was a set of 2768007 hubcaps. The 1966 Charger was different…it came standard with a set of attractive deep-dish spinner covers.
Neither of the above pictures show the correct tires. The buildsheet and fender tag have "485" displayed. "48" is the option code for 7.75 X 14 red streak tires and the "5" indicates a set of 5 tires for the car and these tires were standard equipment when ordering an L or J code engine Charger. I can only imagine the owner disliking the appearance of his new Charger as built and decided to add the non-spinner deep-dish optional wheel covers as an afterthought.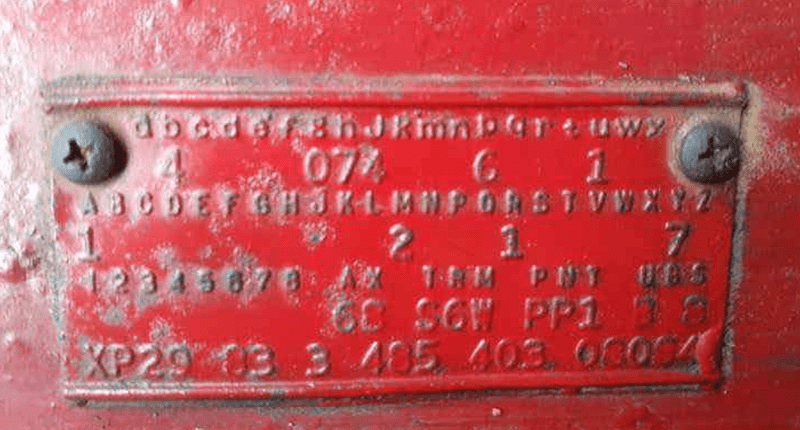 Note: A buildsheet for my blue 440 Charger mentioned above, also came with body color painted wheels and 07 hubcaps while my gold one came with the optional deep-dish non spinner covers just like the upper picture taken in FL. Ironically, my current 1967 buffed silver, 383 4bbl, 4-speed Charger also came from the factory shod with the small hubcaps. I was always curious why someone ordering a new 67 Charger decided not to spend a few extra bucks for full wheel covers or the cool and good looking chrome road wheels.
Another side note for a 1967 Charger and a 1968 Dodge R/T or Charger…both came standard with "07" hubcaps.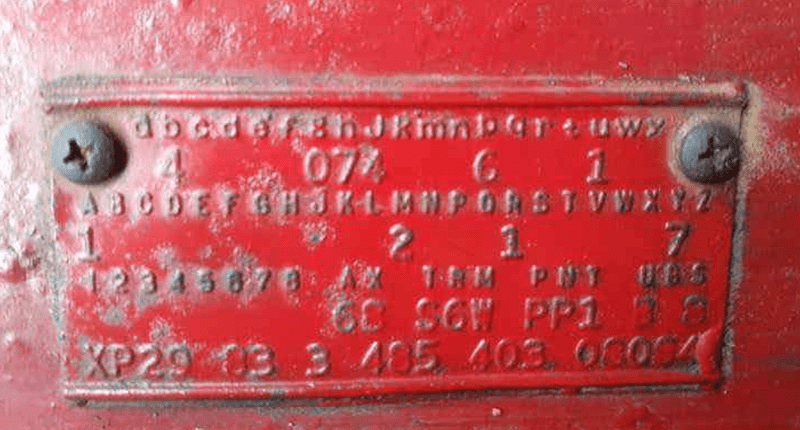 Fender tag from the above car showing, for one thing, an unusual absence of either a console or center arm-rest "mother-in-law" seat option. The top row of lower case letters: b4= bucket seats. Console cars would have a6 or center seat a5. In my 35 years of early Charger watching, I seen only a couple examples so equipped. Note: the 1966 Charger came factory equipped with center console and no center seat option was available.
Stay tuned. I shall continue the story in future posts…..
Stay tuned. I shall continue the story in future posts…..
Interior picture showing an absence of either center seat or console. The 53 years old white vinyl bucket seats and black carpet are original to car. Both show signs of some wear, but are not likely to be replaced anytime soon. The original dash pad is crack free however the steering wheel has separation as shown.
All gauges including the tach work and the dash appears never to have been apart. The car has 48,000 miles showing on the odometer and this mileage has been verified to be actual by the wife whose husband ordered the car in 1967. In a future post, I will include some of the correspondence with this lady, like me, now in her mid seventies. I am the second owner of this car.
Notes regarding the interior when I took possession of the car:
1. 4-way flasher not working. Pulled the switch, took it apart, cleaned the contacts and now it works just fine. Remote driver side mirror had been removed and replaced with a cheap aftermarket one. I installed an original factory remote mirror in its place
Look closely at the position of the two passenger side window cranks. With the windows rolled up, they are aligned horizontally with the knob facing rearward. I believe, but sans factual proof, that was the factory setting during assembly. Of the four window handles in the car, three were aligned as shown in picture above. The one crank not aligned like the rest was on the drivers side door and that panel had to be removed to allow the remote mirror to be taken out. Whoever did the work replaced the crank incorrectly.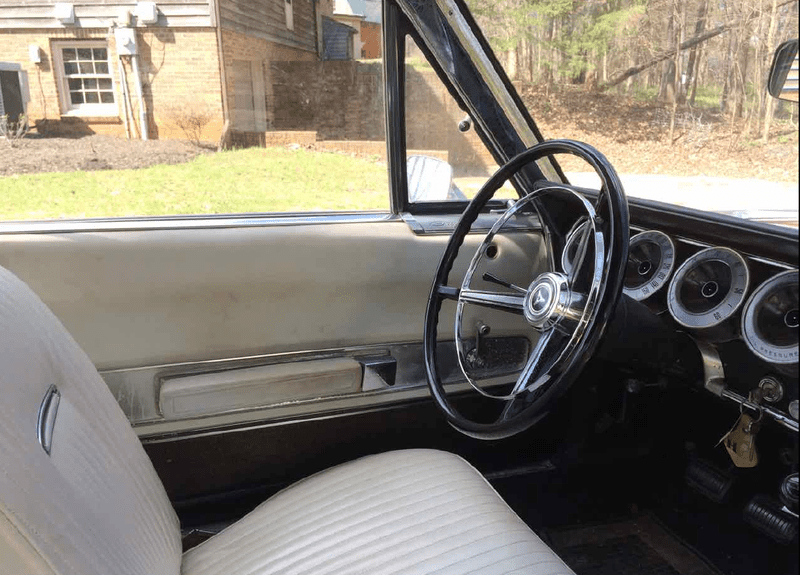 The one incorrectly aligned window crank shown before I installed the correct remote mirror and realigned the crank. Also note the hole for the remote mirror knob..now nicely filled as original.
Stay tuned
Last edited: