FBBO Gold Member
FBBO Gold Member
Local time

3:26 PM
Joined

Aug 19, 2020
Messages

640
Reaction score

2,064
Location
My buddy Tim from England sent me a photo today of a thread on Old Ontario Mopars before 2000 (it's a Facebook Group). It involves a Superbird that I bought out of a wrecking yard in 1979: RM23V0A173747.
https://www.facebook.com/groups/1332020893818569/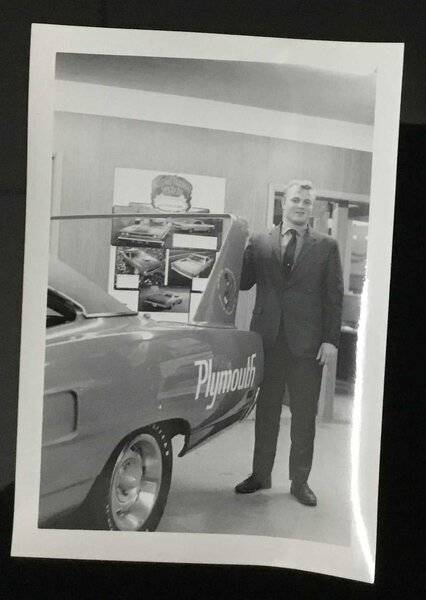 The car was apparently sold new by St. Thomas Chrysler (near London, Ontario Canada), one of two Superbirds sold by that dealership. According to that post, the photo is of Tom May who was the sales manager then.
Here is a photo of their inventory list:
You can see RM23V0A173747 in that list.
Here is when things get murky. One of the Superbirds was sold to Campbell The Mover (yes, they ran a moving company). From the same post here is a photo of that car: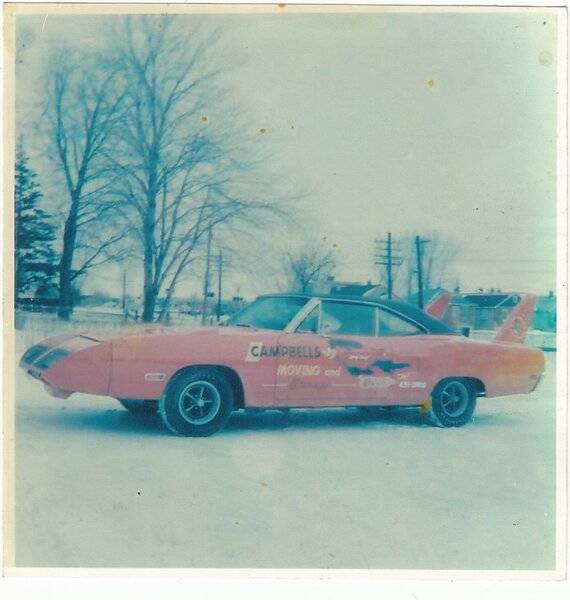 I love the period paint job.
You might remember that Car Collector Magazine featured a Superbird on the cover of its October 1979 issue. Here is a picture:
Somehow as a 19 year old I bought a copy of the magazine. That article inflamed me. And as fate would have it a Superbird was listed for sale, probably in Auto Trader, shortly after the magazine came out. I bought it from a fellow in Harrow (a small town not too far from Windsor, Ontario) for $6,500. It was serial number RM23U0A163474. Here is a photo of that car taken probably in 1980.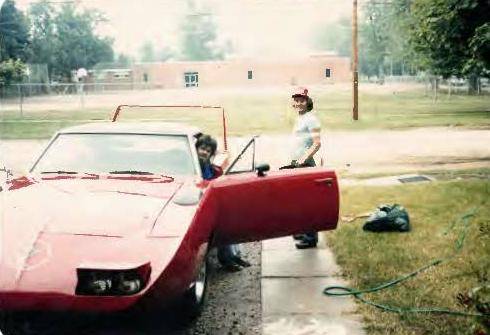 That is me behind the wheel and Bill Veens standing. Yes, I had a vacuum leak. So now I was into Superbirds and Mopar Muscle Cars and became the Canadian director of the Mopar Muscle Club sometime in 1980.
I found out there was a wrecked Superbird in Chants auto wreckers in London, Ontario. Short story: I bought RM23V0A173747 from Chants for $75.00 on a bill of sale. I remember the bill of sale "Dodge Superbird" $75.00. The guy at the wrecking yard was a bit of an abrasive fellow so I didn't bother to correct him.
So the story was that Campbell the Mover rolled the car on the Glanworth curve. This is the murky part: none of the Campbell graphics were on the car when I bought it. So the question is whether the car was repainted or the Campbell car was the other Superbird sold by St. Thomas Chrysler.
We got the car home and then I promptly broke the rear window trying to take it out. For years I had the window trim but I have no idea where it is now (and I am not going to look for it).
In the fall of 1981 I decided to go to school in England. I left my Superbird in the care of John Cherrey, who was a very talented mechanic with a garage in Drayton Ontario (a REALLY small town). John was restoring a Superbird that he bought out of a wrecking yard somewhere down his way. He used my car to see how a complete car should look. I also gave John RM23V0A173747 because there were parts that would be useful to him.
Some time in 1982 John sold my Superbird RM23U0A163474 to guys from BC who drove it home in the winter. That's 3000+ miles in a CANADIAN winter. Now that is hard core!
John restored his Superbird and RM23V0A173747 was put out to pasture. I did not take this photo, but I would guess it was taken some time in the 1990s. Here it is in the pasture:
If you look at this photo you see nothing of the Campbell the Mover paint scheme. It's hard for me to reconcile the stories I have been told about the car and the photographic evidence of the paint scheme on the Campbell car that I have never seen before today.
This wreck is long gone, but the weirdness continues. In the early 1980's I ran into a guy at a car show who had pried the VIN off the dash of RM23V0A173747 when it was in Chants. I found the VIN from the fender tag. I took the fender tag off back then but I have no idea where that is either. Some time (I think the 90s) I spoke to a guy who had bought (or was given) what was left of RM23V0A173747. I'm not sure if he planned to try to restore it (good luck with that) or what. I have a recollection (not sure if it is correct though) that he was trying to peddle the car. Again, a long time ago.
So there you have it: the incomplete and mysterious history of RM23V0A173747.
Cheers!
p.s. We still do have a wing strut (in my buddy Bill's garage). And the weirdness continues. Someone broke into his garage and stole it, but he found out who it was and got it back.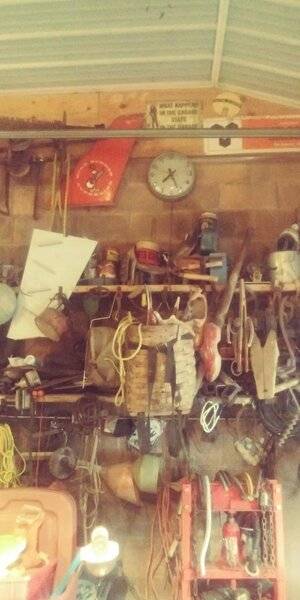 Last edited: