Local time

7:16 AM
Joined

Feb 9, 2014
Messages

39
Reaction score

10
Location
Contact seller
Located in Allen Park, Michigan, 48101
Asking $11,000
Hey folks,
It kills me to have to do this, but with a baby on the way and the need to move, I have to post my car up for sale. Fender tag was too far gone to really get any information off of. There really isn't a whole lot left of the car due to rust, so pretty much everything needs to be replaced except for the roof skin. I had already purchased almost all the sheet metal except for the front frame rails, quarter panels, and the hood and fenders. This listing is for absolutely everything I have. All the sheet metal, a 1970 440 Six Pack motor, two Big Block 727 Transmissions, bucket seats, rear bench, etc..... whole lot of stuff here.
Grant tuff woodgrain steering wheel
1969 dodge charger steering wheel
Gauge cluster
Rallye gauge fascia
Steering column brackets and brake pedal
B-body splash guard
Glove box door spring
Gas pedal
Sun visor (pair)
Exhaust tips
Wiper motor
Nos oil filter
Fuse panel
Door panel arm rests with ashtrays
Dash board ash tray
Rearview mirror
Dashboard hardware
Nos wiper blades
Defrost vent
Glovebox door
Quarter panel end caps
Steering column hardware
Hood turn signal primary wire
Hose clamps (kit)
Hose clamp pliers
Glove box liner with clips
74' black lap belts
Over flow hose
Grill parts: door actuators, light brackets, hood latch, emblems, Rod's assembly dvd
Roll of insulation
Energy suspension complete master set
Kick panels (pair)
Oem ignition coil (accel Box)
Hood to cowl seal
Splash shield gasket (pair)
Grill mount hardware
Fuel filler grommet
Yellow plug wires
Defrost vent controls
A-pillar trim
Ignition dash pad
Dome light bezel, bulbs, harness, etc.
Endcap gaskets
Nos fuel filter
Six pack stickers
center console glass lenses
Washer fluid tub and hoses
Owner's manual
Door sill plates
Package tray padding
Top dash pad
1969 dodge charger vinyl banner
Door panel top pad & black trim piece
Trunk mat
1969 dodge charger grill
Trunk lock support bracket
K-frame fastener kit
V-8 k-frame
AMD INNER FENDERS (PAIR)
Amd package tray
Amd rear frame rails (pair)
amd rear cross member assembly
Amd outer wheelhouse (pair)
Amd Lower rear window plenum
Amd deck lid filler panel
Amd trunk floor extensions
Amd one piece trunk floor
Amd tail lamp panel
Amd quarter extensions (pair)
Amd trunk floor brace set
Amd trunk gutter (pair)
AMD Main Floor Pan Brackets (4 piece Set)
Headlight bright switch
1969 dodge charger tail light housing
1969 dodge charger fuel filler neck (refurbished)
1969 b-body low back bucket seats
1969 b-body rear bench seat
B-body center console
Windshield
Rear window
1970 bucket seats
Front and rear bumper
Front and rear valances (one Chinese re-pop, one oem)
OEM fog light
Spare roller tires
Oem driveshaft
(2) A-727 TORQUEFLITE Transmissions
Battery tray braces
Battery hold down
Battery tray mounting hardware
Cigarette lighter w/ housing
Battery tray
Door handles w/ gaskets
144 pc. Body shim assortment
Rear window molding clip set
Flip top gas cap
Gas cap trim ring
B-body bumper kit
Interior screw kit
Hinge pin & bushing kit (2)
Center console mounting brackets w/ shifter
Power master alternator
Throttle cable bracket
Ms 96007 intake manifold gasket set
Water pump
Six pack upper fuel pump to carb stainless steel lines
Six pack carb gaskets
Four barrel carb linkage
Heater box (needs Repair)
Window regulator (doors?) L&R
Fresh Air Vent
Windshield wash Reservoir (broken)
Main Vacuum For Headlight door Actuators
Voltage regulator
Fender splash guard (pass.)
Steering column block off plate
Hood hinges w/ springs
Galvanized rear support bracket (arm Rest?)
Rear interior padding (pass.)
Horns (2)
Wiper motor
Heater Box Vent Hoses
Radiator Overflow Reservoir
Misc. Window Brackets
AMD REAR FLOOR PAN FOOTWELL AREA
AMD Full Front Floor Pan
AMD UPPER REAR CROSSMEMBER shock mount brace
AMD INNER WHEELHOUSE (PAIR)
Complete B-Body Heater box w/ rebuild kit
Here is a link to pictures of the car itself:
http://s12.photobucket.com/user/bassvamp14/library/1969 Dodge Charger
And here is a link to pictures of the motor:
http://s12.photobucket.com/user/bassvamp14/library/440 Six Pack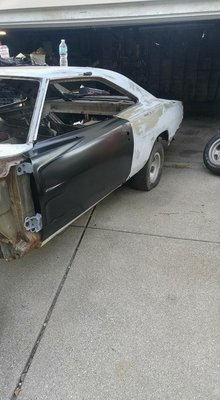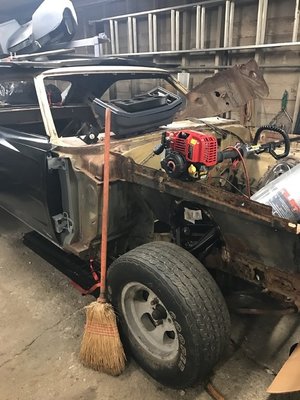 Last edited: