Local time

7:10 AM
Joined

Jul 12, 2011
Messages

5,562
Reaction score

7,283
Location
I mentioned in another thread that I had a budget 440 build about ready for the dyno. We finished it today. I'll go through the whole build. The build was loosely based on this but we cut costs even more. There are still quite a few more pennies to pinch here:
http://www.hotrod.com/how-to/engine/1412-how-you-can-build-a-stout-537hp-street-440/
Stock 440 block, bored .030" over and decked to 10.700 (zero deck)
Stock Forged 440 crank .010/.010 (rotating assembly balanced)
440 Source factory replacement rods for press fit pins
TRW Forged L2355-030 pistons
Sealed Power E-424K30 Pre-gapped rings (the big 5/64" kind)
Mopar performance P4120998 Windage Tray
Summit G-3511 Oil Pan
Stock 3/8 Oil Pickup
Sealed power 224-4174 Standard volume oil pump
Durabond PD-17 Cam Bearings
Calico Coated 1B527HD10 Rod Bearings
Calico Coated 5M877P10 Main Bearings (just because I had them. You can use regular uncoated P-bearings)
Wix 51515 oil filter
Stock Distributor Gear
JP5606T Timing Set
Summit C4279 Damper
Comp Cams 23-228-4 Cam XE285HL-10
Comp Hyd Lifters
Comp 7442-16 Pushrods
Edelbrock 60929 Performer Heads
Fel-Pro 1009 Head gaskets
ARP145-3606 Head bolt set
Edelbrock 7193 Performer RPM Intake
ARP 444-2001 Intake manifold bolts (you could use hardware store stuff)
440 Source 1.6 Adjustable Aluminum Rocker arms and hold down set
Summit 440350 Valve covers powder coated black wrinkle
Edelbrock 4403 breathers
Edelbrock 1813 800cfm Thunder series carb
MSD 32733 Spark Plug wires
MSD 8546 Pro-billet distributor
Edelbrock 1215 Intake valley pan gasket
Champion RC12YC plugs
6 quarts of Comp 15w50 break in oil
1 bottle of comp break in additive
92 octane crap gas from the local metro mart
Here's the machine shop portion to consider for those of you want to cost this out:
Bake/blast and mag
Bore and hone
Deck to 10.700
Align Hone Mains
Jet Wash
Balance rotating assembly
Mount Pistons on Rods
And for those of you that cannot build it yourself (or don't want to) take into consideration all of the cleaning, mockup, fitting lifters to bores (after you bake and blast these blocks can move or develop lips on the lifter bores) more cleaning, painting, powdercoating, assembly lube, misc nuts bolts washers, etc, lol
- - - Updated - - -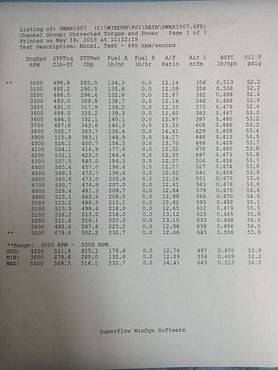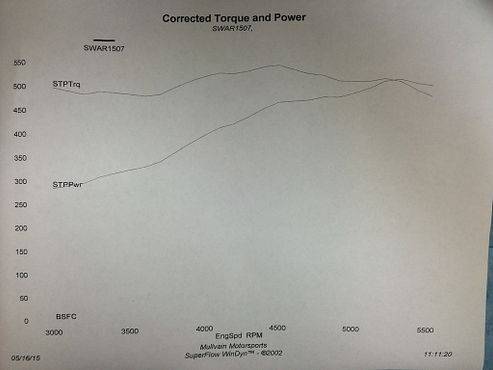 - - - Updated - - -
Video link:
http://vid701.photobucket.com/albums/ww16/CRE2004/Mobile%20Uploads/2015-05/E7080049-DC25-4D36-A7C2-9FC551597D39_zpssddqce2s.mp4
- - - Updated - - -
- - - Updated - - -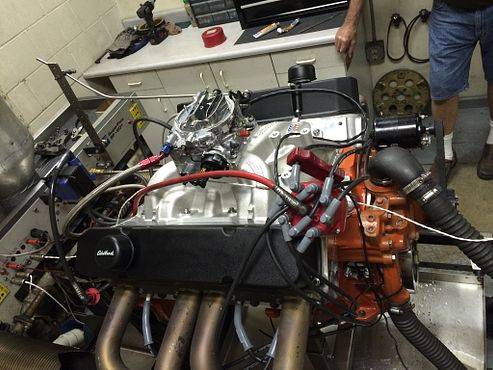 - - - Updated - - -
This is the first time I've ever used the XE285HL Cam and it's a loper at idle. I had the black advance bushing and lightest advance spring in the distributor but I think I should've just locked it out as the additional advance at idle would smooth that out a bunch. We made maximum power at 35degrees total advance.
- - - Updated - - -
You can see that we out performed the Hot Rod guys in the torque deparment and we didn't leave all that much HP on the table. With our heavy forged pistons, we didn't plan to rev it to the moon so the dual plane performer was the better choice of intakes.
Last edited: