Local time

9:39 PM
Joined

Jun 22, 2010
Messages

822
Reaction score

405
Location
I had never heard of the stuff, but asked a friend to prep along my cement driveway for shell with his tractor ( Its what we use in FLA could be gravel any aggregate) and he recommended millings. Laid it down 5" thick with rail road ties on edge to level - cement driveway on other edge level.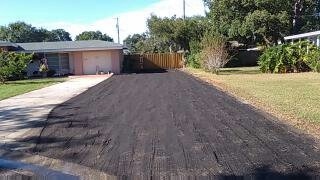 2/3rds the cost of shell , looks like rough asphalt roadway, plants are not supposed to grow through it (think thats from all the red dye diesel he told me to spray on it.
Had it now for two weeks . Smell from the diesel has faded. After filling the bed of my truck with water and red neck rolling the thing it is great. Takes static wheel turning without tearing up. No rutting. Lot of black dust , but hopping that will go away with a couple rains. Pic is from day one diesel and light rolling with a van. Will get a more recent pic.