Local time

7:45 AM
Joined

Mar 31, 2017
Messages

13
Reaction score

10
Location
Hello all!
I am a long time mopar owner, and an old street racer at heart. Unfortunately for the last 20 years I have been out of the car culture and deep in Jeep culture living here in the desert southwest.
My past rides include a 1969 Roadrunner 440/6pk/4spd, this is the one that helped put me through college with weekend shenanigans ( street racing). Also a 1968 Charger 383/4spd which was my daily driver for many years. Sadly aside from a few Ramchargers, trucks and Jeeps, life took over. The wife and I moved to AZ for a better ( more affordable) life, and there is NO car culture up north where we live. So things change.
Fast Forward 20 plus years and I just recently came across something i couldnt pass up. I was "cruising" craigslist one evening an came across an ad for a 1969 Coronet, and he was only 45 miles away (trust me...in Northern AZ thats just around the block!). Well my internal radar went nuts and before I knew it we were in the car headed that way. Sheet metal is in good shape (mostly), it runs....kind of, only rust is the rear lower quarters, and the center trunk panel is thin ( very minor for a former NYer like myself) floors/tq boxes are intact, rockers are dead straight. I thought this is a great shell.....BUT...its a 318 car with a bad bottom end, and a freshly rebuilt 904 tranny....(all numbers matching BTW eng/trans/car).
So I convince the wife, and a few days later I stop by my local Uhaul with my RV to "borrow" the car trailer. (hard to call it borrowing when they charge you 45 bucks). When I get there, I see a few boxes in the car that I had not seen previously. It turns out he had an A body disk brake set up he never installed, a few spare lower dash panels with switches, a very nice set of bench seat headrests, and a few other misc odds and ends...SCORE!
So far all I have done is confirmed that it is the rings that have given up the ghost. I have yet to decide if the 318 stays or goes....but after reading IQ52's ( from FABO)dyno article on low comp 440s.....and the fact that I happen to still have a set of 516 heads.....I am rethinking originality...plus I really dont care for small blocks in a 3600lb car. Back when I was in my teens we would tear up 318 cars all day long for the sheet metal, or drop big blocks in them and do what kids do. I am truely at a cross roads with this one.
So time will tell. This project is in no hurry as I have a couple others to finish off before the first bolt is loosened on this ride. So hello B Body community!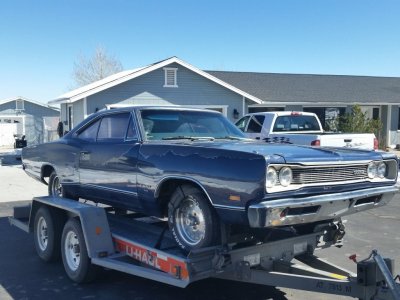 Last edited: