FBBO Gold Member
FBBO Gold Member
Local time

8:25 AM
Joined

Mar 10, 2010
Messages

28,503
Reaction score

48,012
Location
I was having a "higher than I wanted" fuel pressure using a Carter M6903 mechanical pump on my 440 with two 600 Edelbrocks. It was running at 8 psi and the last oil change I'm getting a strong fuel smell. The oil wasn't over full or thinned out but the fuel smell is telling me fuel is getting past the rings somehow. The engine wasn't running rich but there was 8 lbs showing on the guage each time I shut it down and it was probably bleeding off overnight. This pump is supposed to be rated @ 7 psi.
So doing some research I find the Holley 12-440-11 is the same pump just chrome plated and it's rated 6.5 - 8 psi. (Not for me)
Then I looked at the Edelbrock 1722 (same pump again) and it's rated @ 6 psi. Did a little more research on this pump and the ratings are about 50/50 on quality and function. I also found out Edelbrock had Carter make this pump with a lighter spring just for the fact Eddies don't like more than 6 psi. (I'm not liking the ratings)
So I'm thinking if I could find a rebuild kit for the Edelbrock 1722 it would have a lighter spring and less pressure. No such luck finding a rebuild kit for any of these newer Carter fuel pumps. They are made to be disassembled but you're not going to find a kit. Makes no sence except for the fact they are just a throw away pump just like the stock ones.
Speaking of stock pumps, there are several out there that have a 3/8" inlet (another feature I need because of having that size line from the tank) but they are rated @ 8 psi also.
You might be thinking, why don't you just get a regulator? Going to a regulator setup would require additional lines, the regulator and mount it on the firewall or inner fender. I'm not really that fond of that look on this car plus the added cost would be well over $100.
A little more research and I stumbled onto this outfit in Massachusetts that rebuilds fuel pumps.
Then and Now Automotive
447 Washington Street
Weymouth Ma. 02188
Ph# 781-335-8860
www.then-now.com
I emailed them and talked to Mike. Told him my situation. Part of his email reply...
The diaphragm assembly from the factory is not changeable. What can be done, is if you send me the pump, I would disassemble it and make an entirely new diaphragm assembly with a lower pressure spring on it. After that, it can be changed.
So I boxed it up, sent it to them and a week later...
I fixed up your pump this morning with a weaker spring. Just so you know, the diaphragm assembly I took out wasn't going to last very long. I'm really not surprised either. The spring that is in there now, should give you the lower pressure you're looking for. They put a killer spring in there from the factory. Anyway, I am sending the old one back with the pump so you can see and feel how strong the spring was. Look closely at the holes where the screws go thru the diaphragm material. You'll notice that the holes are elongated which is a no-no. That tells me that when whoever at the factory was assembling the pump, they neglected to pre-load the diaphragm. By not doing that, the diaphragm tends to stretch and fail rather quickly. Those oval screw holes were a dead giveaway. Pre-loading the diaphragm is extremely important especially in a Carter pump.
Here's the diaphragm he removed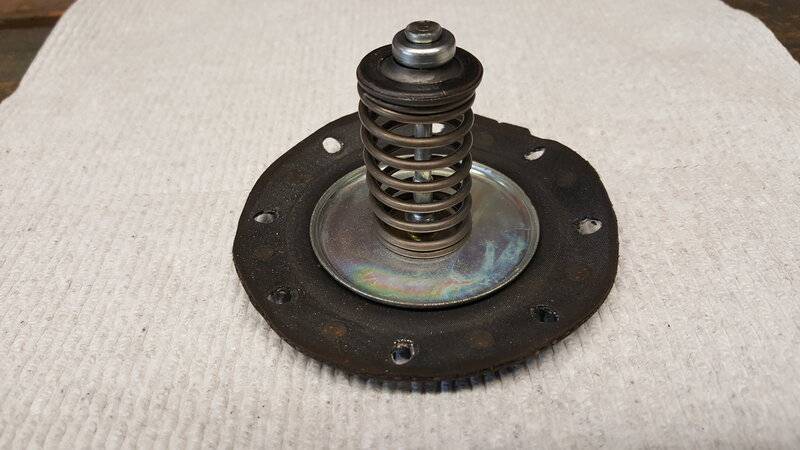 The spring reminds me of a inner valve spring, spring! That got me thinking about checking the condition of the pushrod.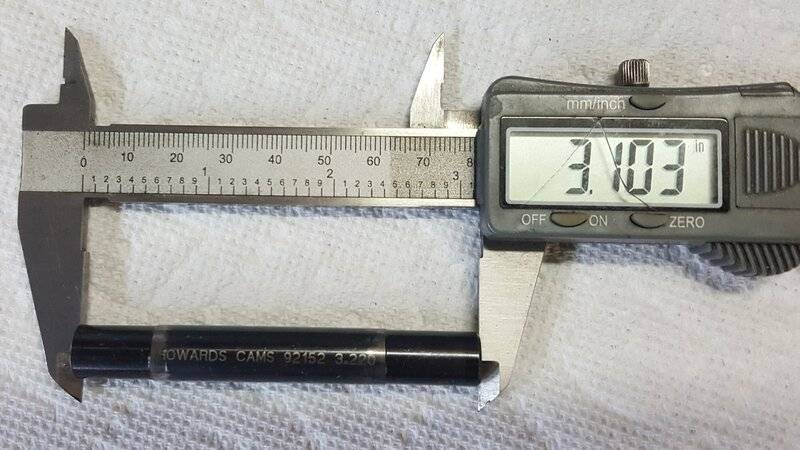 This started out as 3.220 In just under 1500 miles it's worn almost 1/8".
DO NOT USE THE HOWARD'S CAMS 92152 PUSHROD ON THESE HIGH PERFORMANCE FUEL PUMPS!
In fact, I would not use one with any fuel pump. Just using the "Search" feature on here, there are complaints of failures with this pushrod all the way back to 2015.
So I pulled one from the original 361 engine that has over 140k on it and it still measures 3.220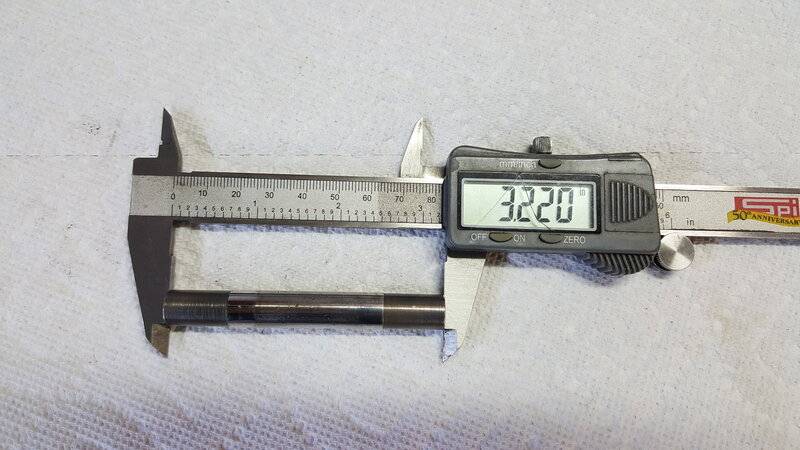 Inspection of the cam lobe for the pushrod looked good. (Cam lobe is harder than the Howards push rod!)
I like to use a remote starter button to bump the engine around to find the shortest stroke of the pushrod. Just install the rod and while holding it against the cam lobe bump the engine until it's in as far as it goes. It makes it so much easier to install the pump not having any pressure on the fuel pump leaver.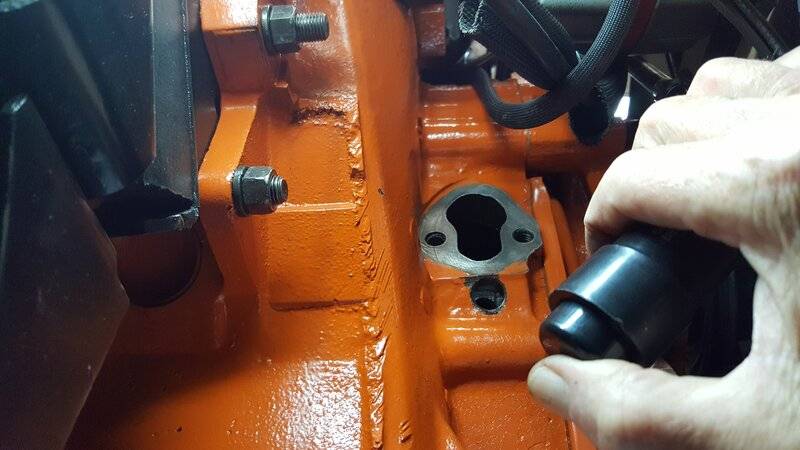 A little sealer on the gasket and stick the bolts though just a few threads before installing. Most gaskets will hold the bolts for you.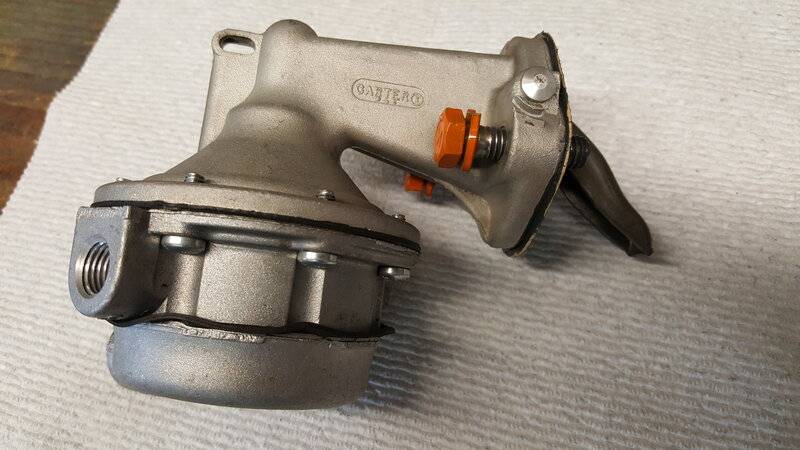 All buttoned up.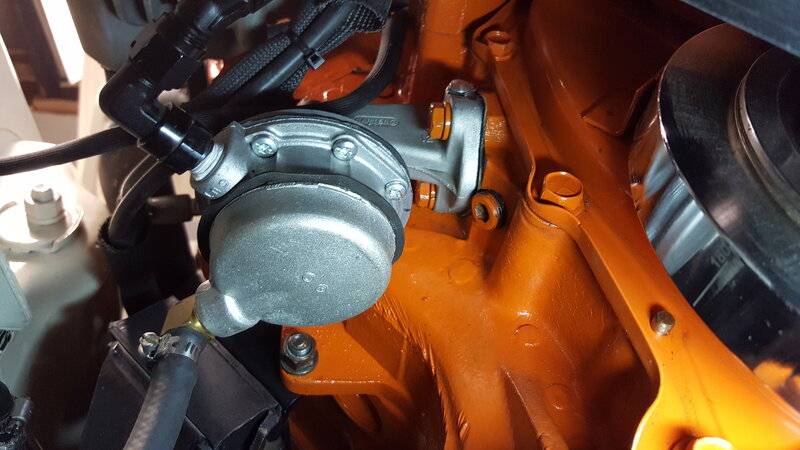 Before...
After...
Check out Then and Now Automotive's website. They have a lot going on and not just antique vehicles. Thanks Mike!