Local time

9:44 PM
Joined

Jul 24, 2021
Messages

40
Reaction score

42
Location
Long-time lurker, finally getting around to setting up an account. I used to be really active over on Moparts for many years, but time/life changed and I've been enjoying the hobby vicariously through others for awhile now.
My first car was a '70 Cuda I bought in 1997 when I was 12. Learned a ton rebuilding that, then moved onto a '68 Satellite. Put a 440-6 in that and did a partial Road Runner clone that I enjoyed for many years. Sold that, then bought a '67 Dart, put a 471 stroker in it and turned it into a decent 11-second daily driver.
In 2008 my wife and I had our first child and, as it typically goes, cars took a backseat to other priorities. I sold the Dart after deciding I didn't have time to devote to "tinkering" anymore.
Fast forward a few more years, and I now have two boys that are getting into cars. My oldest just turned 13, and we're finishing up his first car, a Mazda RX7 that we put an LS1 and T56 in. It's a great learning car for him, and he's done everything from full transmission rebuild to interior work. He wants an old Mopar, but I can't justify it with the crazy prices these days. The youngest wants a 70's-80's Dodge truck or Ramcharger, so we'll be on the hunt for that soon.
Which brings me to what's hopefully the next project. I acquired a 528 hemi a few years ago that has been sitting in the shop torturing me. I've always wanted a hemi car (don't we all?), so it's time to find a home for the hemi. I'm on the lookout for a 68-72 4-speed B-body, preferably '70-'72, as the next toy for myself and the boys. I've missed my '68 since the day I sold it, and can't wait to get back into something.
Thanks in advance for all the help I'm sure everyone will provide on whatever my next project is, and hopefully I can return the favor occasionally!
My youngest learning how to work on the hemi: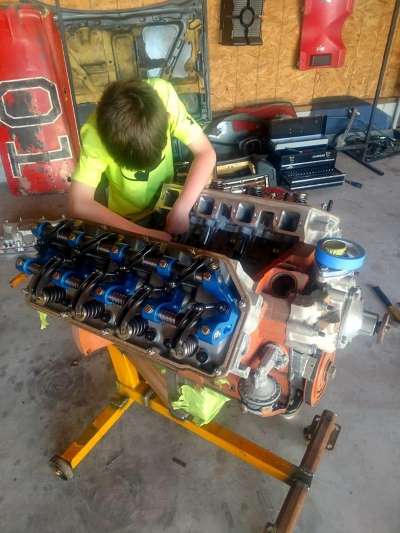 My oldest rebuilding the T56 for his car