Local time

4:57 AM
Joined

May 8, 2022
Messages

45
Reaction score

71
Location
Hey all,
I wanted to introduce myself now that I'm ready to dive into my mopar venture.
I have owned and built many cars in my life. I started at 15 years old and I'm 42 now. Given the time in life that I grew up in I was a turbo Japanese's enthusiast and still am. I own a well build 93 Supra turbo, Lexus ISF and a few others at the moment.
My father was always a Mopar guy and I grew up around Mopars. I knew someday I would build myself a mopar but wanted to do it right and take my time when I was ready. It was going to be a 70' charger r/t or 67' coronet r/t turbine bronze. Not inexpensive cars but that's where I was headed or so I hoped.
My father bought a 67' Newport custom turbine bronze back in 82' and I grew up around that car.
About 7 years ago he found me a 68'GTX sitting in a garage that was in pretty good shape. I took my trailer out to the guys house and bought it that day.
My plan was to built it with my dad at some point. He knew everything mopar so between the two of use it was going to be a nice project.
Over the years since I purchased that car I got married and did a major renovation to a house for my wife and I. My father was busy building a 72' RR GTX 4-speed N96 V21.
I was just about done with my house and my dad was at a good point with his project last year so this summer was going to be the time for my car.
Well, life has it's own plans…..
My father unfortunately past away very unexpectedly last October.
Now I have 3 Mopars and I am going to continue on with them for myself and my father. I have zero intention of even getting rid of these cars because they are the part of him that lives on.
I will be here looking for everyone's help along the way. Just to be warned I am not a purist and since I have no intention on selling these cars the purpose is to enjoy them yet keep them clean and well kept.
The 67' Newport was just restored and has a build 383 with a 727. That car is never being touched again. I'm leaving it exactly how my dad has it.
The 72' Plymouth RR GTX is a rotisserie resto that he was in the middle of making more changes to.
It has a 505 stroker motor being built at the moment which I intend to install this summer. Along with it is a Fitech 6pack setup. I'm probably going to need brakes and suspension to go along with the added power. I'll start a thread on this car later.
The 68' GTX was intended to become an all original restoration that would be as close to matching numbers as possible.
Now I'm off of that idea and I'm selling one of my other cars to fund a resto mod project for that car. Hellcat engine/termec with tubular K-member and 4-link.
I'll also start a thread on that car.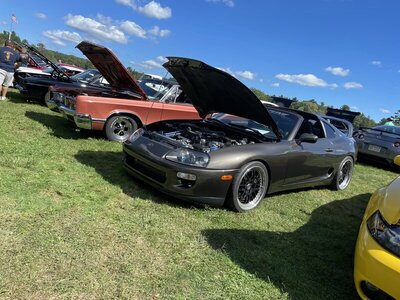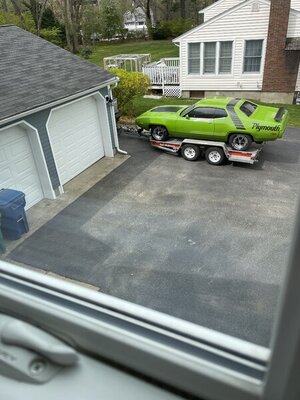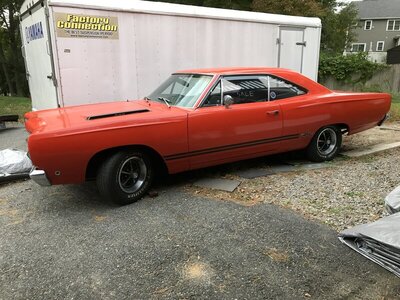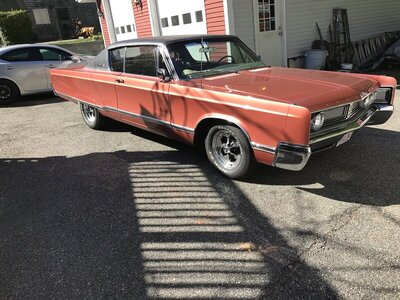 Last edited: