Local time

12:44 PM
Joined

Apr 25, 2010
Messages

221
Reaction score

211
Location
Contact seller
Like so many others before me life has gotten in the way and forced me to stop work on my '64 Fury build within view of the finish line; it breaks my heart but I'm forced to do it.
I've got hundreds of pictures and descriptions on my build-thread here on "B-Bodies" (see below), but I'll summarize and add some pictures here as well.
Link to build-thread:
'64 Fury Pro-Touring
The car is located in Las Vegas, NV and must be picked up by the buyer, I cannot deliver.
Right now the chassis is a "roller" and if the buyer would like me to bolt the engine/trans combo into the chassis for easier transport I am happy to do so, just let me know.
I've listed everything I can think of, so you can see there is very little needed to finish the car, but please make sure you are aware there will be some other things needed (for instance, the valve train) to complete the project.
Engine:
1967 440 bored .030 over
Block hot tanked, sonic tested, decked, line bored, bored, and honed
Short-block is assembled and ready for heads and valve train
Forged Icon pistons; 10.5 - 11.0:1cr depending on head gasket
4.25" forged stroker crank (440Source "Superlite" series)
7.1" forged H-Beam rods (440Source Platinum series) with .990" pins
7/16" ARP 8740 series rod bolts
Cam: Comp XS282S solid flat tappet with Nitriding and 3-bolt timing gear - cam was degreed and fell within 1/2 degree accuracy
Comp "801" series lifters (US manufactured)
Clevite "H" series rod and main bearings
Main stud girdle
Milodon high volume oil pump with adjustable pressure
Externally routed braided steel oil lines and pickup and dual filter mount
Moroso Accumulator with braided steel lines and solenoid pressure valve kit
Milodon 7-quart baffled oil pan
Herb McCandless oil gallery mod completed
New oil pump shaft bushing installed
440Source "Fluid Damper" (fully degreed)
Summit Racing True Roller timing chain
Edelbrock Victor Max Wedge Heads (bare, in the box)
Edelbrock Pro Flo 4 sequential EFI including 60lb/hr injectors, intake, throttle body, sensors, and dual-sync distributor
Pushrods, valves, keepers, and valve seals NOT included
TTI headers (coated)
Exhaust and mufflers installed in car
Wix XP filters (2) for engine break-in are included
Wix Racing oil filters (4) included for post break-in
Transmission:
1967 A-833 "B-body", 23-spline, non-overdrive
Hurst Competition Plus shifter
Neither the shifter or the trans has been rebuilt so will need some TLC
Chassis:
Art Morrison - entire front unibody removed and custom Art Morrison chassis mounted. Chassis is solidly mounted and runs from factory rear "sub-frame" forward.
Suspension - Front:
2005 Corvette Z06 control arms, uprights, calipers, and rotors
Custom tubular anti-rollbar with adjustable stiffness
QA-1 coil-over shocks w/600lb springs
AGR power rack & pinion
Volvo electric power steering pump (mounted in engine compartment)
Brake lines installed
Suspension - Rear:
Truck Arms (same as used on NASCAR cars/trucks)
Narrowed Ford 9" housing (reinforced for strength)
Full floating hubs
31 spline axles
Wilwood Dynalite calipers
Wilwood rotors
Watts link
Custom anti-rollbar
QA-1 Coilover shocks w/200lb springs
NO centersection or diff included
Brake lines installed
Rims:
Intro 17" diameter front and rear w/polished hoops and powder-coated centers
Tires:
Kumho 335/35-17 (rear)
Kumho 295/35-17 (front)
Gauges:
Full set of custom Speed Hut with LED backlighting mounted in a custom dash panel
Gauges include:
GPS speedo
Tach
Oil Pressure
Water Temp
Voltage
Fuel level
Seats:
2005 Cadillac CTS-V leather and Alcantara (black)
I live in Las Vegas so built the car as a "heater delete" but but the seats have 2-stage warming
Seats are fully adjustable (electrically) via original factory controls
Steering wheel:
NRG Alantara wrapped
Steering column:
Ididit tilting (steel, painted black)
Roll Bar:
S&W Race cars 8-point bar/cage system
Body Parts:
I painted the car myself many years ago to keep surface rust from forming. This was the first time I painted a car so it is definitely not perfect, but once it is cut and buffed the color is deep and quite nice (I painted an extra panel to test what the paint would look like when finished, and was amazed at how it came out)
Fenders, lift-off hood, hood scoops, both bumpers, and trunk lid are all race-weight fiberglass from Sled City
Both factory steel bumpers are included with the car
There are 2 hood scoops, both modeled after 1965 A990 scoops, 1 scoop is stock height while the other is a tall version
New windshield and rear window, along with new gaskets, are included eith the car but not installed
New headliner is installed
The car does not include interior panels (doors, rear, or tray)
Fuel Tank & Lines:
The plan has always been to cut out the trunk floor, which is currently a solid piece of sheet metal, and use a '65-'68 Mustang gas tank with an internal fuel pump (this tank/pump is NOT included).
Fuel lines are dual -10 hardlines and run from the trunk to the engine compartment (1 each for feed and return)
Electrical:
Car has been completely rewired with an American Autowire harness with the addition of a fused relay board (for fuel pump, lighting, seating, etc.)
Harness is installed and ready for ECM, sensors, etc to be plugged in
Tail, brake, interior, and reverse lights are LED
Headlights shown are wired but non-functioning, the bulbs need to be replaced
Battery box and cabling included but not installed
Thanks for taking the time to check out my Fury, and if you have ANY questions at all please do not hesitate to ask, I'm happy to answer anything you'd like to know.
Priced to sell at $22,500.00
Thanks again,
Bob
Dirty and dusty but she cleans up well!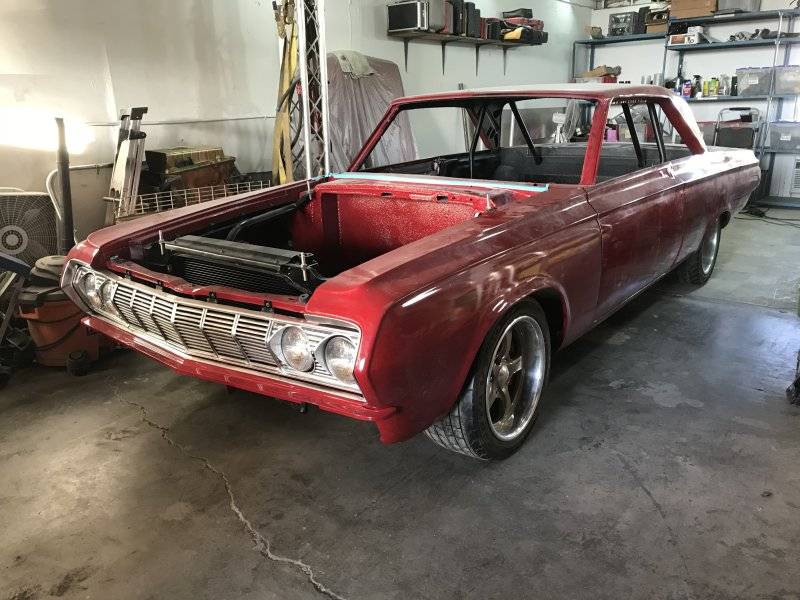 Good view of the 9" floater, QA-1 coil-overs, sway-bar, Watt's link, and those healthy 335's!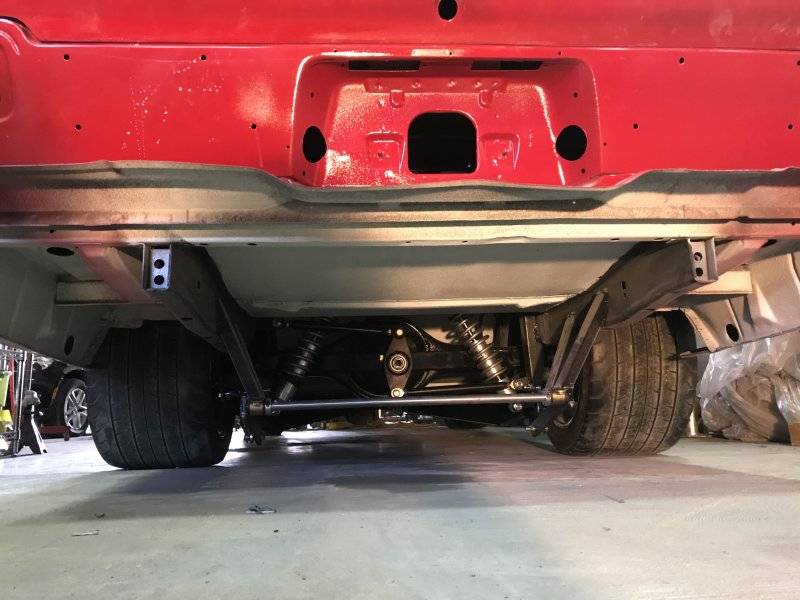 I LOVE the LED bulbs, they make an amazing difference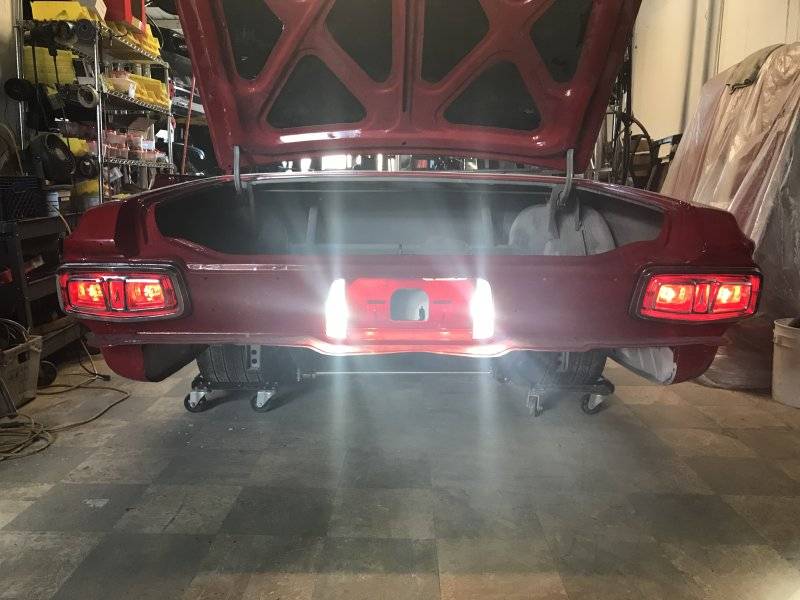 Since this picture was taken I painted both bumpers with a "chrome" paint, which looks MUCH better than the red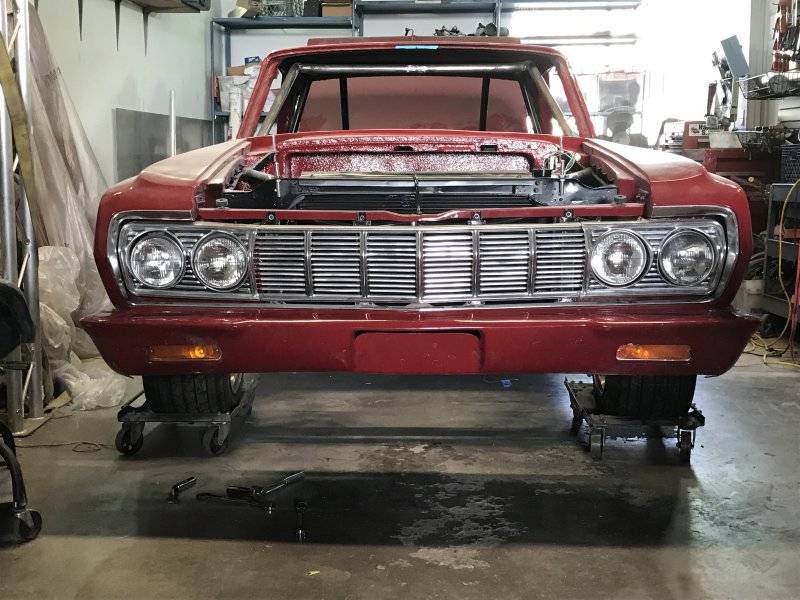 Complete in the box and fully wired into the car
Custome Speed-Hut gauges, NRG wheel, and Wilwood pedals (buttons at right of gauges are fully wired for the seat heaters)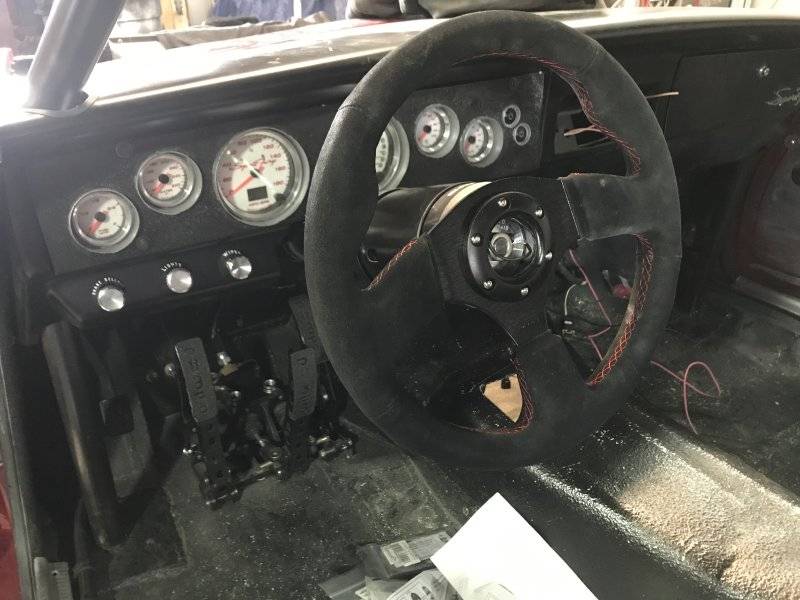 512" Rotating assembly before installation of the stud girdle and oil pan
Top view of the short block