Local time

4:43 PM
Joined

Aug 12, 2017
Messages

275
Reaction score

237
Location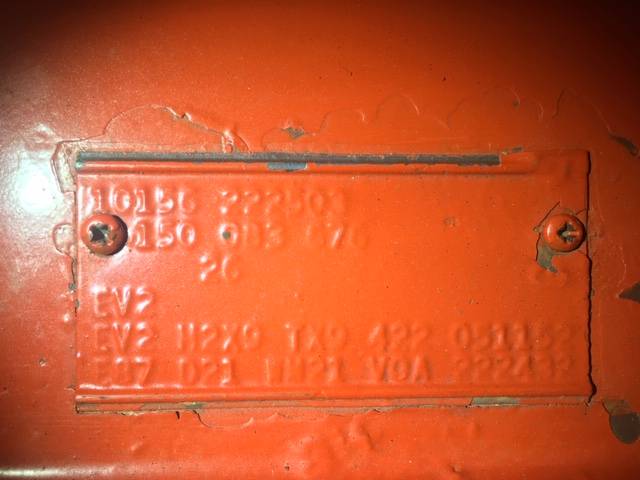 Fender tag on my 1970 Super Bee. The car has it's original appearance with it's EV2 Hemi Orange repaint and 6 Pack 440 4 speed pistol grip shiftier. The motor is not the original and has a 1972 warranty motor with a casting number 3698830 440 7. Right above the 440 is 72 and the ID plate just has H 440 and below it is 7 17 - no vin number is on the ID.
The transmission looks great and although a cheap pressure plate and probably disk was used, it shifts great. I wanted to see if the rear end was a sure grip so I let it have it and, I could smell clutch burning, but normal driving it works good. The transmission is not original to the car because it has a vin number stamped on the side (is it yours).
I know it's an A833 and it is in beautiful condition but I don't know if it's an 18 spline. I was told I could take the pan off and look up in the throw out bearing area and see if it was an 18 spline. I tried it - there is no way to tell. Will have to wait until I pull it.
The differential is an 8 3/4 and look like it's been in there forever. In fact I always though that the person that ordered the car was trying to save money and order the 8 3/4. I guess I thought this because they ordered the post model and only 109 others were ordered this way (it was a few hundred cheaper), and also I didn't see the A33 or A34 on the fender tag.
Anyway I decided I was going to sell this car because I had to many things on my plate and was already deeply involved with working on a 1970 Road Runner;
https://www.forbbodiesonly.com/moparforum/threads/5-7-hemi-engine-swap-on-70-rr-project.151252/
There were a few things I found out when I was selling it. The main thing were the fender tag numbers;
150 - 440 6-BBL, manual trans., heater, 390hp, Orange, (late)
083 - 3.54 s/g, Dana 60, 10" rear drum - front disc, (A33 Pkg)
676 - 833 4-speed Manual, 426 Hemi & 440 engines, (18 spline)
Right after the number were identified one of our members (moparchris) said he had the original transmission that came from my Super Bee sitting on his bench all ready to go in his GTX project. After talking to Chris he offered to trade my original for something similar. The hunt was on and we found one near Bristol Tenn. from a gentleman name Gary. Gary is in the process of sending his transmission to Chris and when Chris gets it he will used the shipping container to ship me my original. Kind of lucky. It's like the Mopar Gods want to put Humpty Dumpty back together again.
So what do I do about the Sure Grip your asking! I found a Dana 60 with 3.54 gears in perfect condition with a date code of 1969 3rd month, and should have it by next week sometime. Not an exact match but close enough for the 083 fender tag code.
Although this story is interesting, this thread is not totally about this unusual circumstance. At the request of Myrtle ("well known member") this story will be about taking out the existing differential and transmission and replacing it with my original transmission and installing a Dana 60, and documenting all the problems I'm sure I'll encounter. The final outcome should be amazing, with a few lucky members having the opportunity to purchase a very nice A833 (23 or maybe 18 spline) 4 speed transmission and a nice 8 3/4 Sure Grip (to be verified).
This should be fun - Much more to follow;