Local time

7:38 AM
Joined

Sep 23, 2020
Messages

286
Reaction score

28
Location
Car has sat for around 4+ months. The voltage at the alternator was a bit high beforehand (15.5-16.5 if I remember correctly), and it was something I intended to work on when I finished moving states, but the battery read normally (I can't remember the voltage regulator). I just got my car back and checked the voltage. Running, the battery was at 16.8~ volts and steadily climbing until I turned it off. The alternator was around 17-18v when I checked, which mirrored the FLD side of the voltage regulator. So I tried replacing the voltage regulator with a new unit (never used, sat in box for 6~ months). Both from either Layson's or YearOne, so they should be good functioning units. This time, the battery started at 14.4v and steadily climbed until I turned it off. The alternator was sitting at 16.2-16.5 and climbing. The FLD side of the voltage regulator was wildly jumping between 6-13v and started smoking.
If it means anything, there is some belt squeal at the alternator when I push the throttle. This was the case before, and weirdly, it would go away after the car warmed up. I haven't left the car on long enough to see if it still goes away because the voltages worry me.
Attaching pictures of the alternator. It's a roundback style from Layson's, 60 amp. I was told the second FLD didn't need a ground wire to the case if I removed the rubber grommet between the screw and the terminal, as that would ground itself to the case. Not sure if that is a culprit.
What should I be checking at this point to see what the culprit is? Unsure if it's visible from the pictures, but the left-most spacer for the alternator isn't flush with the block, so I'm not sure if I have the correct spacer in (it's a replacement kit), and if that's messing up the geometry of the belt (causing the squeal).
No ballast. Pertronix setup. Engine harness and battery cable are both new and never had cause for concern until today.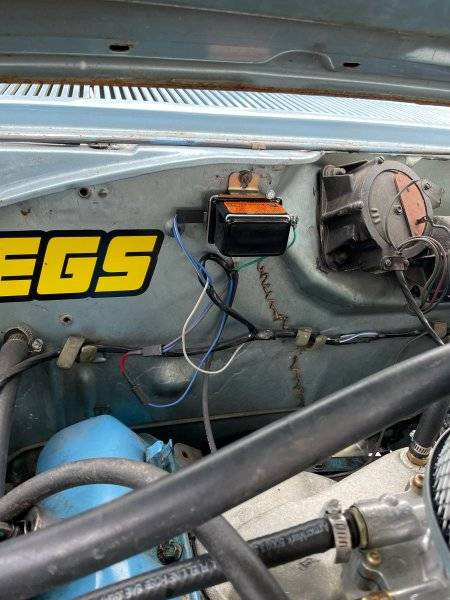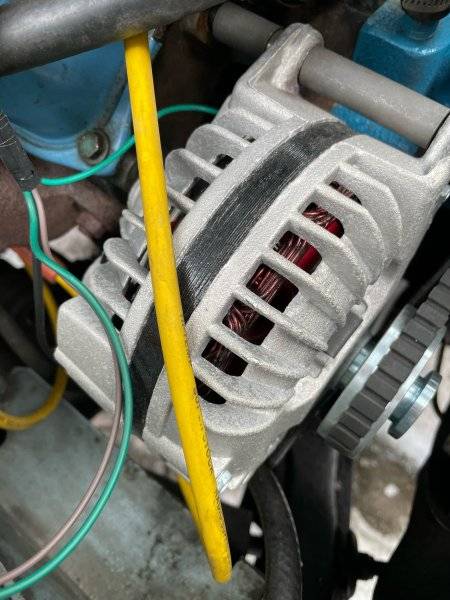 Last edited: